Lauren: Covid, Kids, and Capacity
My husband is usually the one that shops for us which works great during COVID since I'm a browser (not ideal at this time).  For the Challenge though, I decided to get my own groceries and checked out Aldi's website for inspiration and sales this week.   I realized that my location had online ordering and free curbside pickup for the first time you use it. I thought that would be ideal, minimizing my covid risk as well as keeping track of my budget easier.  
While this was easy for me, not everyone has access to a computer or the internet.   I was especially mad at myself when I chose the wrong Aldi and then had to drive 5 miles out of my way to pick it up (AHHG!).  A careless error that takes away extra time for me, is wasted gas and an added expense to someone on an already tight budget.   Also, the fact that I could confuse the two store locations shows just how plentiful groceries stores are in my area, whereas many don't have that luxury.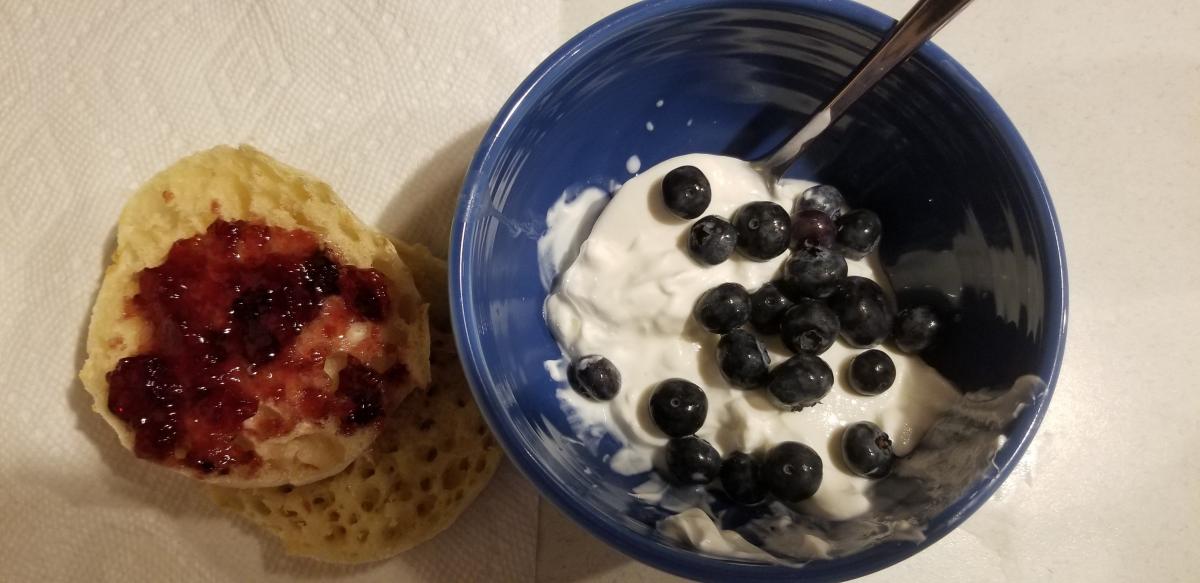 Missing granola in my breakfast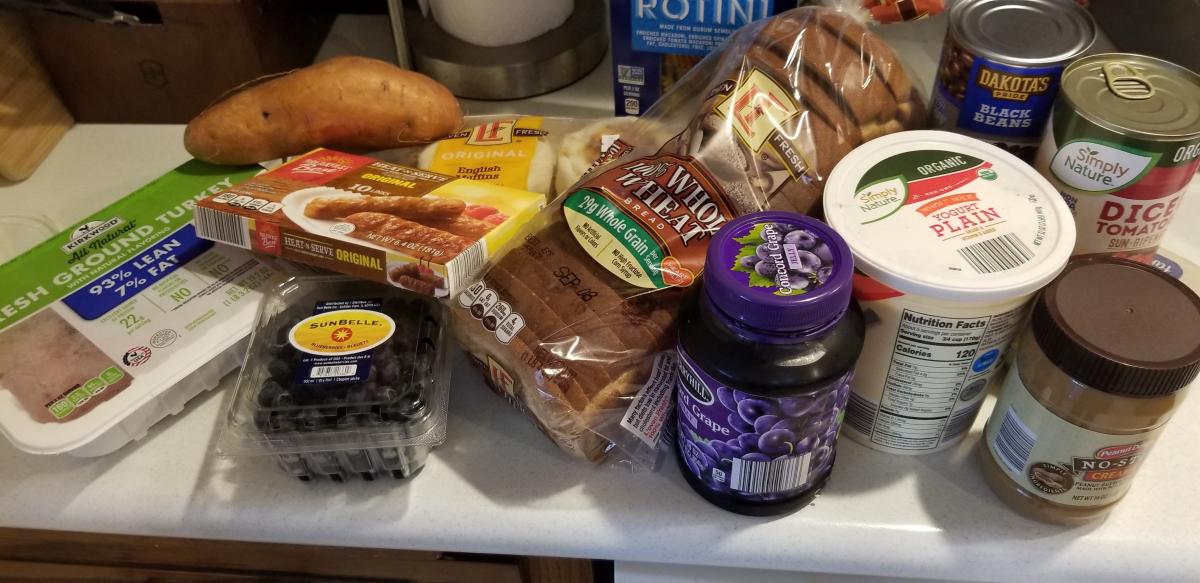 My groceries for 5 days.   
And while shopping online, I kept thinking about what foods my almost 1-year old daughter would like.   Though I did not include her in my Challenge, I found myself thinking oh maybe she'll have some of my sweet potato and yogurt, etc.  If you qualify for SNAP you receive benefits based on the number of people in your household, but trying to shop for an infant or toddler on a budget is tough, and often compromises your own health because you want to ensure your kids have a full belly first.   There are other programs, like WIC (Women, Infants, & Children) that exist to supplement, but not everyone is eligible or there is not enough funding.   And when you factor the cost of rent, utilities, healthcare, and food, it can be incredibly stressful, especially when babies waste (and throw) a lot of food. 
Just a few days in, I'm already struggling to make my menu work and am really eyeballing the quesadilla I made my daughter.   But despite the lack of variety and occasional hunger pains, I am completely humbled by this experience and thankful that SNAP and food pantries exist, especially during a time where many have lost their jobs due to COVID.   With a few days left of the Challenge, my resolve is stronger than ever and I will continue to take action.  You can take action too by signing up for our advocacy email alerts below.   We'll notify you when we need our supporters to rally to advocate for anti-hunger legislation.
Sign up for our advocacy email alerts
-Lauren Brightmore, Development & Events Coordinator