Meet Up & Eat Up
Our Summer Meals - Meet Up & Eat Up program provides kids and teens with nutritious lunches when schools are not in session. This year, our Meet Up & Eat Up site location is hosted at St. Catherine's - St. Lucy's School and runs from June 18th through August 16th. Anyone 18 years old and younger is welcome to stop by from 11:30 am to 1:30 pm, Monday through Friday, to receive a free meal. In addition to a free healthy lunch, fun activities such as arts and crafts, story time, cooking classes, yoga - even sports coaching, will be available for all ages.
There is no need to sign-up, register, or complete paperwork in order to attend this program. 
DATES
Lunch Menu
Activity Schedule
Click here to view the planned activity schedule for Summer 2019.  Please note, activities may change without notice.  
Follow us on Facebook or twitter for weekly activity and craft schedules. 
How to get there
This site is easily accessible via car, bus, or train.
Via green line: from the Austin Blvd stop, head south on Austin Blvd .4 miles.  Turn right on Washington Boulevard and building will be on your left.
Via blue line: from the Austin blvd blue line stop, head north on Austin Blvd for .8 miles (or take Austin Blvd bus).  Turn left on Washington Blvd and building will be on your left.
Nearest E/W bus line: Madison St
Nearest N/S bus line: Austin Blvd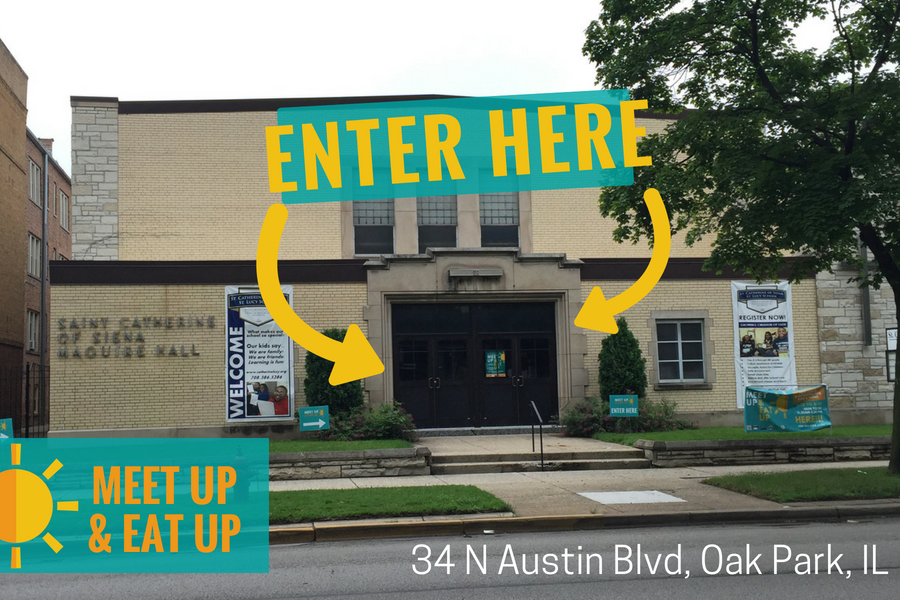 Spread the word!
Download our social media toolkit to help spread the word.  The PDF of our flyer is also linked below.  For more information on how you can help get the word out, please contact Anita.
Meet Up & Eat Up Flyer 1 PDF
Meet Up & Eat Up Flyer 2 PDF
Find other free meal sites
To find other free summer meal sites, please visit the USDA's Summer Meals finder or text 'Food' to 877-877
Questions? Want to get involved?
For additional questions, or to find out how you can help make Meet Up & Eat Up a success, please contact Anita.
Meet Up & Eat Up Funders
Funding for this program is provided by generous grants from Jackson National Foundation and Women Leaders in Philanthropy, a giving group of Oak Park River Forest Community Foundation.