Stephanie: Taunted by Tomatoes
Inspired by fellow board members, and staff, I decided last minute to participate in the SNAP Challenge.  The SNAP program is intended to provide an extra small daily budget as a supplement to an individual or family's grocery allotment. This program was formerly known as "food stamps."
Instead of using the SNAP  daily amount of just over $4 as a supplement, I challenged myself to only purchase food for my daily needs at $4.15. This small food budget is a difficult reality for many people utilizing the program.
Convenience sometimes prevails over budget shopping, but always at a cost.  I did not take the time to go to Aldi or Walmart where the deals were far better than my local grocery store.
A grocery list for my household usually includes a prolific amount of fresh fruits and vegetables. This is impossible on a SNAP budget. One potato, carrot, banana, and a bag of dry split peas set me back $3.22 at Jewel. Add a loaf of bread from Walgreens, a partial bag of coffee grounds that I went in on with others doing the Challenge,  plus a box of macaroni & cheese from the Dollar Store = $8.27, two days worth of food on a SNAP budget.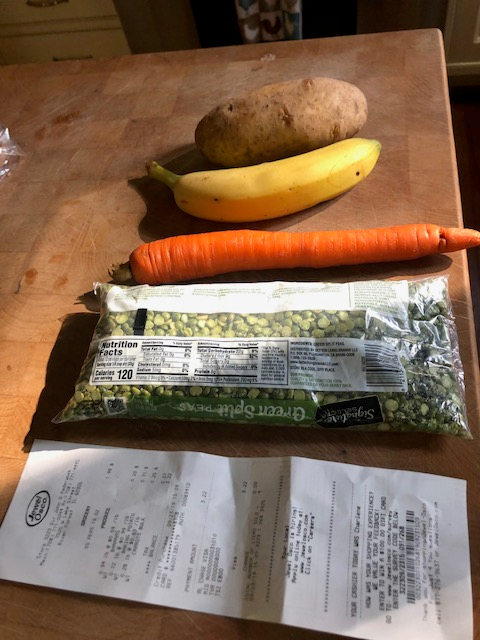 Here are some thoughts from the experience so far:
• I have immense empathy, respect, and compassion for neighbors who walk this walk daily. I recognize my participation as an exercise of awareness and learning. It's not the same.
•  I mindlessly snack throughout the day – especially on fresh food. The tomatoes from my garden ripening on the kitchen windowsill were taunting me. Off limits!
• Seltzer water,  and vitamin water zero, and juice are a luxury I take for granted.
•  With no room in the budget for a small carton of milk, I "thinned" the macaroni and cheese from the Dollar Store with warm water.
• Sometimes l add fresh sautéed peppers, onions, garlic, and mushrooms to my culinary creations. I miss their advanced flavor, texture and nutrition benefits.
• Watching my son prepare an after school snack of a small black bean salad and cheese quesadilla caused feelings of envy. It smelled and looked delicious!
• I had a low-grade upset stomach for the better part of the first day. I suspect it was from a crash diet of processed foods.
The SNAP Challenge is a humbling reminder that neighbors depend on this critical program to avoid hunger. I am grateful to be involved in local organization Beyond Hunger, and for their programs that provide protein and nutrient dense foods for our clients.  I challenge everyone to purchase and donate fresh produce to the OPRF Food Pantry at Beyond Hunger. Excess produce from your gardens can also be donated. Pantry hours are Monday-Friday 9 AM – 5 PM, the best days for food donations are Mondays, Tuesdays, Thursdays, and Fridays.  
-Stephanie Schrodt, Board Vice President