Back to top
Beyond Hunger Virtual Benefit Concert 2020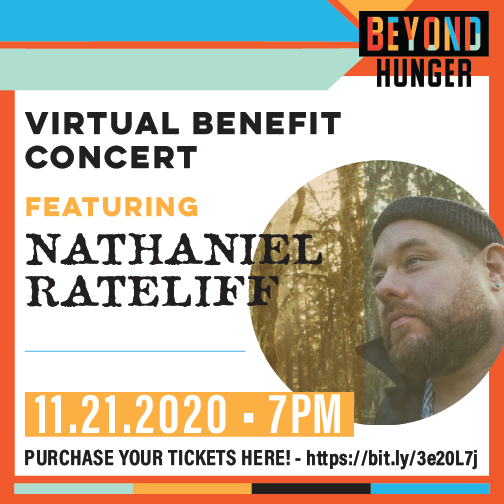 Nathaniel Rateliff, front man of Nathaniel Rateliff and the Night Sweats will play in a special virtual concert to benefit Beyond Hunger.   His solo album, And It's Still Alright, released in February of this year is very personal and serves as a reminder that we all go through hardship, but we must continue to find joy--- themes that certainly resonate during this time.  Shemekia Copeland will open, accompanied by Ronnie Baker Brooks. 
Take the time to experience the joy of music while helping end hunger on November 21st.
Show Information
Tickets to the virtual show on November 21st start at $50.   The show begins at 7 PM.   All proceeds benefit Beyond Hunger and a portion of your ticket purchase is tax deductible.   
Check out our Silent Auction
We have some amazing silent auction items.  Whether or not you can attend the virtual event, anyone can bid!  There's trips to look forward to, priceless autographed items, electronics, outdoor activities, quarantine kits, and more!  
Make it Dinner (or Drinks) and A Show
Support local restaurants and add dinner or drinks to the show.  Special thanks to those that ordered Angie's Pantry meal service for the event.   We have also partnered with One Lake Brewing which is offering specialty cockatil kits. The Spiced Cranberry Mule kit comes with OLB house-made spiced cranberry syrup, fresh lime juice, ginger beer and a bottle of Lake Life Vodka. Perfect to sip while watching the show and enough left over to enjoy on Thanksgiving.  If the mules aren't your style, the Notorious BBG and The Guava Get Away are some other great options.   To view the cocktail recipes go to www.onelakebrewing.com
Pre-order your kits from One Lake Brewing, Wednesday through Saturday 11/21 for pickup or delivery between 4 PM - 6 PM.
About Nathaniel Rateliff
Rateliff's range extends across genres, hitting Americana, rock, folk, R&B, pop, and soul. Preceding the emergence of Nathaniel Rateliff & The Night Sweats, Nathaniel released three albums and an EP; Desire and Dissolving Men (2007), In Memory of Loss (2010), Falling Faster Than You Can Run (2013) and the Closer EP (2014). The solo releases received critical praise—New York Times declared, "Pensive, Rousing, Stark, Eloquent…Cash Echoes." When Nathaniel Rateliff & The Night Sweats formed their self-titled release in 2015 shared hit party songs like S.O.B. and I Need Never Get Old.  They've played the late-night television circuit, toured worldwide, and performed at festivals like Coachella and Farm Aid.
Seven years later, Rateliff returns to his solo work in And It's Still Alright.  The album jogged something out of his restless subconscious, helping him explore unsteady personal terrain. The title track has a haunting grace, acceptance and wisdom.  Time Stands is a hymn, a showstopper, a gift from beyond, a song that asks more questions than it answers, yet it's anthemic in its scope and delivery.
About Shemekia Copeland
Three-time Grammy nominee, Shemekia Copeland will kickoff our virtual concert accompanied by Chicago blues legend, Ronnie Baker Brooks.  Copeland has performed thousands of gigs at clubs, festivals and concert halls all over the world and has appeared on national television, NPR, and in newspapers, films and magazines. She's sung with Eric Clapton, Bonnie Raitt, Keith Richards, Carlos Santana, James Cotton and many others. She opened for The Rolling Stones and entertained U.S. troops in Iraq and Kuwait. Jeff Beck calls her "amazing." Santana says, "She's incandescent…a diamond."  Her new album Uncivil War was released on 10/23.