We are committed to providing foods and services that nourish and sustain, through a dignified experience. We prioritize fresh produce and protein, and offer a variety of grocery items.
Our walk-in Community Pantry is located in the lower level of First United Church of Oak Park. The entrance can be found in the rear of the building off of the parking lot on Kenilworth.  If you require wheelchair assistance, please ask upon arrival. A volunteer will escort you to our wheelchair entrance. 
Our Drive-Thru is also located in the rear parking lot of First United Church of Oak Park, just off Kenilworth.  Please look for the orange flags that mark the appropriate parking lot entrance. If arriving for our Drive-Thru you can choose from a variety of prepacked boxes: Standard, Latin Flavors, Diabetes-Friendly, Vegetarian, or Vegan, and an assortment of boxes that accommodate nut/wheat/or dairy allergies. 
In order to verify who you are, and where you live, every visit we require two (2) things:
Check out this quick tour of grocery pick-up at Beyond Hunger.
For more information, see 'Requirements' or 'FAQ' below.
Follow @GoBeyondHunger across our social channels for up-to-date information about the Beyond Hunger events or pantry hours. 

Office and Pantry Hours
Grocery Pick Up
Saturdays: 9:00 a.m. - 12:00 p.m.
Wednesdays: 3:30 p.m. - 5:30 p.m.
Office & Donation Hours
Office Hours:
Monday - Friday: 9:00 a.m. - 5:00 p.m. 
Donation Hours:
Monday: 9:00 a.m. - 4:00 p.m.
Tuesday: 9:00 a.m. - 4:00 p.m.
Thursday: 9:00 a.m. - 4:00 p.m.
Friday: 9:00 a.m. - 4:00 p.m
To drop off donations outside of normal hours or if you are dropping off a large donation, please contact Ricardo to schedule a time.
Beyond Hunger's Main Office and Food Pantry are located in the lower level of First United Church of Oak Park. We are open to accept donations Monday, Tuesday, Thursday and Friday: 9:00 a.m. - 4:00 p.m. Our administrative offices are open M-F 9:00 a.m. - 5:00 p.m.
848 Lake Street, Oak Park, IL 60301  (708) 386-1324
The church is on the NE corner of Lake and Kenilworth Streets, enter the parking lot on Kenilworth and go to the lower level.
More Information
Social Services
Our Social Services Team helps people apply for public benefits, including SNAP & RTA Ride Free Permits.
Requirements
Households may visit the Food Pantry once a month (calendar month) and must:
Show a photo ID (driver's license, State ID, school ID, work ID...)
Reside in our Service Area

See bottom of page for map of included zip codes.
We require proof of residence in our service area, if your Photo ID does not have proof of address, you must bring a current utility bill, mortgage, lease, letter from landlord, or voter registration card.
If you don't reside in our service area, contact the Greater Chicago Food Depository to find assistance programs in your community.  For immediate help, contact 773-247-FOOD (3663).
Frequently Asked Questions (FAQ)
What time should I arrive to make sure I receive food?
As long as you arrive for our drive-thru or walk-up between the scheduled food distribution time (9:00 a.m. to Noon on Saturdays, 3:30 p.m. to 5:30 p.m. on Wednesdays) you receive food. 
What do I need to bring with me to Beyond Hunger?
Every time you visit you need to bring a photo ID and proof of address in our service area: if your ID has this, that is all you need. But if it doesn't, you'll need to bring a secondary proof of address. We load your groceries right into your car trunk when you use the drive-thru, it is helpful to have space available in your car for two large boxes. If you are arriving for walk-up distribution we recommend bringing grocery cart or large suitcase to help transport groceries if you're taking public transportation.
Do I need to show proof of income to receive food?
No, although you will have to sign a form verifying your income.
How long can I expect to wait to receive food?
Our drive-thru line is fairly fast, but depending on when you arrive and how busy we are, you may end up waiting 30 to 45 minutes before you complete the drive-thru process.   
Is parking available?
Most participants who have cars can now easily drive through and do not need to worry about parking. Volunteers will direct you through the process as you arrive. Those who choose to use the walk-up can find street parking nearby, but be sure to carefully read the signs to make sure you're allowed to park there. 
What food can I expect to receive at the food pantry?
We will always provide a variety of fresh produce, meat, dairy, canned goods, and other pantry staples and breads.  However, due to varying donations, we do not always have the same things. If you are in need of diapers, feminine hygiene products, or adult disposable underwear let our volunteers know upon check in. These are often available upon request. 
What accommodations are available for people with disabilities?
For people with limited mobility that are not using our drive-thru, we serve clients individually using the church's accessible entrance on Kenilworth (opposite the parking lot). You will be able to use the wheel chair ramp to receive your groceries.  
If I can't visit Beyond Hunger myself, is there a way to receive Food?
If you are unable to visit Beyond Hunger yourself, a family member, friend, or neighbor can pick up groceries on your behalf via a proxy form.  They will act as a 'proxy' for you, and shop on your behalf.  To do this, you'll need to send a copy (or photo on phone) of your ID and a completed proxy form with them.  They can shop for you during normal distribution hours, following the regular procedures.
Download the proxy form in the drop-down below.
Where can I receive food if I'm not in Beyond Hunger's service area?
You can find other food pantries that serve you by visiting Greater Chicago Food Depository's website and entering your location.  
Who can I contact if I have additional questions?
For additional questions, please contact our Pantry Programs Manager, (708) 386-1324 ext. 1114.
Are you open on holidays?
Sometimes our regular distribution day falls on or near a holiday.  We are always open the Wednesday before Thanksgiving. 
Please check our social media channels or our main page for any holiday closure notifications. 
Proxy
Homebound individuals ("recipient") may be served by Proxy.  The proxy is someone who picks up food on behalf of the recipient. 
Proxy Requirements:
The Proxy Form must be signed by the Recipient, Delivery Person, and Food Pantry Staff.
Delivery Person must have a copy of Recipient's ID (photo on phone is OK).
Delivery Person must have their ID.
Download the form below:
Additional Programs
Beyond the Food Pantry, we offer the following programs and services:
External Resources
---
Click the underlined titles to proceed to other webpages:
---
HUB PORTAL https://healthconnectionhub.org/
Food Resources:
Greater Chicago Food Depository | Find additional food pantries & soup kitchens
Oak Park Farmers Market | Every Saturday May-October – SNAP is accepted and matched
Sugar Beet Co-op | Healthy groceries sourced directly from farmers – SNAP is accepted and matched
Farm on Ogden | Urban greenhouse and fresh produce market – SNAP is accepted
Meals on Wheels | Home delivered meals for seniors and people with disabilities
Nutrition Resources:
Shelter and Homelessness Resources:
Housing
Employment and Business Resources:
Healthcare and Mental Health Resources:
Utility Assistance:
Benefit Resources:
Childcare and Parent Resources:
Community Event Resources:
Domestic Violence Resources:
Legal Resources:
SNAP Updates
Did your SNAP benefits recently go down? 
Our Social Services team can check to see if you are maximizing your SNAP deductions so you can get the biggest benefit amount possible! We can be reached over the phone at 708-386-1324 extension 1106 to help you maximize your SNAP deductions today. 
Special Diets
When arriving for our drive thru if you have special dietary needs let our volunteers know as you register. We have the following specialty boxes available:  Latin Flavors, Diabetic Friendly, and Nut or Gluten free boxes. 
Our Service Area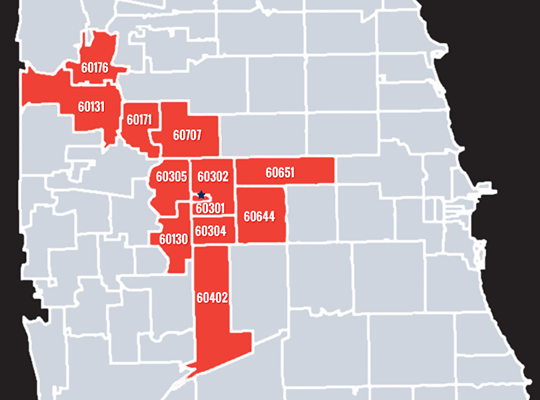 60130

Forest Park

60131

Franklin Park, Schiller Park

60141

Hines

60171

River Grove

60176

Schiller Park

60301

Oak Park

60302

Oak Park

60304

Oak Park

60305

River Forest

60402

Berwyn, Stickney

60644

Chicago (Austin)

60651

Chicago (Austin/Humboldt Park)

60707

Elmwood Park, Chicago (Galewood)
If you don't reside in our service area, contact the Greater Chicago Food Depository to find assistance programs in your community.
For immediate help, contact 773-247-FOOD (3663)