Back to top
Fall Benefit Concert 2023 (Nov. 17 & 18)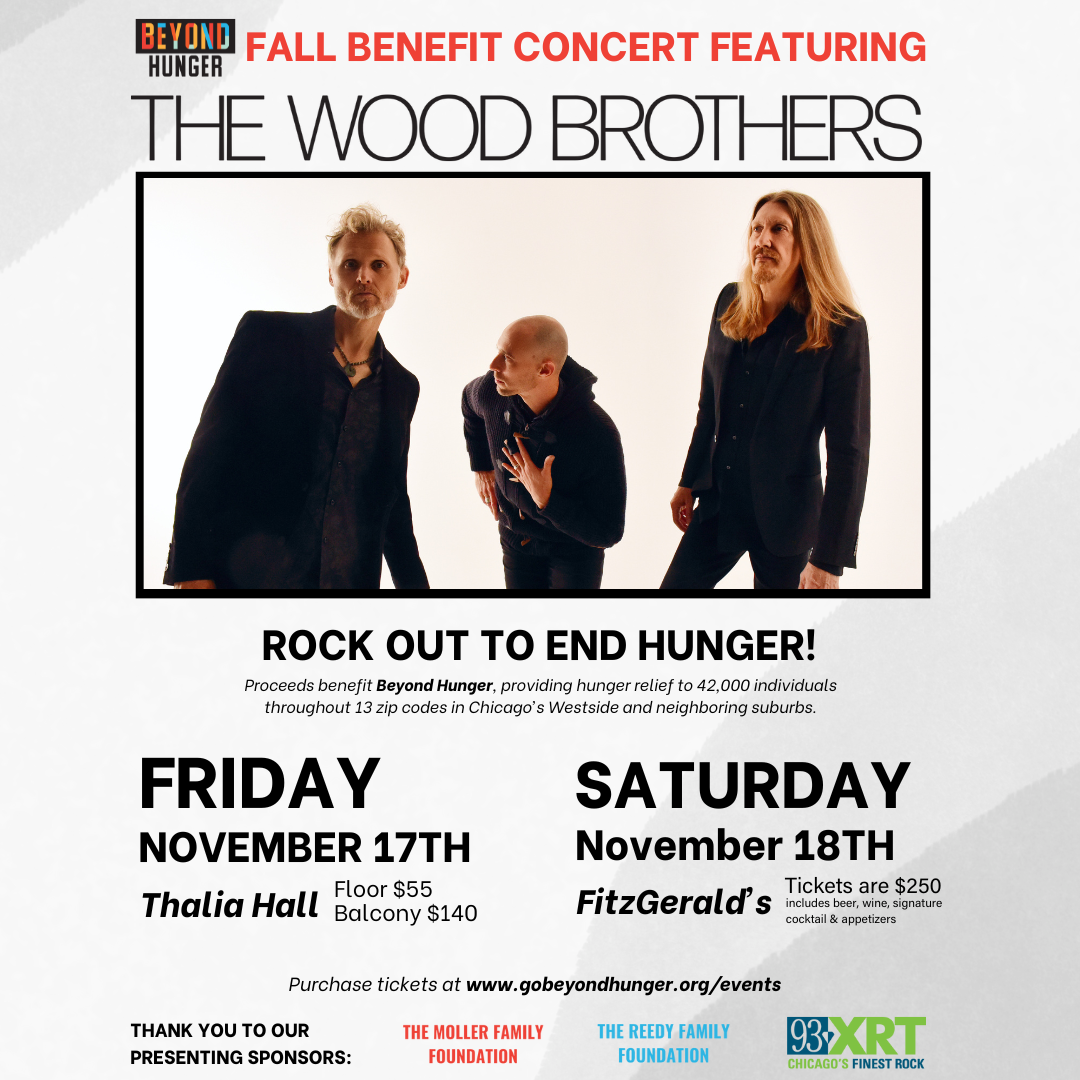 This event has ended.
Join us for our annual two-night benefit concert on Friday, November 17th at Thalia Hall and Saturday, November 18th at FitzGerald's.  Our headliner this year is The Wood Brothers and we could not be more excited! Tickets are on sale (see links below). 
Special thanks to our presenting sponsors, WXRT, The Moller Family Foundation, and The Reedy Family.  More details are below: 
November 17th at Thalia Hall (Pilsen)
The Wood Brothers with opening act, Sara Jean Stevens
GA Floor Tickets $55/Seated Balcony $140
November 18th at FitzGerald's (Berwyn)
The Wood Brothers with opening act, Phillip-Michael Scales
GA Standing $250 (includes beer/wine/signature cocktail and appetizers by Babygold BBQ)
Raffle
Enter our raffle for a chance to win $900 in gift cards and an autographed copy of Heart is the Hero. If pre-purchasing online, you must do so by EOD Friday 11.17.  Otherwise tickets are on sale at the show on Saturday at FitzGerald's.  1 ticket for $25 or 5 for $100.  
About The Wood Brothers: 
For the better part of two decades, The Wood Brothers have cemented their reputation as freethinking songwriters, road warriors, and community builders, creating a catalog of diverse music and a loyal audience who've grown alongside them through the years.
The Grammy-nominated leaders of American roots music, Chris Wood, Jano Rix, and Oliver Wood have earned acclaim from Rolling Stone and NPR, as well as an annual touring schedule of sold-out music halls and theaters on both sides of the Atlantic. 
The band's eighth studio album, Heart is the Hero continues their evolution of music. Recorded analog to 16-track tape, this latest effort captures its three creators performances in real-time direct from the studio floor with nary a computer in sight. The stripped down swagger of "Pilgrim"is a reminder to slow down and experience each moment as an interactive observer, rather than a passive tourist. The gentle sway of country soul gem "Rollin' On", expounds on the timehonored tradition of love as the guiding light through darkness. "Line Those Pockets" is a universal call for mercy and understanding over materialism. 
Together, these songs offer a snapshot of a spirited, independent-minded group at the peak of its powers, always pushing forward and seeking to evolve beyond what's come before.
Sponsorship Information:
Promote your business and help fight local hunger. See our concert packet for details or contact Teri.