FY2017 Annual Report
As we look back at Fiscal Year 2017, we see a year of growth and new milestones.  As you review this report, you will learn about many of those acomplishments, including distributing 1 million pounds of food and expanding many of our programs including Home Delivery, Surplus Project, and Nutrition Education. 
We hope you take pride in seeing the difference you've made possible.  On behalf of Board, staff, and the clietns we serve, thank you for being part of the change! 
FY2017 Highlights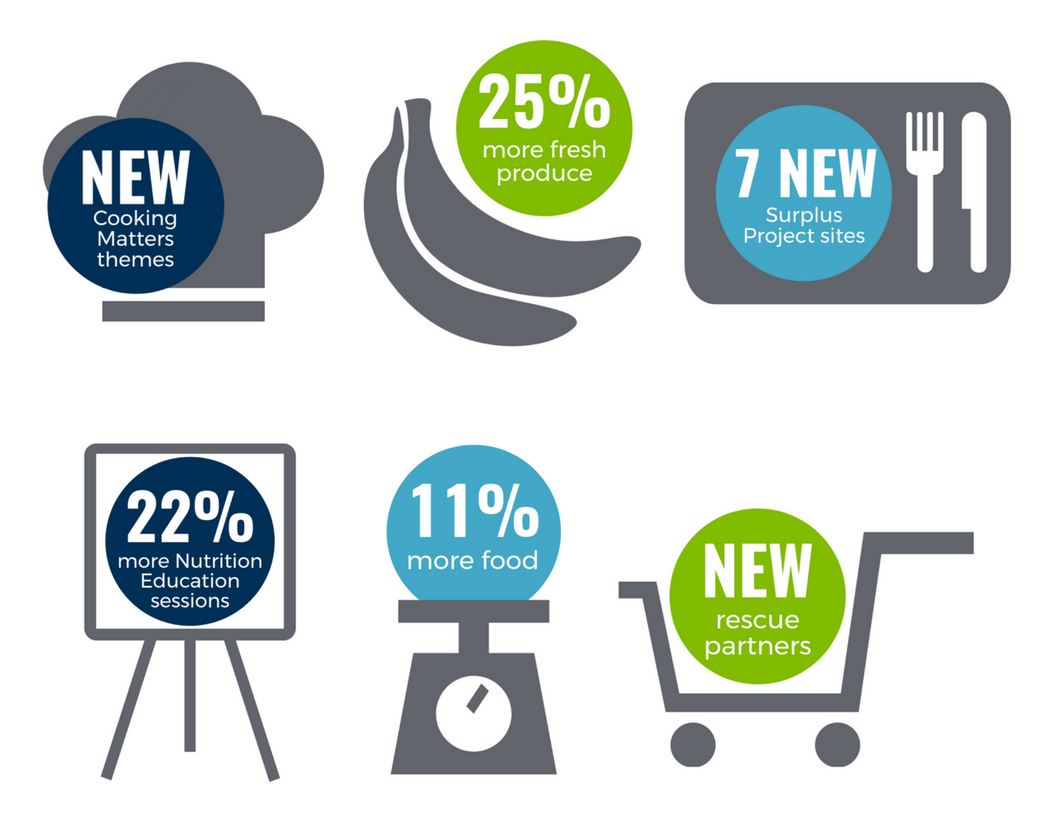 Reaching a new milestone
In FY2017 we reached a new milestone. Providing over 1 million pounds of food to our neigbors in need.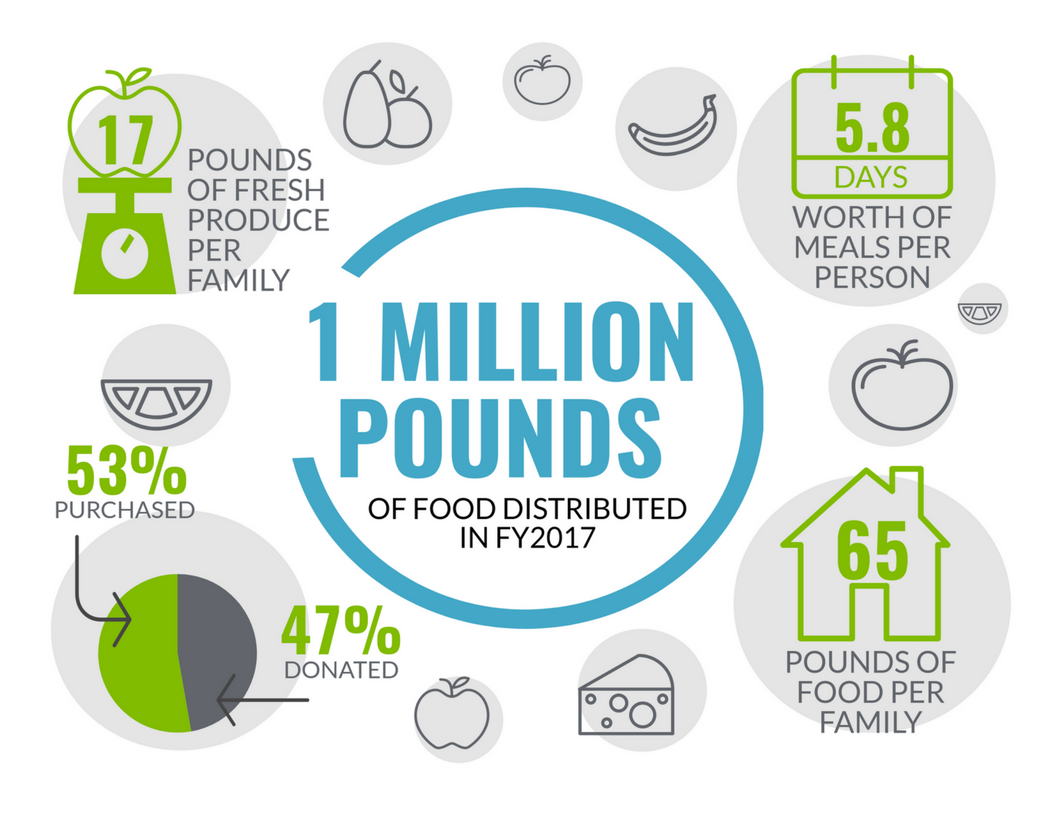 Farmers Big and Small
During the summer and early fall, nature's bounty is evident at the Food Pantry as farmers and gardeners donate fresh-from-the-dirt produce.  These generous growers range from a home gardener with a few too many tomatoes, to organized gardens, and even farmers with acres of land. 'Farmer Tom' Miller and Hatch Elementary School's Hatch Patch are two such donors.
'FARMER TOM' MILLER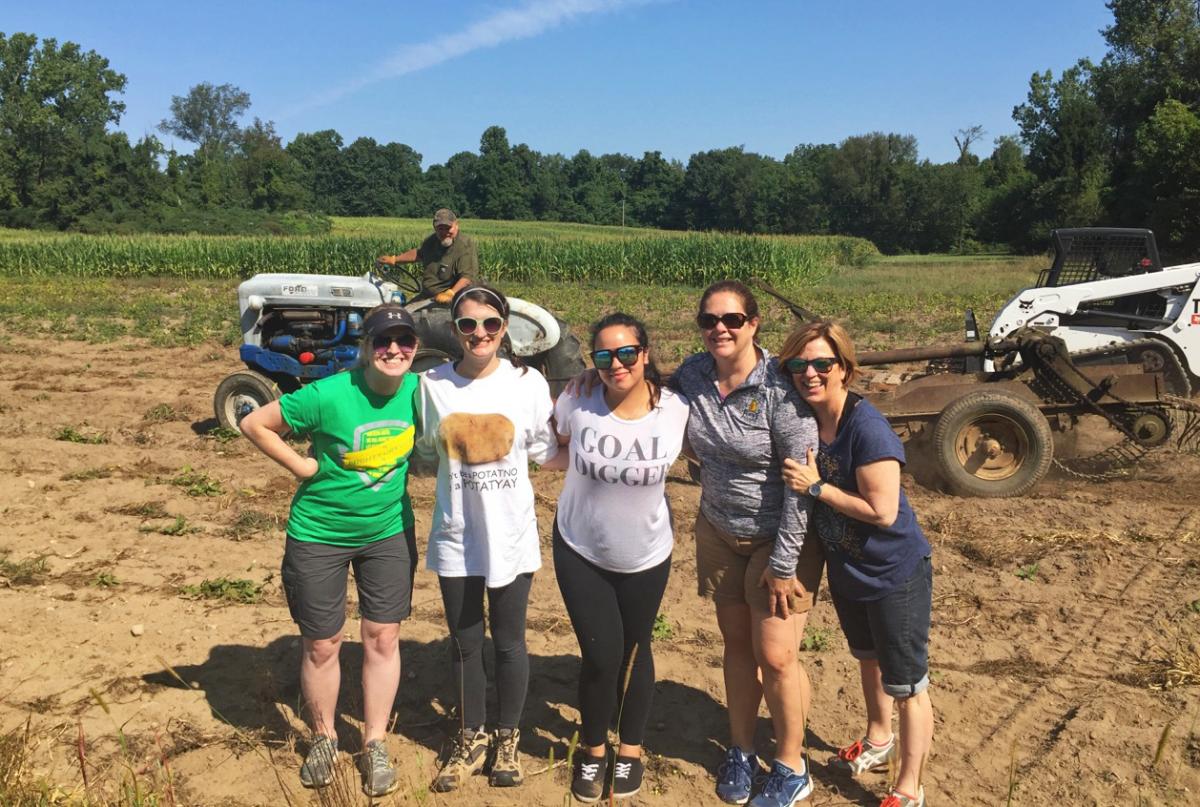 Tom Miller's donations arrive at the Pantry by the truckload.  A bond trader by day, Tom runs a "hobby farm" in his spare time, providing potatoes and other produce from his farm in Michigan.  Tom lives in Oak Park, and has been familiar with the Pantry's mission for some time.
"I knew about the Pantry and offered them potatoes because they never get them donated.  The grocery stores don't remove them from stock unless they need to be thrown away," Tom says.  When he started donating, the harvest was back-breaking work as everything had to be done by hand.  He has since purchased a 1946 mechanical digger and a 1950 two-row planter at auctions, allowing him to plant more potatoes. "With equipment I'm REALLY dangerous!" he laughs.
But potatoes were only the beginning for Tom.  In 2017 he added 200 new apple trees on the farm, and hopes to have 150,000 apples to offer the Pantry within a few years.  He also works with neighboring farmers to purchase produce for the Food Pantry that they cannot sell commercially due to slight imperfections.  Tom buys tomatoes, peppers, and apples at discounted prices for the Pantry, sometimes providing as many as 4,000 pounds in a week.  The farmers are happy their produce can be saved and enjoyed.
"This has blossomed into more than a guy with a few rows of potatoes," he says.
Tom has plenty of praise for Oak Park River Forest Food Pantry. "I've gone to pantries [near my farm] in Michigan, and they are nowhere near as organized as our Food Pantry. It blows my mind how good our Pantry is—flexible and professional.  They make it easy to help.  Every farmer here wants to help, but they have no idea how to do it.  Our Pantry goes overboard to make it easy."
'Farmer Tom' as he's known around the Pantry has shown that a lot of good can come from some dirt, a few old tractors, and a lot of hard work.
Hatch Patch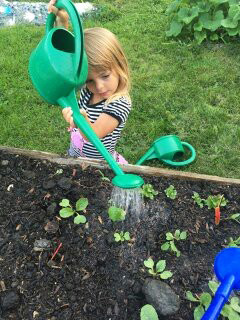 A garden project at Hatch Elementary School, Hatch Patch has been teaching children about gardening and nature for the past 11 years.  Every student at Hatch - as young as five years old - participates in the garden throughout the school year.
The 900 square foot garden is a center of activity where students learn about nature, food, and science.  Activities at Hatch Patch are wide-ranging from observing milkweed plants to study the life cycle of butterflies to planning and participating in community-building events like 'A Taste of Hatch Patch.'
Parent volunteer Heather Guido has managed Hatch Patch for the past 9 years, and has taken the garden to new levels, building on her passion for gardening by becoming a Master Gardener and Master Naturalist at the University of Illinois.  She volunteers countless hours tending to the garden and integrating its use into many aspects of the curriculum at Hatch, including science, nature and art classes.
Beyond the educational benefits, Hatch Patch spreads the fruits of students' labor by donating a share of their produce to Oak Park River Forest Food Pantry. "This year we raised 435 pounds of cucumbers, and donated them to the Pantry, along with hundreds of pounds of tomatoes, zucchini, peppers, okra and string beans," Heather says with pride. 
The garden takes a lot of work from many hands, but Heather never questions that its worthwhile.  "It's really rewarding.  The kids love it and they tell you they love it," she says.  Beyond the student's love for Hatch Patch, visitors to the Food Pantry love the fresh produce options grown with care by little hands.  
Providing Nutrient-Dense and Protein Rich Options
92% of the food we procure is considered nutrient-dense (containing vital vitamins, minerals, or whole grains) or protein-rich (legumes, meat, dairy, eggs).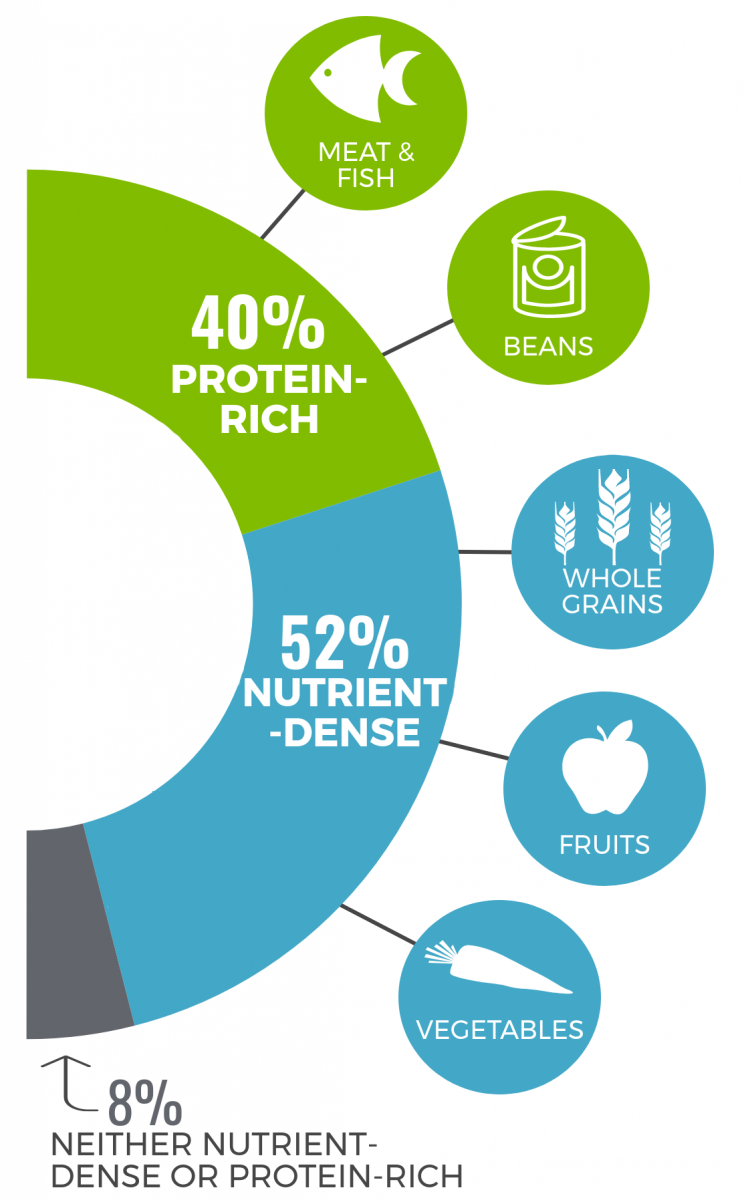 You Can Buy How Much?
$1=3 meals. $1=$9 worth of food.  How can we buy so much with each dollar? It comes down to where we buy our foods: the local food bank and at a produce wholesaler.  There we can get fresh foods and packaged goods including frozen meats, eggs, produce, and beans at steep discounts.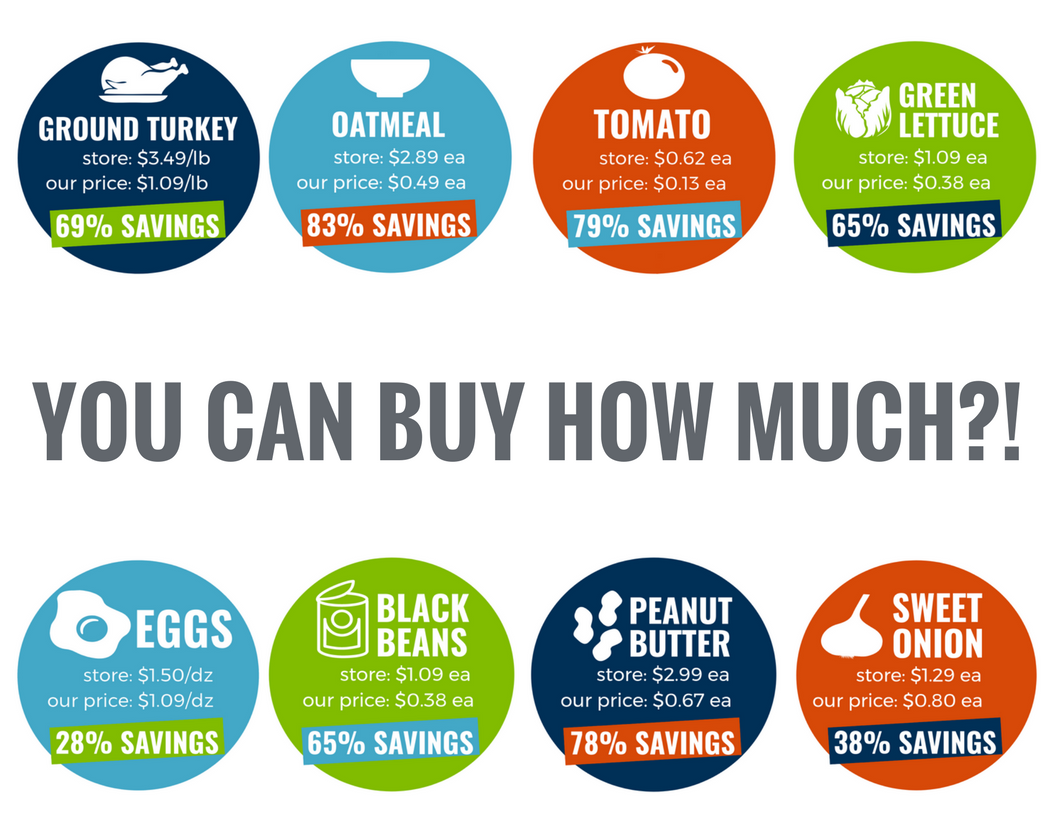 A Love Affair
Meet Gary Love.  He's been visiting the Pantry for the past 10 years and couldn't be more grateful for the impact it's had on him and his family.  "I happened to be in the area asking questions, when a few people told me about a great food pantry just across the street that could help me out with a lot of things.  I decided to walk over and I've been coming back ever since," Gary recounts. 
Gary had the good fortune to receive assistance right when he needed it most.  "I had lost my whole wallet!" Gary exclaims.  Assistance came from both the Food Pantry and Housing Forward, a social services organization that collaborates closely with the Food Pantry. "They helped me get my birth certificate, my state ID, and information about [other services].  I also started coming by once a month for food," he adds.  
Born and raised in Chicago's University Village area near UIC, Love is the 9th of 10 kids.  His life changed big time 10 years ago when he retired from his job as a City of Chicago parking enforcement officer turned manager.  Around the same time, he became his aging mother's primary caregiver, and met his now girlfriend Dannie.  Dannie and Gary instantly hit if off and now spend nearly all their time together, including visits to the Food Pantry.  Gary has one son, and Dannie three daughters, between them the pair has eight grandchildren.  The couple are family-centered Christians who spend most of their time caring for their grandchildren and Gary's elderly mother.
Gary credits his comfort level at the Food Pantry to the kindness and compassion he's experienced during interactions with Pleshette Davis, Benefits Coordinator.  "Pleshette helps me with my resume, and pieces of mail I don't understand.  She's a great resource," Love says.  Davis has helped the couple with a myriad of needs, including SNAP application renewals, medical insurance issues, benefits appeals, daycare paperwork, unemployment filing, and even identity fraud.
"[Gary and Dannie] feel comfortable with me and they like to come in if there's something they don't understand or need help making the appropriate phone call.  I'm happy to help them discern what is what. It's a relationship that continues to evolve," Pleshette explains.  She sees the couple 4-5 times per year, sometimes separately, but often together. "They're warm-hearted people.  When you're on a fixed income, it doesn't meet all the needs of the person.  It can be frustrating to stretch your dollars as much as you can, and still get things coming at you from all angles.  It's good to have someone to talk to you that won't take advantage, but who can offer help," Pleshette says.   
Gary continues, "I've been coming here a long time, and they're always upgrading and making changes, and it's always better – making it spacious in a good way.  In the beginning, they just gave out bags of food."  He emphasizes that the changes have helped him, "a great deal.  If I didn't have this support, I'd be struggling.  I will surely be telling others about how great the people are here.  They really do help you." 
Seniors at the Food Pantry
Seniors are particularly vulnerable to hunger.  Due to limited Social Security incomes, rising medical costs, and mobility issues, seniors often have a hard time meeting their nutritional needs.  We're pleased to help reduce food insecurity for these neighbors.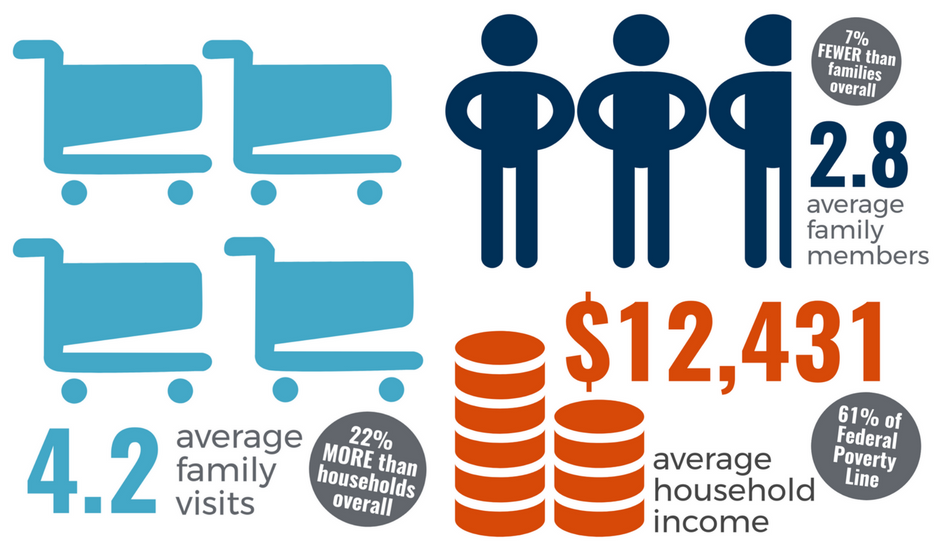 Expanding, Improving Programing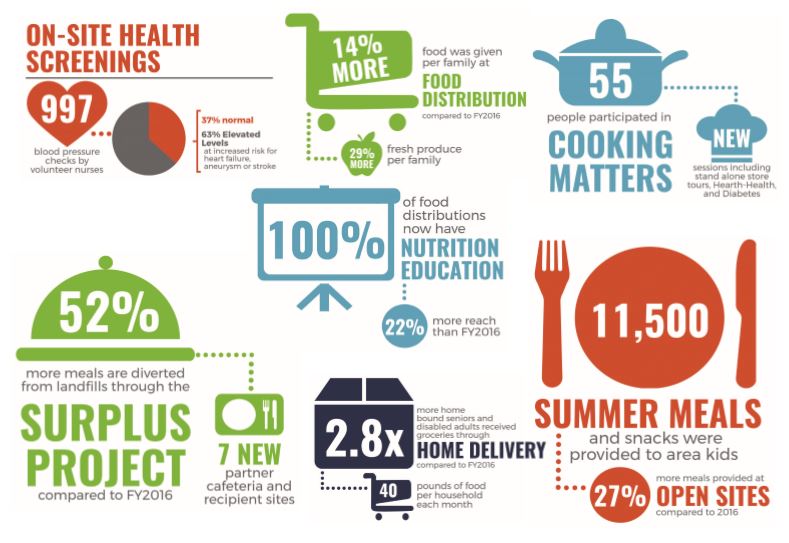 Cooking Matters Takes Its Show on the Road
For Oak Park River Forest Food Pantry's Cooking Matter's participants, the six-week nutrition and cooking class includes a field trip to Pete's Fresh Market in Oak Park for a grocery tour.  An opportunity to tour the store's various departments while learning about label reading and unit-pricing, the store tour has become so popular it is now a stand-alone class.  Last year, over 50 participants toured the aisles of Pete's Fresh Market.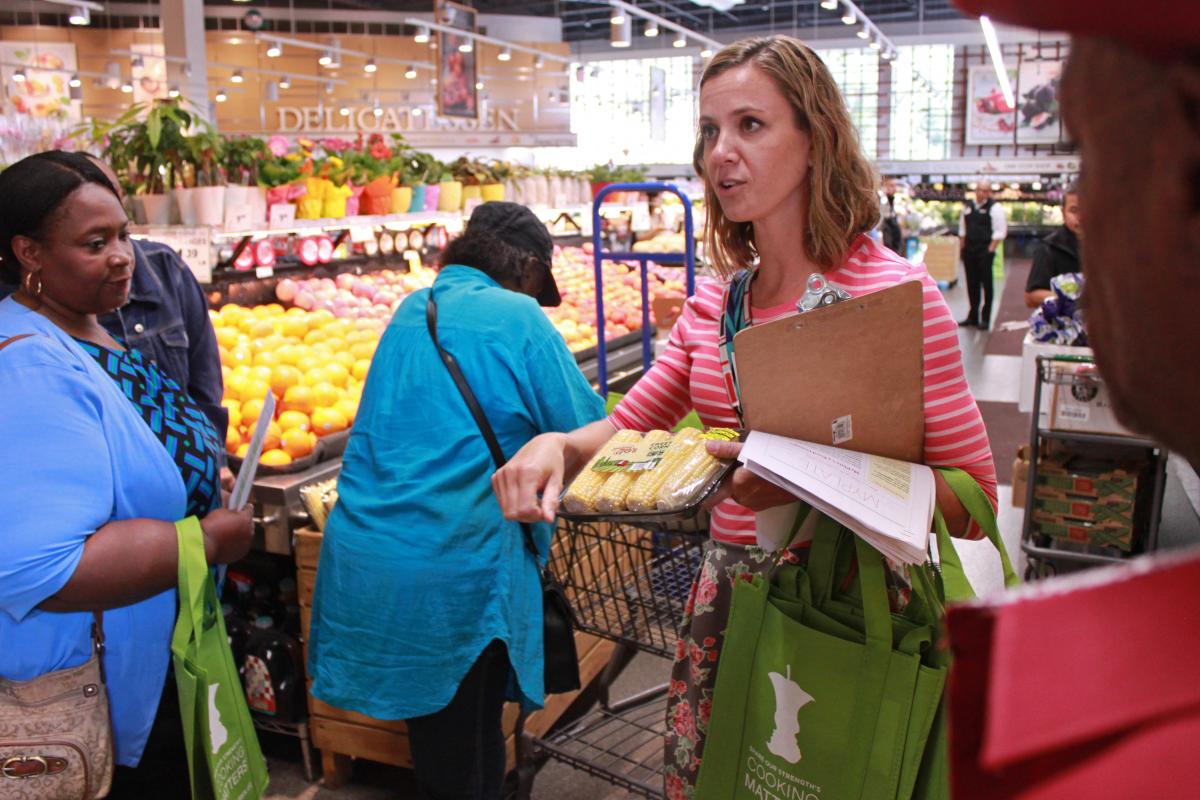 On a blustery October afternoon, 12 participants met Pantry dietitian, Bri Kellog, in the produce department. Standing amidst berries and bright rows of apples and oranges, Bri begins by explaining the updated changes made to the food pyramid, now called "My Plate."
The discussion turns to unit pricing as the group compares price per ounce of regular and organic blackberries.  "Unit pricing means finding the best bang for your buck as far as your budget goes," Bri explains. "I'm a blackberry girl," comments tour participant, Brenda, "and I love that all you have to do is wash'em and eat'em," she laughs.  Another participant, Deborah, admits, "I usually shop for the most things I can get for my budget, and not for my health, because fresh and healthier foods are expensive when you're living on a tight budget." 
Questions arise about the different prices among bell peppers, different colors and different places of origin--some shipped in from as far as Holland or Mexico.  Bri talks about how climate, growing conditions and shipping distance all factor into unit cost, and points out the nutritional and cost merits of buying seasonal, local produce, and opting for loose greens and veggies, versus pre-bagged and washed to get the best value.
Moving down the aisles lined with cooking oils, the subject turns to the fat content of olive, canola and vegetable oils, broken down by mono, unsaturated and saturated fats. "Although 30% of a day's calories can come from healthy fats and 14 grams of fat is a normal serving of oil, it's best to avoid high levels of saturated fat, which lead to heart disease and high cholesterol," Bri explains.  Olive oil is deemed the smartest choice, even though most of today's participants aren't fond of the taste and prefer cooking with other oils.  "After 30 years, it's a habit," admits Elaine, "and it's breaking the norm.  I'm not feeding such a big group anymore, so I can try to change that habit," she says.
Next up, the group tackles sugar content in sauces – fan favorites, ketchup and BBQ sauce among them.  Bri shows the group how to calculate content versus serving size when reading food labels, as well as noting that the amount of an ingredient present in an item is determined by where it's positioned on the ingredient list.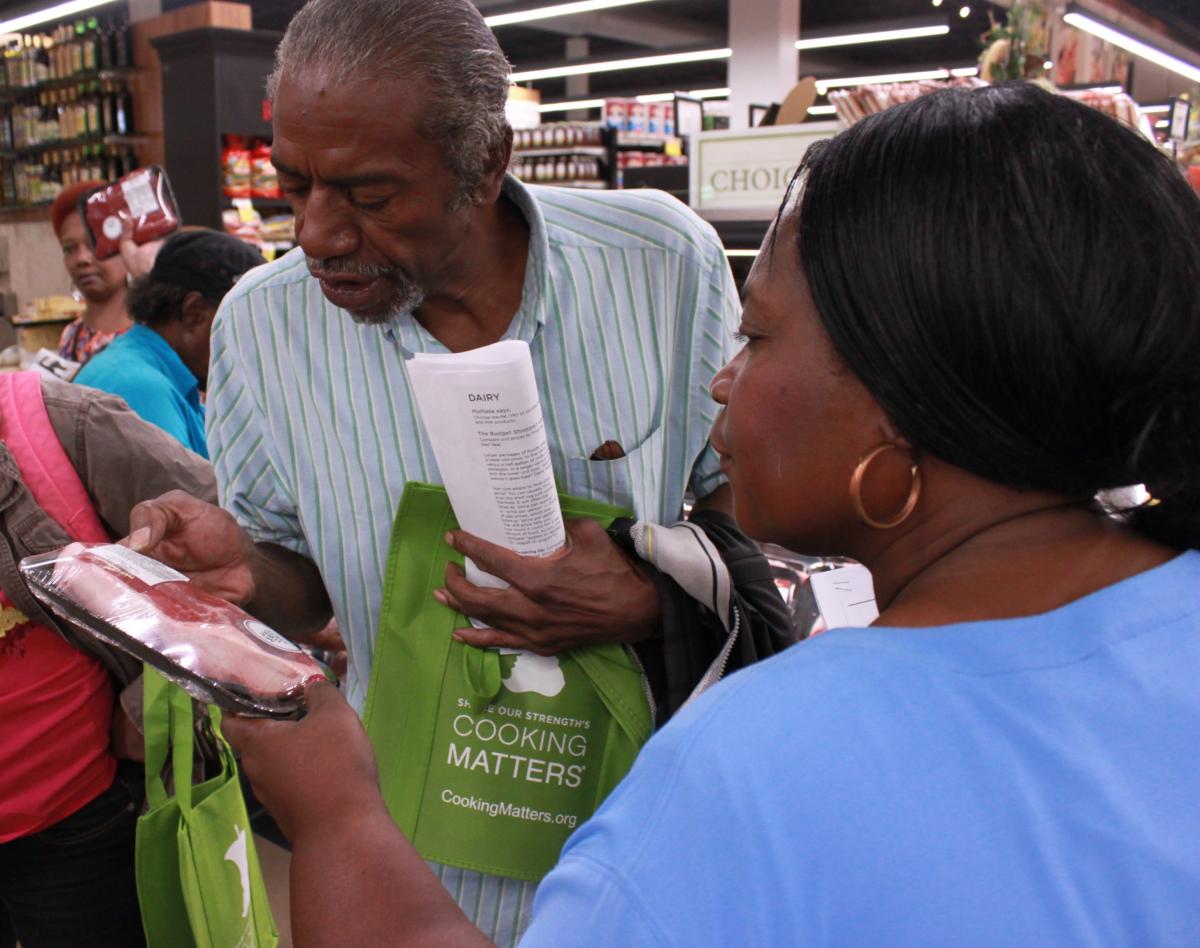 Standing in the meat section, the group compares packages of ground beef to find the lowest percent of fat.  The group discusses chicken as a healthy option, minus the skin of course before moving onto eggs.  They ask questions about the meaning behind egg cartons advertising: cage-free, pastured, non-gmo, and organic options.  The group wraps up in the dairy aisles where they discuss fat contents of milk, alternative dairy options and added sugars in yogurts. 
As the tour wraps up, participants reflect. "It was so informative about fat percentages and how to shop for your budget.  I'll be sure to look more at labels and unit price," promises Lula.  "I'm not diabetic, and I don't want to be.  I want to be heart-healthy, so I can be ahead of the game.  That's why I came to this program," Elaine adds. 
Participants walk away from the session, and back into the steady rain, with a general knowledge of how to best maximize their dollars on their next trip to the grocery store.  "While I'm leading a tour, I see participants thinking how they can better shop next time they're at the grocery store. The grocery store can be an intimidating place with seemingly endless options," says Bri. Cooking Matters at the Store provides participants with a roadmap of how they can make healthier choices for themselves and their families. 
We are a local partner of Share our Strength and EverThrive's Cooking Matters program and we thank them for their support.  
Finding Fufillment at the Food Pantry
Bobbie Hald has been helping ensure things run smoothly at Oak Park River Forest Food Pantry for the past 7 years.  During her time as a volunteer, Bobbie has spent more than 1,100 hours volunteering. That's roughly 27, 40-hour weeks!  After enrolling in a water color class that conflicts with food distribution, she turned to helping with administrative tasks.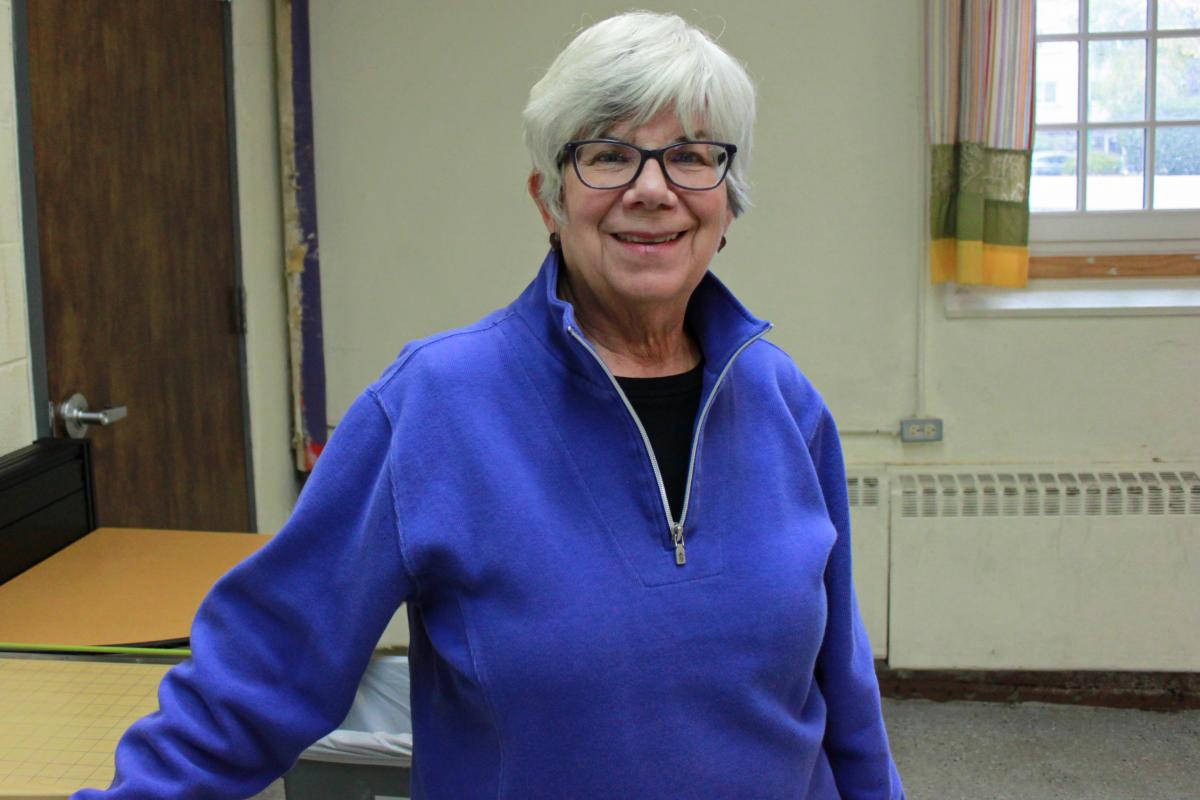 Bobbie finds many things to admire about the Pantry. "I really like how they treat everyone with dignity and respect, volunteers and clients alike.  The Pantry is also really innovative, and always coming up with new ways to serve clients.  Summer meals for kids, home delivery for seniors—these are great ideas."
Like many others, Bobbie found her way to the Pantry when she retired from her job, and was in search of something valuable to do with her free time. As frequently happens with new retirees, Bobbie found her newly open schedule more challenging than she expected.  "When you are working it looks great to have so much time on your hands, but adjusting can be hard," she says.
On the recommendation of her pastor, Bobbie "went one evening [to the Food Pantry] with some other women from church… I needed somewhere to get involved, and they have a good system.  There's no nonsense, and they use volunteer time well."
Volunteering at the Pantry helped provide Bobbie with structure and a sense of purpose.  "Working at the Pantry is really a two-way street.  As retirees, we help the Pantry, but it also helps us with that transition."
She is not alone in finding fulfillment at the Pantry.  Collectively, retired volunteers make a terrific contribution to the Pantry's success, dominating the volunteer honor roll and showing up day-after-day to ensure the Pantry runs smoothly.
Volunteer and Pantry Manager, Ricardo Garcia expresses his gratitude for the contributions of Bobbie and her fellow retirees.  "Retired volunteers are at the core of our operations. They are with us literally every day, helping us to ensure that the Pantry continues to operate with high standards."
Financial Report FY2017
In fiscal year 2017, we provided over 1 million pounds of food to the some 15,000 families who visited us.  On average, we were able to provide each family with 65 pounds of food, including 17 pounds of fresh produce.  We are proud to have been able to increase not only the number of meals families can make from our food, but the amount of nutritious food they receive. 
It's with the help of our incredible volunteers that we are able to serve so many members of our community.  While the value of volunteer labor does not appear in our financial statements, we could not have such a healthy report without them. 
Oak Park River Forest Food Pantry Financials as of June 30, 2017: