Healthy Chef Challenge a Success!
Building off the success of last year's inaugural competition, this spring's Healthy Chef Challenge did not disappoint.  Event revenues provided 3 months of comprehensive Nutrition Education programming including bi-weekly sessions at the Food Pantry, cooking classes, and store tours reaching over 4000 families!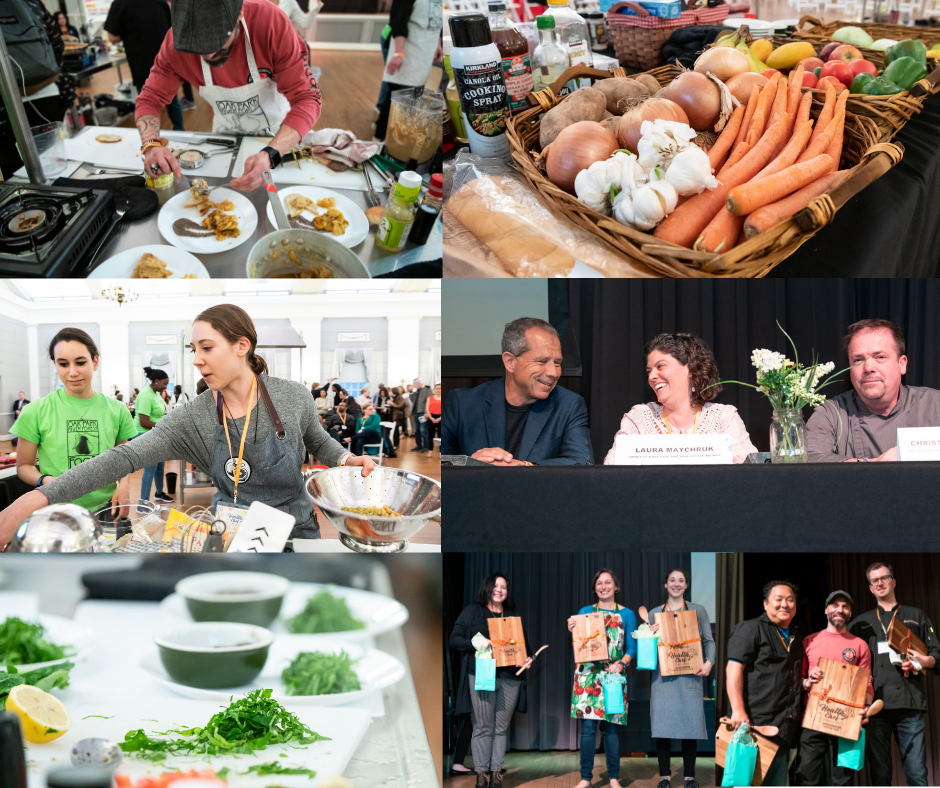 The event took place at the Nineteenth Century Club on Thursday, May 2nd.  Over the course of two rounds--a Personal Chef/Caterer round and Restaurant round, local professionals competed to make the best entree using only food pantry ingredients.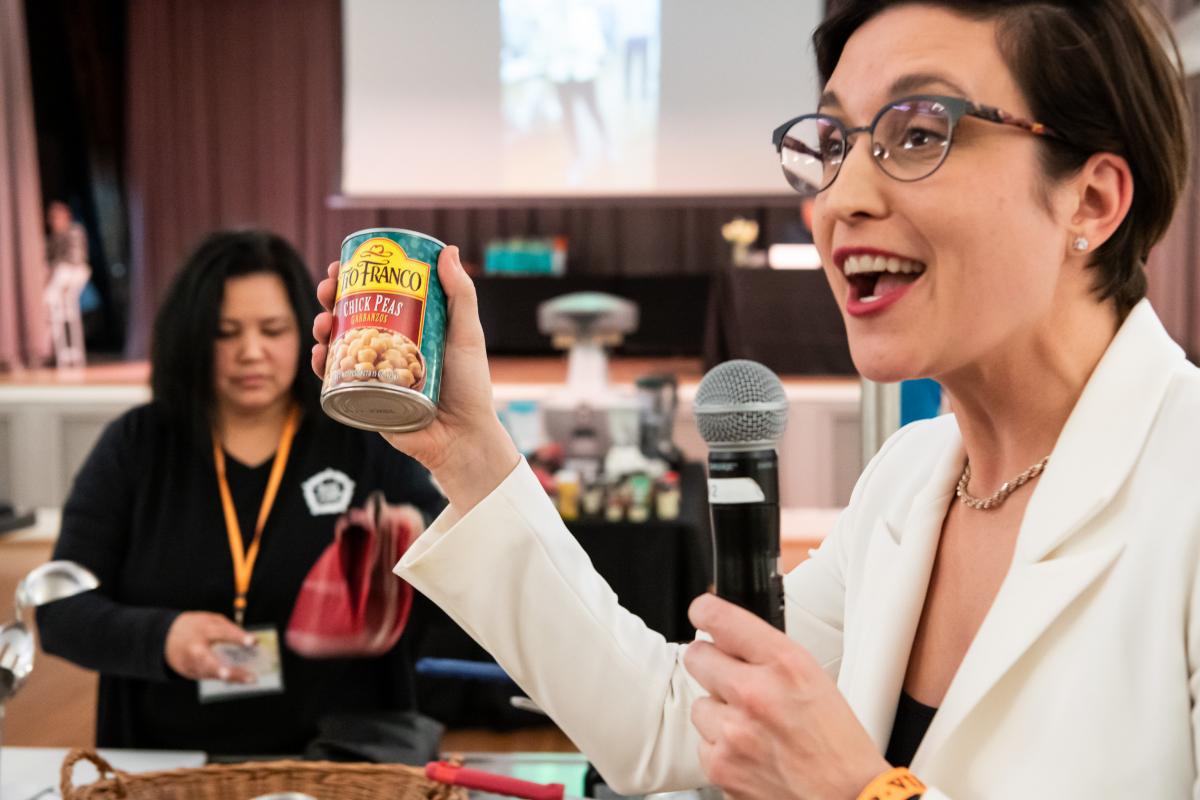 Our host for the evening was Danielle Dang, co-owner of the Michelin Bib Gourmand restaurant HaiSous Vietnamese Kitchen.  She serves as the Director of Operations and is the co-owner of Cà Phê Dá Vietnamese café as well.  Danielle is also the founder of her own firm, Den of Lions Design and has designed both restaurants.  Thanks Danielle for your amazing commentary and leading us through the evening's events.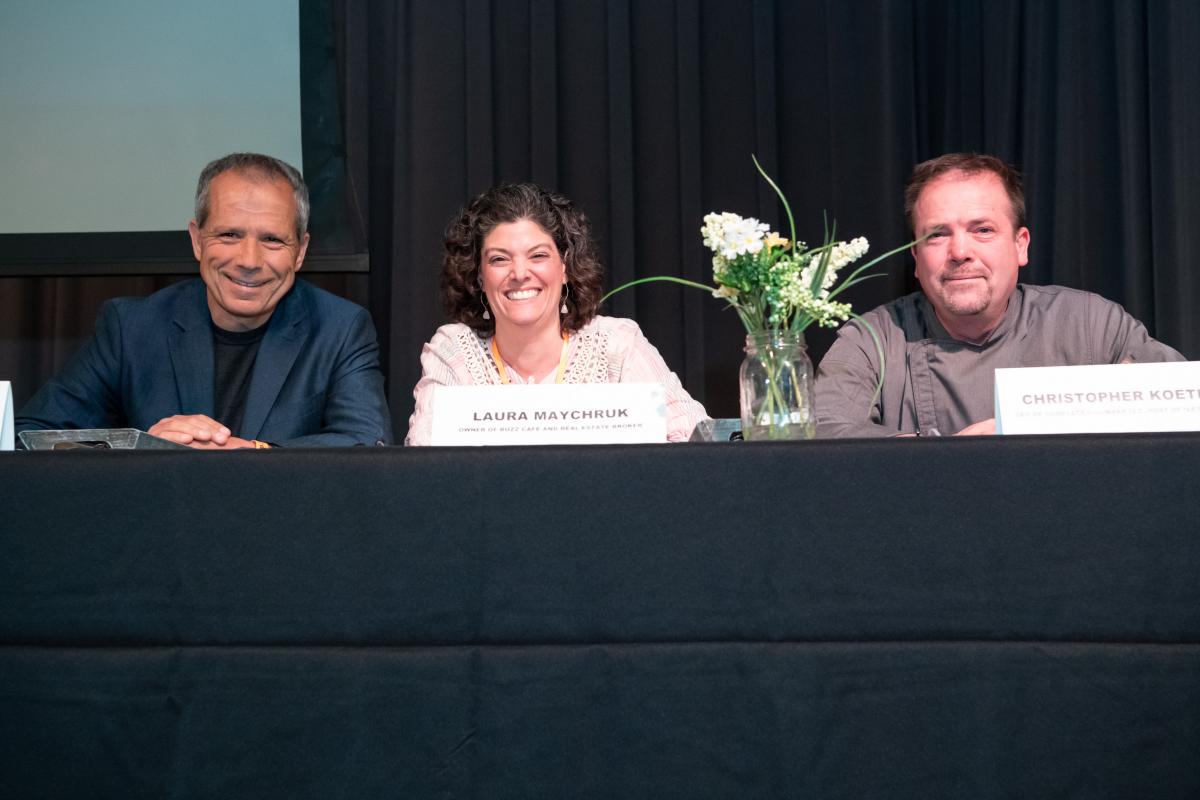 Our judges for the night were a great group of local foodies.  The panel of three included: Anan Abu-Taleb (Mayor of Oak Park and Restauranteur), Laura Maychruk (Owner of Buzz Cafe and Real Estate Broker), and Christopher Koetke (CEO of Complete Culinary, Host of Let's Dish).  These judges ranked the night's dishes based on presentation, creativity, and taste.
Up first, was our Personal Chef/Caterer round where our competitors used canned pears, chickpeas, canned turkey, and a secret ingredient, canned peas!  All these items are staples at the Food Pantry, similar to those that we receive through the USDA and our local food bank. Samantha Miola (Personal Chef & Dietitian), Vanessa Druckman (chefdruck.com), and Su Jang (New Rose Catering) were the competitors for this round.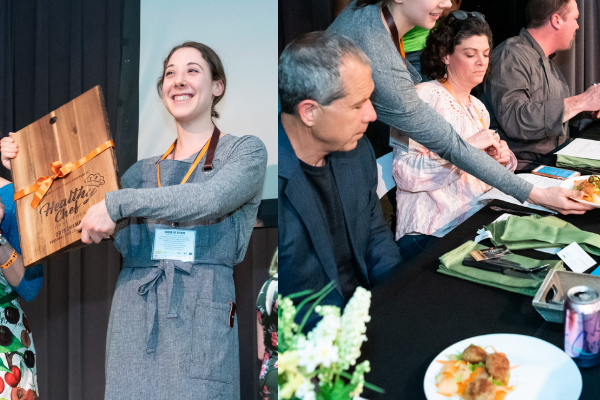 Samantha Miola pulled ahead for the win with her turkey falafel dish.  The judges were impressed; her concept was unique, it had great taste, color, and balance especially with the sweetness of the pears.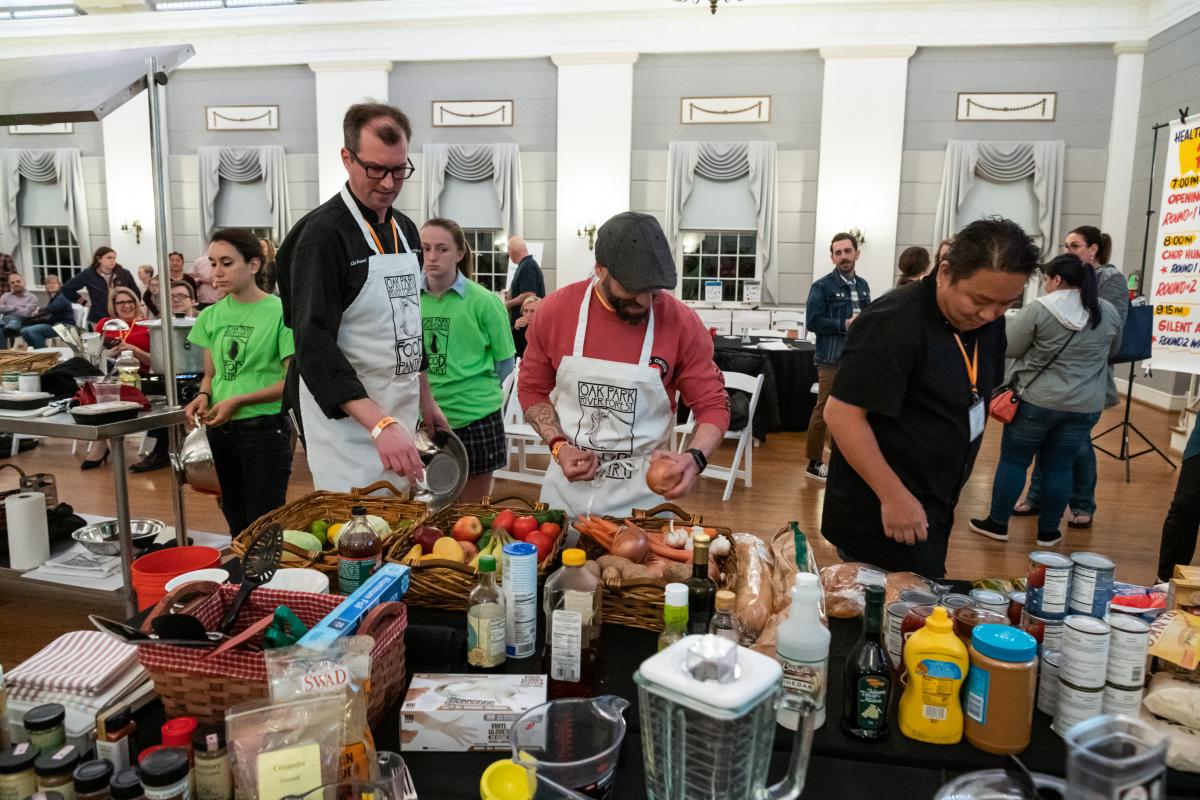 Second to the plate were our restaurant chefs, including Chris Fennell of Cooper's Hawk, Carlos Belon of Wild Onion Tied House, and Daniel Vogel of Obsessed Kitchen & Bar.  These chefs had a slightly different menu, cooking with canned potatoes, black beans, canned pineapples, and the secret ingredient a Surplus Meal (turkey casserole).  The surplus meals were an inspiration from the Surplus Project where the Pantry works with local cafeterias who repackage the days' surplus prepared foods into individual microwavable meals which are given out to recipient partners.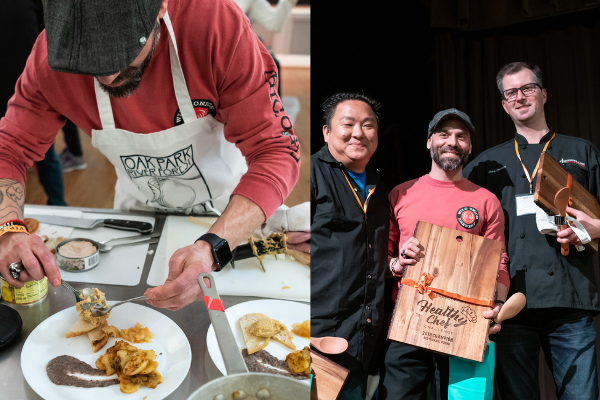 Carlos Belon of Wild Onion Tied house secured the victory with his Turkey Pâté and Crostini dish.  The judges loved his meal, especially making the Turkey Casserole into an upscale pâté, which surprised and delighted all.  
We were able to make this event zero waste with tremendous help from Mindy Agnew of Oak Park Village Compostables Program as well as Oak Park Waste Management. Because of their help, we were able to plan ahead to minimize our waste impact from the event. Pictured above volunteering for the evening is our former Dietetic Intern, Abby Marroquin.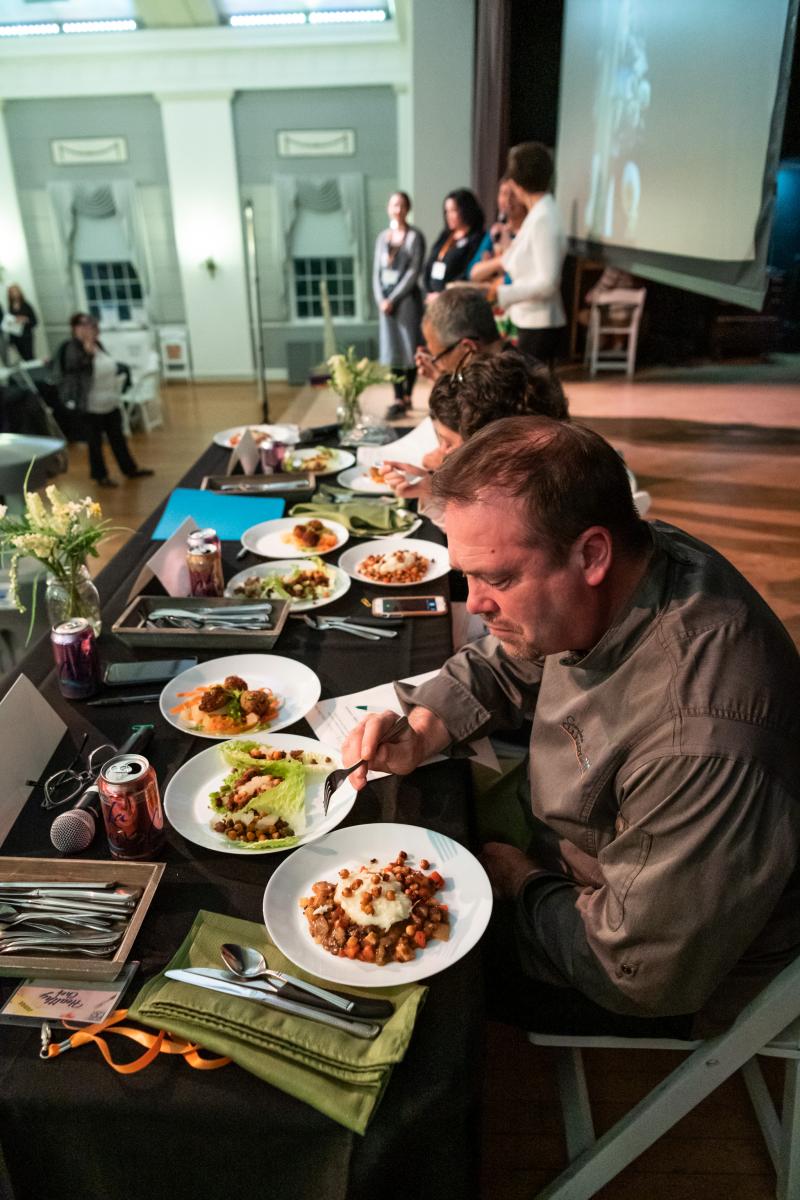 Matt Kosterman of Matt Kosterman Productions and John Griffin of Griffin and Stebbing, captured the event in beautiful photos and video.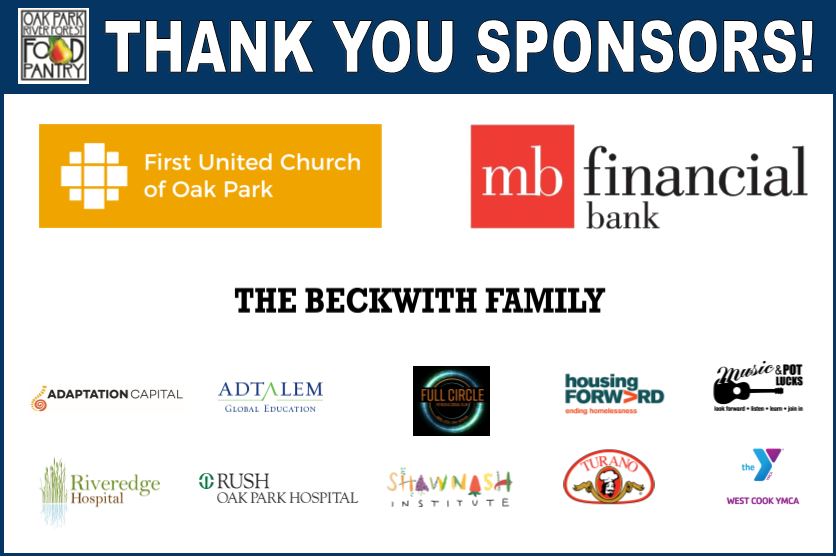 Of course, this event would not be possible without our sponsors.  Thanks to First United Church of Oak Park, The Beckwith Family, and Mb Financial Bank.  Further thanks to Adaptation Capital, Adtalem Global Education, Full Circle Fitness and Social Club, Housing Forward, Music & Potlucks, Riveredge Hospital, Rush Oak Park Hospital, Shawnash Institute, Turano Baking Company, and West Cook YMCA.  We truly couldn't have made this event possible without their support.