Back to top
Heart Health Month: Beyond the Kitchen Recipes and Tips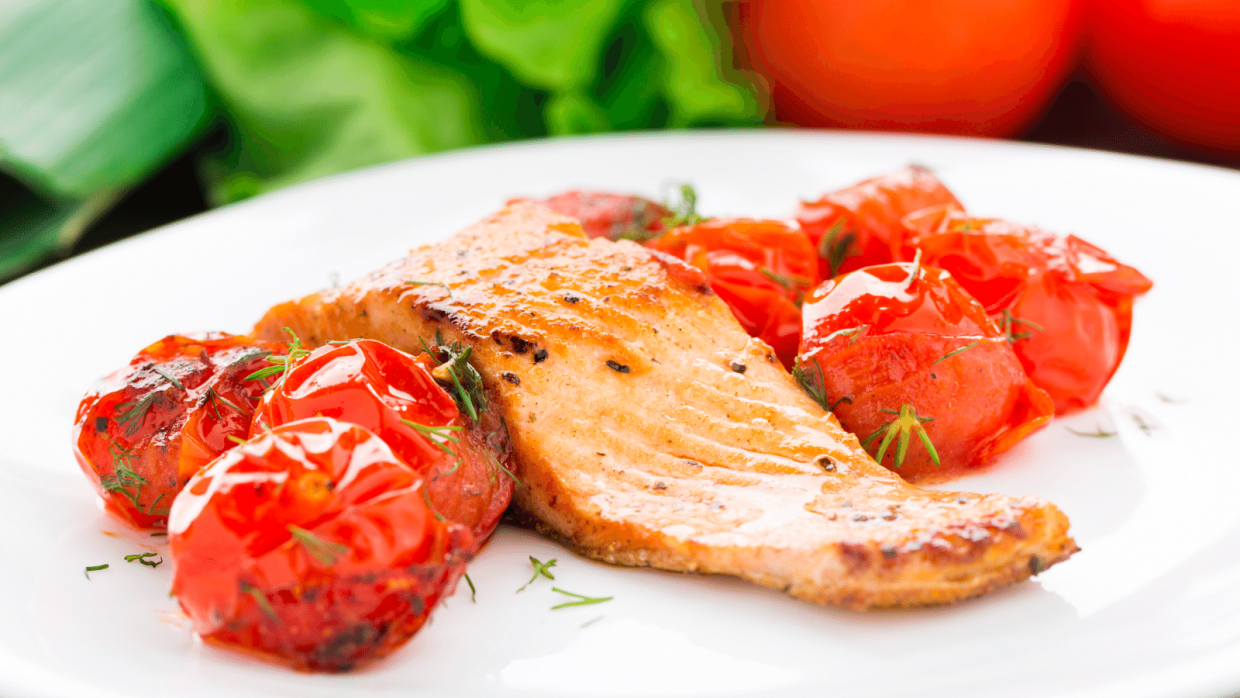 February's Nutrition Education theme is Heart Health. At Beyond Hunger we focus on the importance of healthy eating and making lifestyle changes that lower one's risk factors for heart disease. Taking steps to boost your heart health is easy to begin with just a little help. Be sure to check out our grocery shopping tips for heart health! We explain how to use our nutritional ranking system, the SWAP method, and we show you how to shop using heart-check certified items in grocery stores. And all the recipes below will get you cooking with ingredients that are lower in sugar, salt and fats. 
---
From Your Kitchen to Ours - Garlicky Baked Tomatoes and Salmon
Beyond Hunger's dietetic interns, Jordan and Ashley enjoy the simplicity of Garlicky Baked Tomatoes and Salmon, a delicious dish that takes little time to prepare and cook! The combination of fresh, plump tomatoes pairs nicely with the flavorful salmon. Consider serving with a side salad, rice, or sauteed non-starchy veggies (such as zucchini or broccoli). Salmon is a great source of Omega-3 fatty acids, the fats that support heart and brain health. As a bonus, this recipe has low amounts of sodium, saturated fat, and added sugar. 

Jordan says, "Having salmon reminds me of family gatherings and enjoying quality time with family. It is a versatile dish that can be paired with many sides that the whole family will love and appreciate."

Ashley says, "I love the simplistic flavors of this dish. I can add more veggies to dress it up or keep it as is for a light meal." For the recipe details click below!
Garlicky Baked Tomatoes & Salmon
If you would like to submit a featured recipe for our website and monthly nutrition news email Brianne@GoBeyondHunger.org.
---
Heart Healthy Friendly Recipes 
For those watching their blood pressure, cholesterol, or who are simply looking for inspiration in the kitchen, these recipes are perfect! All of the follow dishes incorporate lower amounts of fat, sugar, and salt while remaining flavorful and tasty! 

Five Ingredient Baked Ziti: Baked Ziti is a popular recipe and has been a staple in many southern Italian homes for generations. Make it as-is with this base recipe or dress it up with some added veggies! 
Banana Pancakes: YUM! Start your morning off with fluffy and comforting pancakes. Bananas add a subtle sweetness and texture. Share this recipe with family and friends as it is sure to be a crowd pleaser!
BBQ Chickpeas: This recipe will make you fall in love with chickpeas! Not convinced? Because we roast the chickpeas, it gives them an undeniable crunch that will leave you wanting another handful. They are perfect for snacking and are a great alternative to peanuts.
Black Bean Burgers: Whether you are a meat-lover, vegan, or vegetarian, this plant-based burger recipe is sure to win everyone over! This simple burger recipe is packed with fiber and protein that will keep you full and satisfied.
Cauliflower Wings: This cauliflower wing recipe is a great appetizer for vegetarians, vegans, and meat eaters alike! It's delicious enough that even chicken wing fans will be excited to give it a try. Cauliflower is high in fiber, which is great for heart health.
Curry Chickpea Salad: Spice up your everyday salad with this spicy twist! This salad is low in  sodium content, and the chickpeas provide a vegetarian friendly source of protein. Their flavor profile will give this salad a subtle, nutty flavor.
Dark Chocolate Berry Parfait: Oh, what a sweet morning it will be with this dark chocolate and berry parfait! A mixture of berries gives this recipe a hearty serving of fiber. While sweet and tasty, dark chocolate adds a bit of that Magnesium goodness we need for optimal blood pressure and nerve function.
Easy Oven-Baked Chicken Fajitas: This recipe is a two for one! Enjoy these boldly flavored, protein-packed fajitas now AND keep the remaining seasoning mix to spice up any dish in the future.
Lighter Apple Crisp: Craving something sweet? Look no further! Enjoy this lighter version of a dessert crisp filled with sweet apples, flavored with spices, and crumbly oat topping.
Spinach, Kale, & Collard Greens, Oh-My! Mix up your morning with a healthy sweet potato hash! With a hearty serving of protein from a poached egg, this dish is packed with Vitamin K. It's sure to help you start your day off right!
Garden Vegetable Rice Soup: Warm up this winter with a hearty and comforting soup. This dish is filled with a variety of vegetables that are packed with fiber.
---
Watch our Guide to Grocery Shopping for Heart Health
Part 1
Part 2
Part 3