Back to top
Learn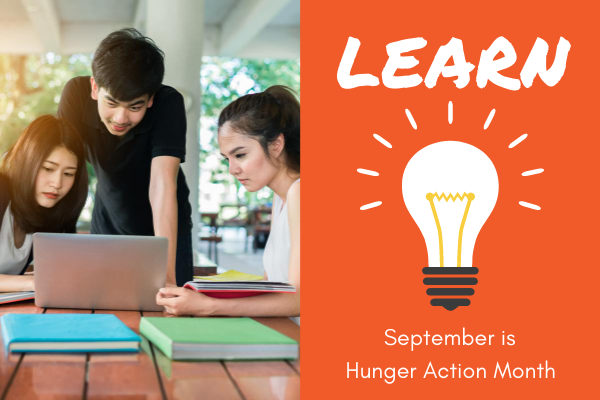 Far too often people are unaware that hunger is an issue in their community.  This is why awareness is an important aspect of Hunger Action Month.  This month, take the time to llearn more about hunger and share what you've learned.   Here are some activities to get you started: 
Visit the Oak Park Public Library 
Immerse in the idea box!  Beyond Hunger is taking over the idea box at the Oak Park Public Library September 27-October 8th.  Stop by and see our visual displays and learn more about what kinds of food we provide, keeping nutrition, health, and cultural preference in mind.  Go on to grab a provided reading list about food insecurity. 
Watch
Tune in for Food as Medicine: a Discussion with area food and health experts including Beyond Hunger CEO Michele Zurakowski, PhD.  This free virtual event takes place on 9/13 at 12 PM.  Register here.
Create
Take what you've learned from the virtual event and create an affordable and nutritious recipe.  Our Registered Dietitians and interns have put together a whole collection of delicious recipes that makes finding a new dish easy. You can search by recipe name, type (Gluten-Free, Breakfast, Dinner, Vegetarian, etc.), or an ingredient. Don't forget to share your creations with photos @GoBeyondHunger