Back to top
Learn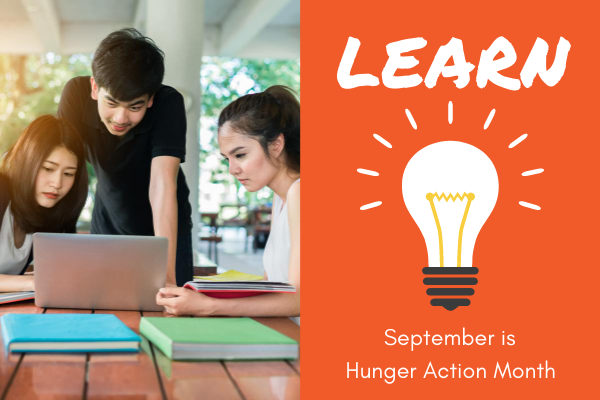 Far too often people are unaware that hunger is an issue in their community.  This is why awareness is an important aspect of Hunger Action Month.  This month, take the time to hear more about hunger and share what you've learned.   Here are some activities to get you started: 
Read
Oak Park Public Library has provided a reading list about food insecurity. Spend some family time immersed in these great reading selections. Download and print these gorgeous Hunger Action Month bookmarks to put out at work or in your business to encourage our community to learn more.  You can also stop by the library and see their Hunger Action Month display in the Children's Services area.
Watch
Tune in on September 13th at 1:30 PM for a Facebook Live interview with our Nutrition Team.  Get the inside scoop as Bri and Maria discuss their programs and the connection between health and hunger.  The interview will be live on our Facebook page: www.facebook.com/GoBeyondHunger 
Create
At Beyond Hunger we do more than provide emergency hunger relief-- we offer nutrition education and cooking classes.  Learn how to cook on a budget with affordable and nutritious recipes our dieticians and interns have put together.  Our new recipe page makes finding a new dish easy! You can search by recipe name, type (Gluten-Free, Breakfast, Dinner, Vegetarian, etc.), or an ingredient.    
Tag @GoBeyondHunger with photos of your recipes and cross off another square on your bingo card!