Back to top
In the News: Food Pantries Already Facing Unprecedented Demand in 2020 See Holiday Spike in Need
Nick Blumberg | December 15, 2020 8:03 pm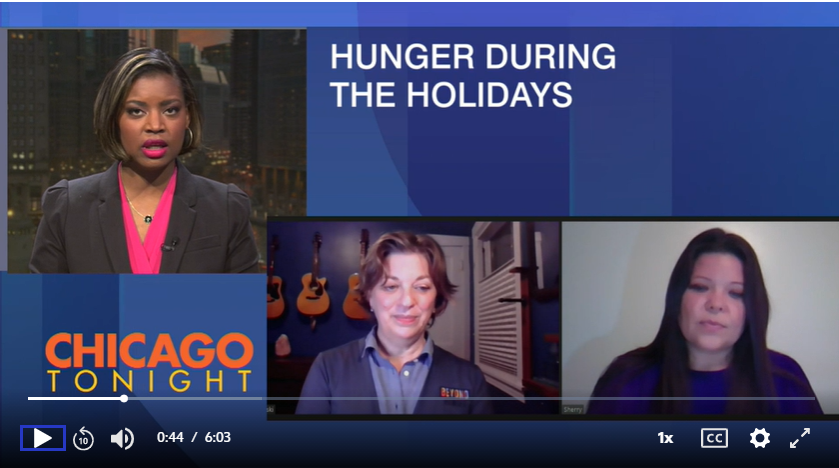 During the winter holidays, the demand on food pantries spikes. And this year, the COVID-19 pandemic has already exacerbated hunger around the U.S., with the organization Feeding America estimating an additional 50 million people may go without enough food. But the pandemic has also presented major logistical challenges for organizations that are trying to meet the needs of people facing food insecurity.
The Greater Chicago Food Depository, which serves 800,000 people a year in Chicago and other Cook County communities, says it's seeing unprecedented demand in its 41-year history, and that it's had to work hard to ensure it has enough of the volunteers it relies on.
"We typically have about 18,000 volunteers come annually, (but) with the pandemic … we're seeing those numbers drop drastically," said Sherry Iversen, senior director of volunteer and marketing engagement at the Greater Chicago Food Depository.
To keep volunteers safe, Iversen said the depository is requiring masks and following all CDC guidelines.
"We ask that everyone affirms that they don't have any symptoms, they haven't been around anyone who may have contracted the virus. We also have social distancing throughout the Food Depository … utilizing our warehouse. We have an extremely large warehouse and we've utilized a lot of that space to put our project areas there so that everyone is socially distanced," she said.
The Oak Park-based nonprofit Beyond Hunger, which serves 13 zip codes on Chicago's West Side and its western suburbs, says it saw a 250% increase in new clients in the spring and an unprecedented spike the week before Thanksgiving. As many aspects of the pandemic have disproportionately impacted Black and brown communities, hunger is no exception.
"What we saw in Austin was particularly, elderly Black individuals stopped coming because they were fearful of taking the bus or people they normally would carpool with they couldn't carpool with anymore because of social distancing, so the need for our home delivery program tripled with that population," said Beyond Hunger Executive Director Michele Zurakowski. "Whereas the Latino immigrant population that we serve, that need really spiked because a lot of the benefits that came from the stimulus package didn't apply to those folks, and so we saw a huge spike from that population."
Both organizations say they're committed to meeting the needs of the Chicago area's hungry – and while the first doses of the vaccine are welcome news, they don't expand demand to lessen anytime soon.
Find out more about the Greater Chicago Food Depository and Beyond Hunger.