Back to top
In the News: Helpers and heroes bring us through

In the unforgiving year just past, we might all have lost our path if not for the helpers and the heroes. Across 2020, Wednesday Journal sought out and told the stories of so many people doing good, taking risks, watching out during the COVID-19 pandemic. When, in November, we began to focus on our 36th annual Villager of the Year, we turned to readers for their nominations and we found a whole new group of helpers and heroes that we'd never known.
So as 2021 opens with promise — and the promise of more pain — we present 16 Villagers of the Year. Each person profiled in our pages is fully worthy of recognition. Yet we'd note that each also stands in for a larger group of our neighbors who have been brave and kind, bold and innovative.
And so we have an ICU nurse at Rush Oak Park Hospital and an ER doc at UIC. But we all know of so many first responders who call Oak Park and River Forest home. We have the leaders of two nonprofits who have lived their mission and reinvented their strategies on the fly in the elemental realms of food and shelter. But every nonprofit has been strained and challenged and worked hard to meet those challenges.
Each person we profile will bring to your mind someone that we have missed. We'd urge you to reach out to them, to thank them and, if appropriate, to support them with a donation. And please, share their stories at OakPark.com or in a letter to the editor.
In this impossible year, we are all Villagers of the Year.
-Dan Haley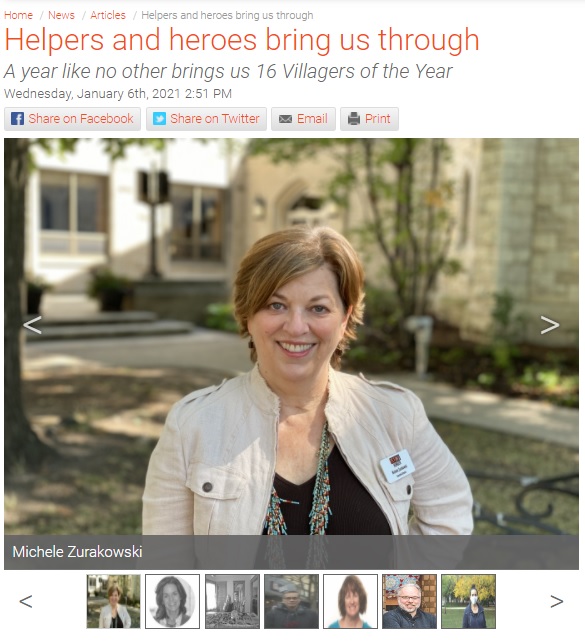 Michele Zurakowski
Running a food pantry during a pandemic has been daunting and logistically challenging says Michele Zurakowski, executive director of Beyond Hunger, 848 Lake St. in Oak Park. The key to successfully navigating COVID-19, however, has been firmly rooted in Zurakowski's expectation of imperfection.
"We knew we would make mistakes," said Zurakowski. "I led with the notion of trying new things. We knew we wouldn't be perfect, but we would all debrief, make modifications, and try again."
Under Zurakowski's leadership in 2020 Beyond Hunger shifted its in-person shopping experience to a drive-thru/walk-up model designed to mitigate health risks while still getting healthy food into the hands of people who needed it most.
Additionally, Beyond Hunger tripled the size of its home delivery program dedicated to providing food to people who could not otherwise get to the pantry. Creative thinking in the face of increasing need led to a collaboration with Oak Park Township. The expansion of Beyond Hunger's delivery program was hampered by driving needs, but the township allowed the pantry to utilize its vehicles and drivers to deliver food to those in need.
"Our staff and volunteers were willing to do whatever it took to make a difference in communities disproportionately impacted by COVID-19," said Zurakowski. "I see this honor as a reflection of the incredible effort my team has put forth."
Though Beyond Hunger anticipates an avalanche of need in 2021, Zurakowski remains confident the community will continue to rally around people facing food insecurity.
Melissa Elsmo, Oak Park Eats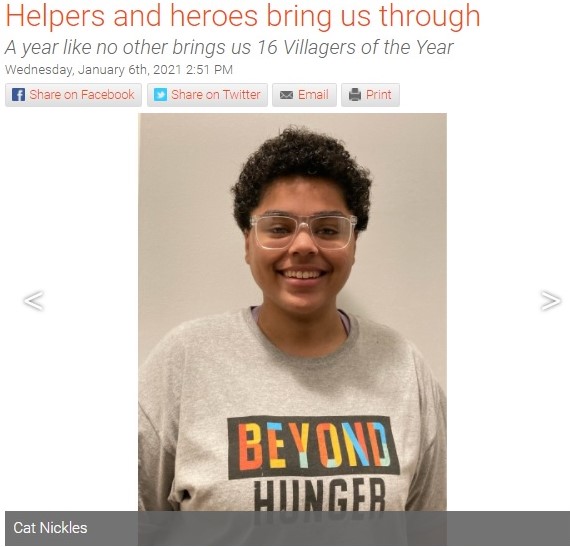 Cat Nickles
Current Oak Park and River Forest High School freshman and author of "Quarantine Cookbook," Cat Nickles, turned her comic-inspired recipe quintet into a fundraising force that garnered national attention in 2020.
When the pandemic foiled the young food-lover's plans to open a pop-up restaurant at the Children's School as part of her eighth-grade capstone project, Nickles pivoted and created a cookbook to sell as a fundraiser for Beyond Hunger. She did not set a price for her book and hoped a "pay-what-you-can" model would help her raise $1,000.
Before long Nickles' book had generated more than $5,000 and earned an invitation to appear as a "Helping Hero" on a socially-distant broadcast of Live with Kelly and Ryan.
While on the show, the young writer and illustrator discussed her recipe for 8-second s'mores and detailed her fundraising success. At the end of the segment co-host Ryan Seacrest announced Live with Kelly and Ryan and Safeguard were making a $5,000 donation to Beyond Hunger.
"I thought this would just be a small project," said Nickles. "But I have learned that small action can make a big difference."
To date Nickles' cookbook sales have raised just shy of $19,000 for the Oak Park food pantry and she is committed to making it to $20,000 in 2021. She is expanding her recipe collection to increase donation potential and is considering the creation of a second book. In the meantime, Nickles has taken on an internship with Mama Kat's Sweets to hone her skills and has been offering virtual cooking classes to raise additional funds for Beyond Hunger.
Melissa Elsmo, Oak Park Eats