In the news: Wednesday Journal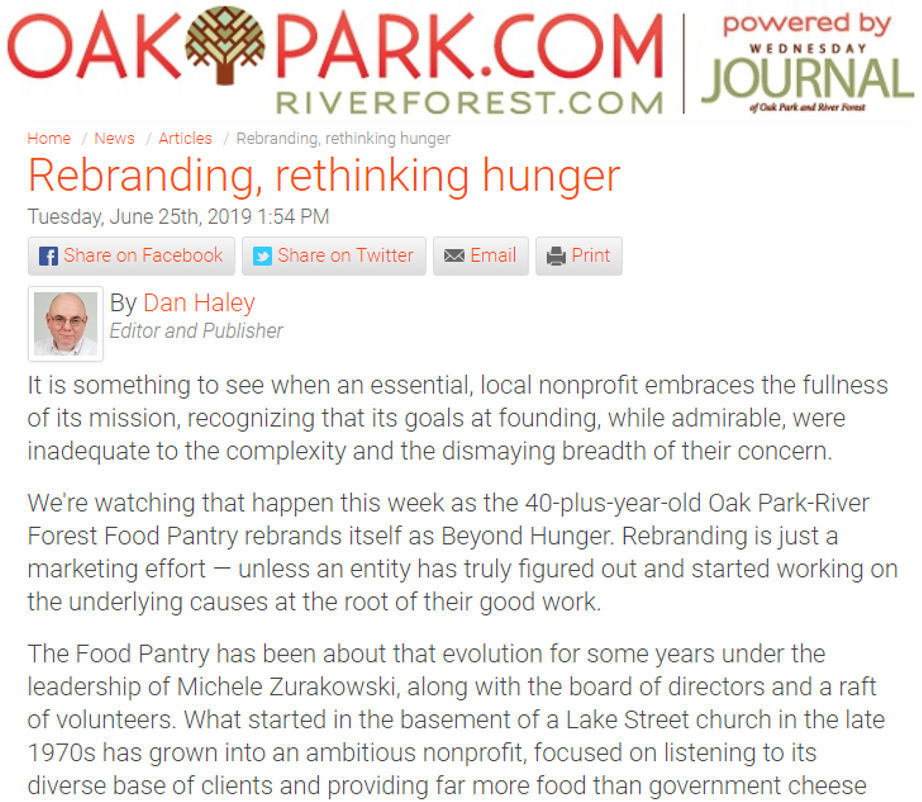 The nonprofit now actively serves 13 Zip codes stretching from the West Side through to Proviso Township and a bit north as well. It has pioneered — with a grant from the Community Foundation's Big Idea award — the Surplus Project, which gathers meals from the cafeterias of local schools and hospitals and repackages and rapidly delivers them to clients. Last year that added up to 18,000 meals saved from the landfill. There is also a determined collaboration with local food stores, which salvages fresh food on the cusp and puts it to good use. Imagine the logistics involved in a time-sensitive mission like this. Much more complex than handing out cans of DelMonte peas. 
Again this summer the newly christened Beyond Hunger is feeding children who during the school year benefit from free and reduced-cost meals at school.
"What began as a food pantry in a church basement is evolving into a comprehensive collaboration of programs, services, and resources to promote food security," says Zurakowski.
We've seen this before and it is always an inspiration. PADS launched in Oak Park decades back as a cold-month, overnight shelter for the homeless. It was housed in and served by generous local churches in Oak Park, Forest Park and River Forest. About the finest work a volunteer and a church could do. But then came the gradual realization that getting people out of the cold and serving them two meals was not solving the problem of why these individuals and families were in this harsh predicament.
And so PADS gradually added a remarkable range of housing programs and resources intended to get people back into more stable housing, train them for work opportunities, connect them to social services for addiction and mental health challenges. There are also programs focused on keeping people who are on the brink of homelessness in more secure housing.
Several years back, reflecting the breadth of their services and their growing geographic coverage, PADS rebranded as Housing Forward.
How about the Infant Welfare Society's Children's Clinic? This is a 103-year-old Oak Park nonprofit that has long offered medical and dental care for children left outside the circle of insurance-supported health care. In recent years the Children's Clinic has added a focus on literacy and, critically, now actively screens young patients for mental health indicators.
The sponsoring Infant Welfare Society recently announced plans to purchase its own building for the first time in its century of service and is currently raising funds for the remaking of a small office building on Madison at Humphrey.
There are other examples of local nonprofits growing into the fullness of their missions. Hephzibah Children's Association. Thrive. New Moms. Seven Generations Ahead. Opportunity Knocks. NAMI. Sarah's Inn. And that's just me getting started.
It is easy to take for granted the critical and inspired work of Oak Park and River Forest's social service agencies. But it's where so many of our challenges, and the challenges of our neighbors, are being assertively, creatively tackled.
Contact:
Email: dhaley@wjinc.com Twitter: @OPEditor