Back to top
Now Hiring: AmeriCorps Community Program Development Specialist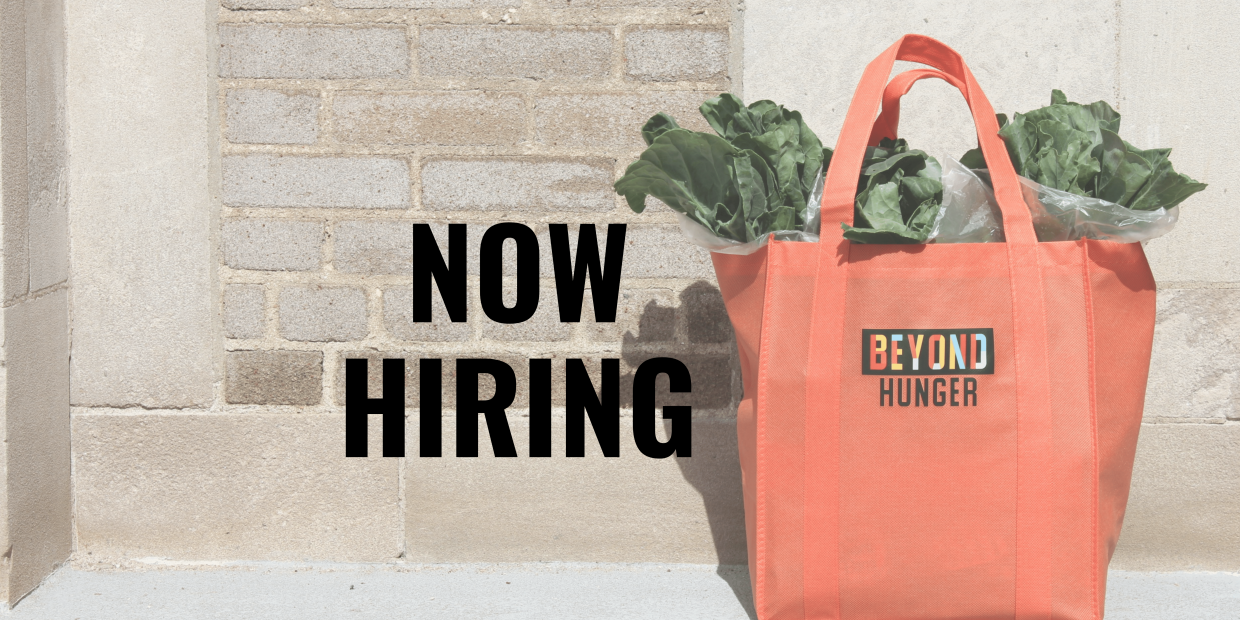 AmeriCorps Member - Community Program Development Specialist
*Beyond Hunger offers  a number of cash incentives for VISTA and AmeriCorps members in addition to program compensation. 
Beyond Hunger is harnessing the power of communities to end hunger. An award-winning direct service agency (formerly Oak Park River Forest Food Pantry), we serve residents of 13 zip codes on the West Side of Chicago and surrounding suburbs. Last year we provided critical food assistance and programming to over 40,000 individuals. Our energetic and fulfilling work environment is resourced by an operating budget of $4 million, 13 full-time staff members, 4 part-time staff, 4 full-time AmeriCorps members, over 1300 active volunteers—and possibly you.
Job Summary:  As the Community Program Development Specialist, you'll provide operations and development support for our older adults food delivery program. As a full-time AmeriCorps member, you'll be giving back to your community, helping create a more just and equitable food system. You'll develop leadership and program development skills. Using your analytical mindset, you'll monitor program data and create new processes and systems to make our programs more efficient and scalable.
Reports To: Programs Manager and Programs Coordinator
Supervises:  Volunteers 
Status: Full-time AmeriCorps Member; 1700 hours to be completed within the contracted timeframe (one year). Routine scheduled Monday through Friday, during normal business hours but must be willing to work occasional evening or weekend hours.
About you:
•    You have a High School Diploma with at least 2 years of related experience. A college degree in non-profit management, business, public health, healthcare administration, or related majors is preferred.
•    You're at least 21 years of age and have transportation to and from work. 
•    You love helping others. Everyone at Beyond Hunger finds a way to offer direct service, but as part of the Home Delivery team, it's part of your daily routine. You make clients, volunteers, and your team feel empowered and welcomed after interacting with them. 
•    You have an analytical mindset. You love analyzing information, identifying problems and trends, and presenting new ways to solve complex problems. Your instinct is to step back and view current processes and implement small tweaks to make processes better for the entire team.
•    You love doing things efficiently. On the Home Delivery team, the work you do will have a major impact on our operations and how we serve homebound older adults. We believe in systems and processes that let us scale our impact to be larger than ourselves.
•    You are results oriented. You hold yourself accountable to the program goals and stay aligned with agency-wide priorities with ease and minimal supervision.
•    You're persistent. Program evaluation at Beyond Hunger is much different than at many nonprofits. It's not the same questions repeatedly, but often involves developing new ways to learn how better to service our clients. You love the opportunity to solve new problems every day, and won't give up when you don't know the answer right away.
•    You believe in creating and maintaining safe spaces. You can work with and encourage interaction between people of all ages, abilities, and backgrounds. You go out of your way to independently research other cultures and social issues outside of your own, and often speak up when you feel something isn't culturally appropriate.
What you will be doing:
Program support and development (50-75%)
•    Assist Programs Coordinator with day-to-day operations and project planning for the Home Delivery program.
•    Develop and implement innovative ideas to carry out the annual goals set by the Programs Manager.
•    Improve program operations by creating new processes that reduce errors and increase the program's efficiency.
•    Communicate monthly to individual clients to confirm participation and record grocery orders.
•    Load, unload, and deliver packaged groceries to homebound clients living in Beyond Hunger's service areas.
•    Review orders carefully and pay attention to detail to ensure that each client receives their correct order.
•    Greet clients in a friendly and welcoming manner during deliveries.
•    Document and report clients who had successful and unsuccessful deliveries to help our Programs Assistant make better routes.
•    Confirm and report phone numbers and address changes with clients, as directed.
•    Work with the Nutrition Team to submit monthly grocery offerings for approval.
Data monitoring, analysis, and assessments (25%)
•    Assist the Programs Coordinator in the implementation of client assessments and surveys.
•    Analyze, report, and present outcome data findings from client surveys and orders.
•    Use analysis of previous client orders to predict future food demand.
•    Edit and transfer client data from various platforms, including Excel, Salesforce, and Google Sheets.
•    Update grocery offerings in our Salesforce Home Delivery app to prepare for monthly programming.
•    Assist the Programs Manager in other Salesforce Home Delivery projects as needed.
Volunteer Management (20-25%)
•    Supervise volunteers on-site and virtually during their scheduled shifts.
•    Serve as the primary contact person for Home Delivery volunteers by answering their questions, assigning them tasks during their shifts, and training them on the volunteer shifts.
•    Develop a quarterly volunteer calendar and work with the Volunteer and Inclusion Team to schedule volunteers for programs as needed.
•    Plan and implement new volunteer protocols, shifts, and trainings according to program needs.
•    Assist in the volunteer orientation and training process ensuring all agency-specific, state, and federal requirements are met.
Additional duties (5%)
•    Attend scheduled AmeriCorps member meetings and Beyond Hunger's departmental and organizational staff meetings.
•    Participate in assigned organizational committees, potentially including Beyond Hunger's Racial Equity and Inclusion Committee.
•    Attend professional development as requested.
•    Understand and adhere to AmeriCorps procedures and policies and the Beyond Hunger Employee Handbook.
•    Assist with interviewing future Beyond Hunger talent.
•    Perform other duties as assigned by the Programs Manager.
Benefits:
•    Living Allowance: Aprox. $16,000 to be distributed in equal allotments every two weeks within the contract term through the AmeriCorps members' program.
•    Health insurance: Provided through the AmeriCorps program site. 
•    Educational award: Once your term ends, you will receive a lump sum of aprox. $6,345 from the National Service Trust that can be used on qualifying future educational costs or student loan payments.
•    Childcare assistance: Qualifying members will have assistance paid directly to child care providers for all or a part of the member's child care costs during their active time of service.
•    Loan forbearance: While in service, you are not required to make payments on qualifying student loans and can receive additional funds for any interest accrued during service.
•    Professional and personal development plans: Service members receive personal and agency-wide training. Personal development involves creating a plan with your supervisor tailored to individual member goals. Agency-wide trainings have included Mental Health First Aid, Conflict Resolution, Serv-Safe Food Handling, and more.
Environment: You must be physically capable of walking up and down stairs with boxes and be able to lift 55 pounds. We have a multi-level work area with administrative offices/workspace not fully accessible to the mobility impaired. Reasonable accommodations can be made to enable individuals with disabilities to perform the essential functions. The workplace is a smoke- and drug-free environment. We are an equal opportunity employer.
Location: Onsite in Chicago (85%) and remote (15%).
PROJECTED START DATE SEPTEMBER
Please submit letter of interest and resume to Monnette@GoBeyondHunger.org.  Include title of position in your email subject.