Back to top
Now Hiring: AmeriCorps Disabled and Aging Population Specialist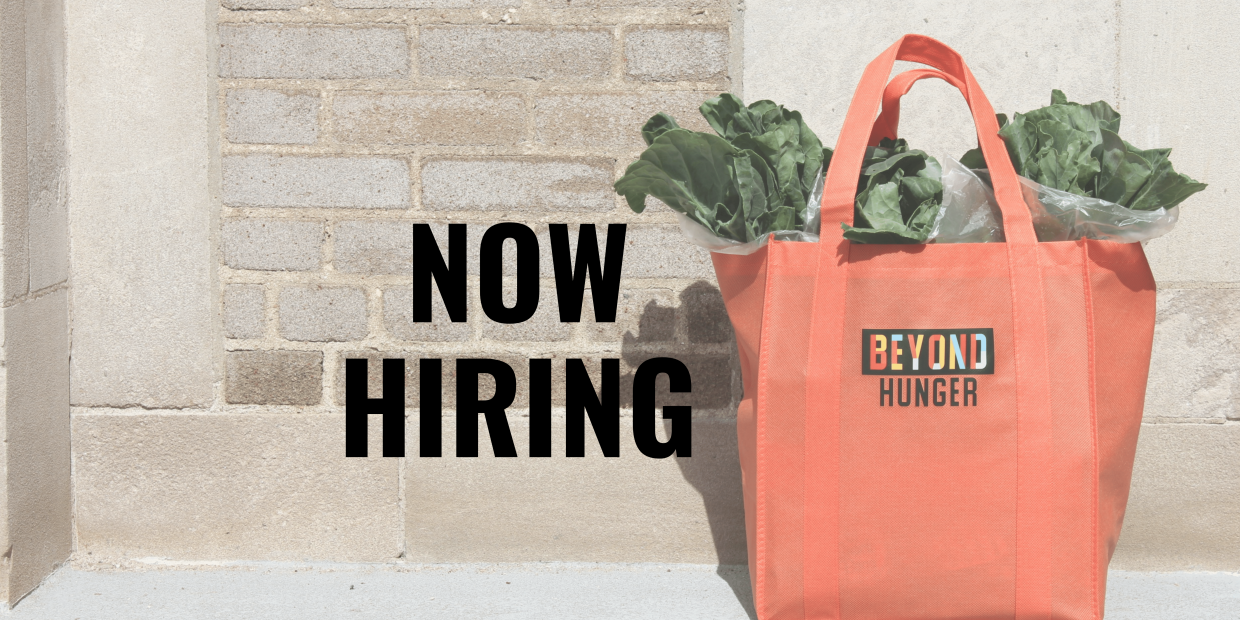 AmeriCorps Member – Disabled and Aging Population Specialist
*Beyond Hunger offers  a number of cash incentives for VISTA and AmeriCorps members in addition to program compensation. 
Beyond Hunger is harnessing the power of communities to end hunger. An award-winning direct service agency (formerly Oak Park River Forest Food Pantry), we serve residents of 13 zip codes on the West Side of Chicago and surrounding suburbs. Last year we provided critical food assistance and programming to over 40,000 individuals. Our energetic and fulfilling work environment is resourced by an operating budget of $4 million, 13 full-time staff members, 4 part-time staff, 4 full-time AmeriCorps members, over 1300 active volunteers—and possibly you.
Job Summary: As the Disabled & Aging Population Specialist (DAPS), you'll serve as our team lead in connecting older adults and people with disabilities with benefits and resources to reduce their risk of food insecurity. As a full-time AmeriCorps member, you'll be giving back to your community, helping create a more just and equitable food system. You'll develop leadership as well as program development skills. Using your design and creativity hat, you'll collaborate across the agency to create two monthly client newsletters to inform clients about initiatives, advocacy updates, and other agency-wide news.
Reports To: Programs Manager 
Supervises:  Volunteers 
Status: Full-time AmeriCorps Member; 1700 hours to be completed within the contracted timeframe (one year). Schedule is Monday through Saturday, during normal business hours and must be willing to work occasional evening hours.
About you:
•    You have a High School Diploma with at least 2 years of related experience. A college degree in social work, human services, psychology, public health, nonprofit management, or related degrees is preferred. 
•    You're at least 21 years of age, have a current driver's license with liability coverage, and have a car to travel between program sites.
•    You love helping others. Everyone at Beyond Hunger finds a way to offer direct service, but as part of the Social Services team, it's part of your daily routine. You make clients and your team feel heard by being a great listener, and you take steps to demonstrate humility even in the most challenging situations.
•    You are creative. You love making things look presentable and have used Canva, Photoshop, or similar software for work or fun. Your family and friends have often commented on you on your design skills, and you are known as "the creative one."
•    You have an eye for details. On the Social Services team, your work will significantly impact our operations and how many clients get approved for benefits. We believe in completing applications right the first time so we can ensure that clients get the help they need as soon as possible.
•    You are resourceful. You can find solutions with a minimal number of resources and instinctively research information about your field to come up with new ideas.
•    You are results oriented. You hold yourself accountable to the program goals and stay aligned with agency-wide priorities with ease and minimal supervision.
•    You're persistent. Client advocacy at Beyond Hunger is much different than at many nonprofits. It's not the same scenarios repeatedly and often involves creating new ways to serve our clients better. You love the opportunity to solve new problems every day and won't give up when you don't know the answer immediately.
•    You are bilingual and your ability to speak/write in English and Spanish is highly preferred.
•    You believe in creating and maintaining safe spaces. You can work with and encourage interaction between people of all ages, abilities, and backgrounds. You go out of your way to independently research other cultures and social issues outside your own and often speak up when you feel something isn't culturally appropriate.
What you will be doing:
Social work program support and benefits assistance (50-75%)
•    Assist Social Services Coordinator with day-to-day operations and project plan for the Social Services program.
•    Serve as the primary social services contact for older adults, people with disabilities, and other populations.
•    Educate clients on benefit offerings and pre-screen clients interested in obtaining benefits.
•    Perform individual assessments to determine client resource needs and refer clients to appropriate organizations.
•    Assist eligible clients in applying for SNAP, RTA ride-free permits, and more during our food distributions or over the phone.
•    Conduct courtesy calls to your case workload of clients who completed applications or are interested in applying.
•    Troubleshoot problems with failed applications by contacting government agencies.
•    Record client visits and phone calls appropriately in Salesforce. 
•    Research and stay updated on benefit regulations and changes at a local, state, and federal level.
•    Assist in developing new systems and protocols that would increase efficiency.
•    Perform other duties as assigned by the Programs Manager.
Community Outreach (20-25%)
•    Assist in developing an outreach plan according to program needs and capacity. 
•    Implement public relations and communication strategies to support program goals and increase community awareness and participation. 
•    Conduct monthly SNAP Outreach at referral agencies or community events as assigned.
•    Oversee NowPow and HUB client referrals from local service agencies.
Client newsletters & other communications (15%)
•    Manage the creation and distribution stages of two monthly client newsletters.
•    Collaborate cross-functionally to define content for the client newsletter.
•    Develop and update social services resource materials based on client needs.
•    Update the social services bulletin boards with new program materials quarterly.
•    Work with the Communications team in managing and increasing the participation of the client-facing Facebook Group.
Hunger Relief and SNAP Advocacy
•    Attend hunger relief policy and advocacy meetings as directed.
•    Participate in the annual Anti-Hunger conference in Springfield, if directed.
•    Engage in continuing education on hunger relief policy at both the state and federal levels, particularly those policies related to nutrition programs (SNAP, WIC, etc.).
Additional duties (5%)
•    Attend scheduled AmeriCorps member meetings and Beyond Hunger's departmental and organizational staff meetings.
•    Participate in assigned organizational committees, potentially including Beyond Hunger's Racial Equity and Inclusion Committee.
•    Attend professional development as requested.
•    Understand and adhere to all the AmeriCorps procedures and policies and the Beyond Hunger Employee Handbook.
•    Assist with interviewing future Beyond Hunger talent.
Benefits:
•    Living Allowance: Aprox. $16,000 to be distributed in equal allotments every two weeks within the contract term through the AmeriCorps members' program.
•    Health insurance: Provided through the AmeriCorps program site. 
•    Educational award: Once your term ends, you will receive a lump sum of approx $6,345 from the National Service Trust that can be used on qualifying future educational costs or student loan payments.
•    Childcare assistance: Qualifying members will have assistance paid directly to childcare providers for all or a part of the member's childcare costs during their active time of service.
•    Loan forbearance: While in service, you are not required to make payments on qualifying student loans and can receive additional funds for any interest accrued during service.
•    Professional and personal development plans: Service members receive personal and agency-wide training. Personal development involves creating a plan with your supervisor tailored to individual member goals. Agency-wide trainings have included Mental Health First Aid, Conflict Resolution, Serv-Safe Food Handling, and more.
Environment:  Must be able to withstand looking at a computer for long time periods. We have a multi-level work area with administrative offices/workspace not fully accessible to the mobility impaired. Reasonable accommodations can be made to enable individuals with disabilities to perform the essential functions. The workplace is a smoke- and drug-free environment. We are an equal opportunity employer.
Location: Onsite in Chicago or Oak Park (70%) and remote (30%).
PROJECTED START DATE OCTOBER
Please submit letter of interest and resume to Monnette@GoBeyondHunger.org.  Include title of position in your email subject.