Back to top
Now Hiring: Part-time Summer Community Intern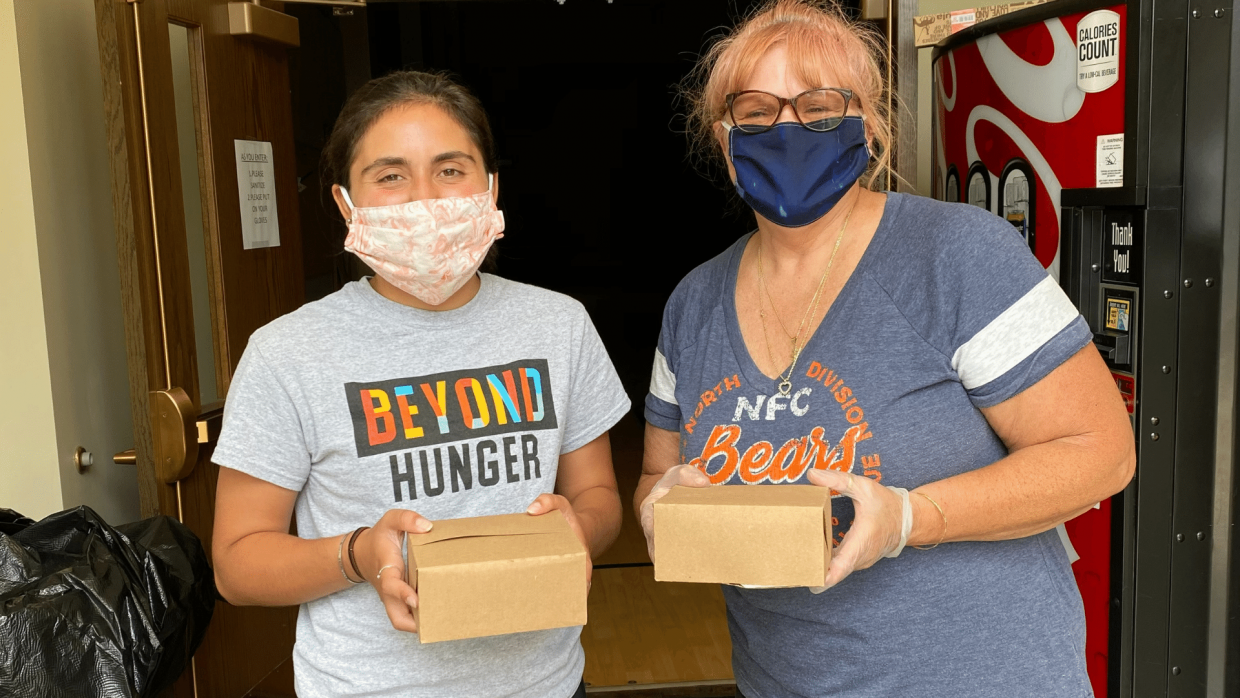 Part-time Summer Community Intern
Beyond Hunger is harnessing the power of communities to end hunger. An award-winning direct service agency (formerly Oak Park River Forest Food Pantry), we serve residents of 13 zip codes on the West Side of Chicago and surrounding suburbs.  Last year we provided critical food assistance and programming to over 40,000 individuals.  Our energetic and fulfilling work environment is resourced by an operating budget of $3 million, 9 full-time staff members, 6 part-time staff, 4 full-time AmeriCorps members, over 1300 active volunteers—and possibly you.
We are seeking someone as passionate as we are about ending hunger. Someone who understands that groceries delivered to older adults' homes provide comfort and nutrition to a vulnerable population. Someone who understands that providing nutritious foods to all children will help support their learning ability in school. By helping us reduce the food access barriers to quality and healthy food, this is your opportunity to play a vital role in creating a hunger-free community. If you are a mission-driven, results-oriented team player with attention to detail and a willingness to learn, this position is for you.

Reports To: Programs Coordinator
Supervises:  Volunteers/Interns as requested
Status: Part-time, intern. $15 per hour and based on no more than 25 hours for up to 12 weeks.
Job Summary: The Summer Community intern will help coordinate the successful delivery of the Home Delivery program by assisting and delivering packaged groceries to homebound seniors and disabled adults in West Suburbs and Chicago's Austin community. S/He will also oversee the distribution of nutritious meals to kids enrolled in summer enrichment programs. By learning techniques to collect and manage data, s/he will be responsible for collecting and evaluating summer meals enrollment data and coming up with new outreach strategies to connect the community to our programming.

Major Responsibilities:

Summer Food Programs (SFP)—for children who receive free or reduced-price meals during the school year
•    Work with Programs Coordinator to implement all aspects of the SFP.
•    Liaise with different community stakeholders, such as school districts, summer camps, and other community organizations, to work partnerships for the SFP program.
•    Gather impact data and feedback from participants, families, and teachers.
•    Track and submit meal site data daily.
•    Manage distribution of meals at each site based on its unique requirements.
•    Maintain flexibility with tasks and prepared to assist other departments and programs when needed.
•    Greet children warmly; learn names of participants; manage minor conflicts and communicate with staff to troubleshoot solutions.
Home Delivery – for older adults and people with disabilities to receive groceries at their doorsteps
•    Assist Programs Coordinator with day-to-day operations of the Home Delivery (HD) program, as needed 
•    Assist in delivery of food to homebound older adults and people with disabilities in the community.
Qualifications:

•    Ability and desire to work with children from age 3-18.
•    Preferred College-level studies in one or more of these fields: Early Childhood Education, Elementary Education, Secondary Education, Child Psychology, Counseling, Social Work, Child Nutrition.
•    Ability to lead activities across a range of age groups.
•    Comfortable working with children, parents, and volunteers from diverse backgrounds.
•    Some experience developing or administering qualitative research (surveys, focus groups, etc.) or willingness to learn.
•    Exceptional interpersonal and problem-solving skills.
•    Strong oral and written communication skills.
•    Excellent organizational and time-management skills.
•    Creative, strategic, and analytical thinker.
•    Bi-lingual skills (English/Spanish) are a plus.
•    Have a valid driver license.
Internship status and hours: 
•    This part-time internship will hopefully begin May 16th to July 22nd, 2022. This position is not eligible for sick, vacation, and holiday leave during employment. 
•    Work hours are typically between the hours of 8:00 AM – 4:00 PM Monday – Friday with some flexibility depending on program needs.  Roughly ½ of the day will be spent at the meal sites or at home delivery program location, with the remaining time conducting program assessment and data management.
•    Career development provided include having ample opportunity to convert theories of child development, research methodology, or community engagement into real-life practice.  S/he will develop a working knowledge of non-profit program management and assessment.

Environment:
•    Periodic travel between summer meal sites via own vehicle is required. All Summer Meals program sites are in Oak Park, IL and our office is located in the Austin neighborhood of Chicago in the 60651-zip code. 
•    The applicant must be physically capable of transporting, lifting, and carrying supplies and home delivery boxes.
•    Must be able to lift-up to 50 pounds, sometimes consistently with the Home Delivery program.
•    The workplace is a smoke- and drug-free environment.  Equal opportunity employer.
To apply:  Send resume to Daisy@GoBeyondHunger.org by April 30, 2022.