Back to top
Now Hiring: Social Services Coordinator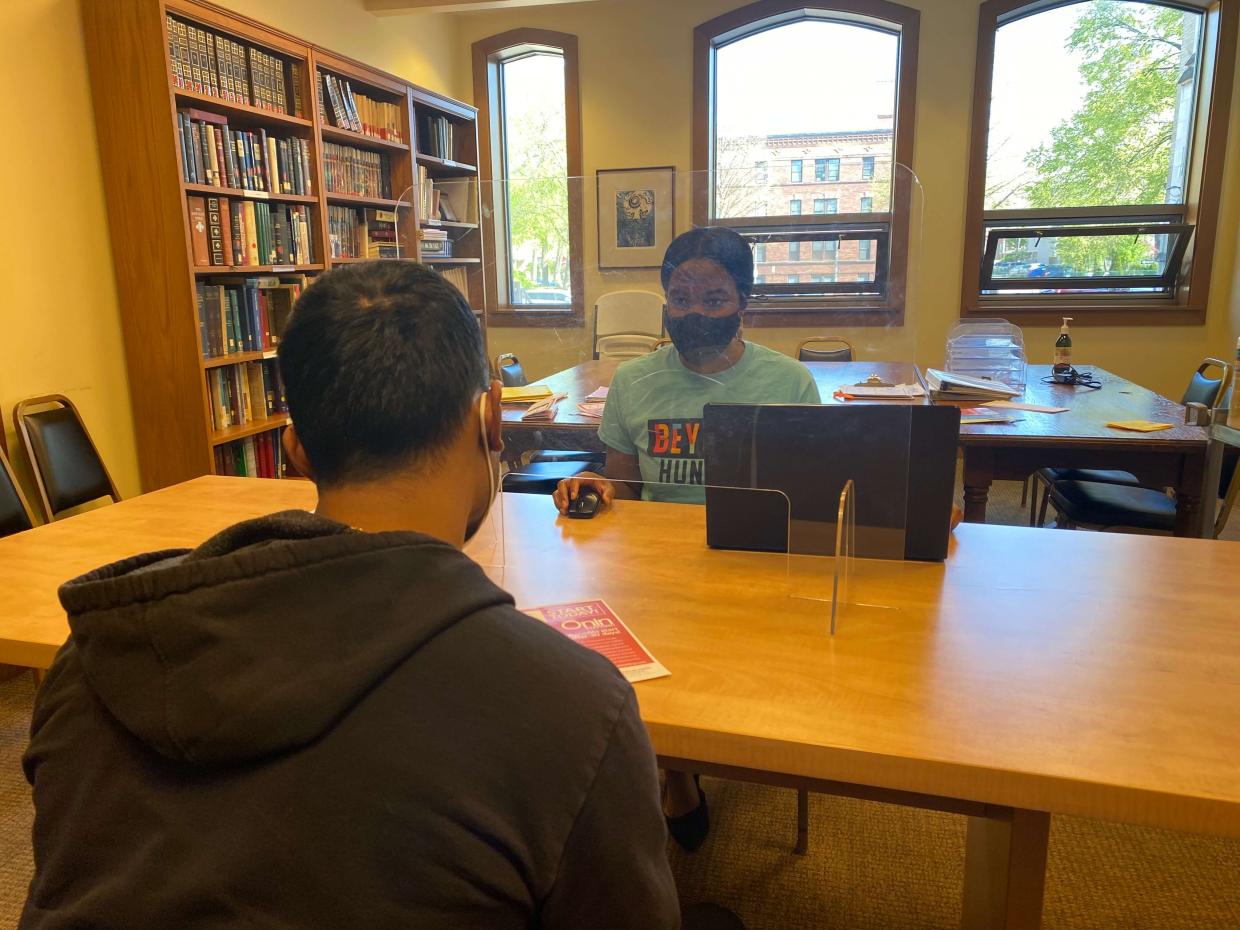 Beyond Hunger is harnessing the power of communities to end hunger. An award-winning direct service agency (formerly Oak Park River Forest Food Pantry), we serve residents of 13 zip codes on the West Side of Chicago and surrounding suburbs.  Last year we provided critical food assistance and programming to over 40,000 individuals.  Our energetic and fulfilling work environment is resourced by an operating budget of $3 million, 9 full-time staff members, 6 part-time staff, 4 full-time AmeriCorps members, over 1300 active volunteers—and possibly you.  
We are seeking someone as passionate as we are about ending hunger. Someone who understands that ending hunger cannot happen with a bag of groceries alone. Someone who can broaden our reach among community residents, connecting them to benefits that will ensure more long-term food security. By combining direct assistance with advocacy and outreach, this is your opportunity to play a key role in creating a hunger free community. If you are a mission-driven, results-oriented team player with attention to detail and a willingness to learn, this position is for you.
The Social Services Coordinator (SSC) performs outreach and assessments for adults potentially eligible for social services such as SNAP, Medicaid, Benefit Access, etc. S/he helps recruit and enroll applicants, providing them with direction to community resources or referrals as indicated.  Recognizing that structural disinvestment, racism, and public policy helped create systems that perpetuate poverty, the SSC attends to those seeking assistance with care and without judgement.  S/he also recognizes that not all individual problems are solvable with resources available to Beyond Hunger. By working with community partners, the SCC extends outreach efforts to those most at risk of food insecurity.  By collaborating with anti-hunger policy groups, s/he advocates for enhanced benefits for vulnerable populations, helping to create a hunger-free community. 
Reports To: Program Manager
Supervises: AmeriCorps, Volunteers/Interns as requested
Status: Full-time, exempt. Salary $40,000-$48,000 commensurate with experience
Major Responsibilities:

Individual Benefits Coordination
Assist eligible individuals in applying for and obtaining government/state benefits 

Educate potential applicants on available benefits by telephone and in person, and pre-screen to determine eligibility 
Follow up timely with all client applications by phone, text, or email as preferred by client
Troubleshoot problems with failed applications and assist clients in following up with revisions
Assess individuals' additional resource needs, referring to local organizations when possible and offer information that supports individuals and their families

Maintain accurate records and prepare follow ups and reports as needed

Utilize Salesforce to input, store and gather client application data 
Submit monthly benefit reports on time

Research and stay updated on benefit regulations and changes at a local, state, and federal level

Relay information to Beyond Hunger staff and Board as requested
Train volunteers on the Social Services program and benefits offered
Hire, train and supervise Disabled and Aging Population Specialist AmeriCorps position
Community Outreach
Attend food pantry distributions to be accessible for potential applicants 
Conduct Social Services Outreach at local off-site locations, including follow up as directed
Maintain and create new partnerships in the community for enhanced outreach efforts
Oversee NowPow and HUB referral networks 
Advocacy
Attend local advocacy group meetings

Community Quality Council meetings at local DHS offices
SNAPO Greater Chicago Food Depository trainings 
SNAP Advocate Meetings
Illinois Hunger Coalition Anti-Hunger Action Meetings 

Keep up to date on proposed bills and changes to federal and state benefits
Send Action Alert emails to involve clients, volunteers, donors, Board, and staff with advocacy opportunities 
Participate in annual Anti-Hunger conferences when possible and directed
Communication
Prepare informational flyers and posters as needed and ensure sufficient supplies for food pantry distribution
Create e-newsletters with program updates, benefits news, additional resources, and local events
Assist in creating program budget 
Qualifications
BS in social work or related field and/or 3+ years' related experience
Experience working with individuals affected by issues such as neglect, child abuse, domestic violence, mental health, homelessness, and substance abuse
Ability to give full attention to individuals in distress, seeking to connect and build trust
Ability to stay calm and empathize when individuals are upset, while asking questions that help guide an understanding of their concerns and all avenues for assistance
Proficient in Word, Excel, Outlook, and PowerPoint
LCSW desirable
Knowledge of trauma informed care and crisis intervention tactics
Valid driver's license
Spanish language proficiency highly desired 

To apply: send cover letter and resume to info@gobeyondhunger.org by September 15.