Back to top
From Tim's Kitchen: Slow Roasted Pork Loin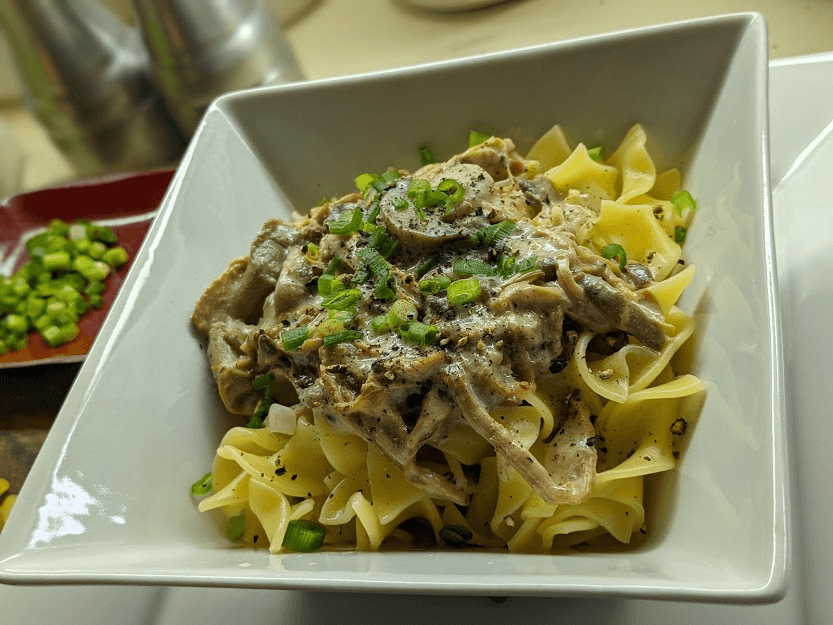 In March of 2020, Tim lost his sales job in the trade show and events sector.  As the COVID-19 pandemic continued and as his unemployment assistance decreased, he worried about expenses and his ability to pay rent and also feed himself and his child. That July he began relying on Beyond Hunger to help provide the nutritious food he needed to put dinner on their table. 
"90% of my home creations in the last 6 months have been made with ingredients from Beyond Hunger. Growing up in France from age 5-17, and living in San Francisco and Chicago, I developed a great passion for food and for learning how to cook it.  I now embrace the challenge of what I'm going to create with the monthly food boxes I pick up. It's actually been fun and has helped balance out the low spots of the uncertainty of unemployment. It's my own Top Chef challenge on a daily basis. I hope my recipes and photos inspire others to be creative in how they cook. And I hope it inspires others to reach out and get the help they need." - Tim 
This recipe is just one of Tim's creations that we will be sharing over the next few months. Have a recipe of your own that you've made from the ingredients you've received from Beyond Hunger? Let us know—email Maria@GoBeyondHunger.org
A large roast can seem a bit intimidating to some. In fact, with a little patience and an easy spice rub, it is simple to prepare and cook; plus, leftovers freeze beautifully. Best of all? You can cook it in a slow cooker or oven and the leftovers can be used to create new meals that week.
Ingredients
Spice Rub
1 Tbsp. salt
1 tsp. black pepper
1 ½ tsp. garlic powder
1 ½ tsp. onion powder
1 tsp. sweet paprika
1 tsp. cumin
¼ tsp. cayenne pepper (optional)
2 tsp. mild chili powder (salt-free)
1 large pork roast (5 pounds), defrosted
3 tablespoons oil
1 large onion, peeled and chopped medium 1 Tbsp. garlic (4 cloves), peeled and minced
2 cups low sodium chicken broth or water
Optional add-ins: 1-2 Tbsp. hot sauce or a 4 ounce can mild chilies
Directions
Step 1: In a small bowl, mix all spices together.
Step 2: Rub your spice mix all over the pork roast, cover and put back in the fridge for 4 to 24 hours.
Tip: Cut pork roast in half to make it easier to handle in next steps.
Step 3: Remove pork roast from the refrigerator 1 hour before cooking.
Step 4: Pre-heat oven to 300° F (or set slow cooker to low).
Step 5: Heat a pot (large enough to fit the roast) on high heat and add 2-3 tbsp. of oil.
Step 6: Sear your seasoned pork roast in the pot until all sides are golden brown. A large set of tongs works well for flipping your roast to sear all sides.
Step 7: Turn down heat to medium-high and add the chopped onion. Sauté for 10 minutes until onions are translucent. Adjust the heat if onions are browning too fast. Add chopped garlic and sauté for 1 minute until fragrant.
Step 8: Add the broth or water and scrape up the browned bits at the bottom of the pan with a wooden spoon, while bringing everything to a boil.
Step 9: Add your optional add-ins (hot sauce or mild canned chilies) and mix well
Step 10: Lower temperature to low and simmer for a few minutes.

Step 11: If using a pot, cover and transfer pork to oven. Cook for 3-4 hours. If using a slow cooker, transfer all ingredients and cook on low for 10 hours. The roast is done when you can easily pull it apart with a fork. The longer it cooks, the more tender and flavorful it will be, so be patient!
Step 12:  Shred meat with two forks. See below for serving ideas…
Serving tips
The finished pork roast can now be used in a variety of ways:
over rice to make pork bowls. Add beans, sliced avocado, sour cream, salsa, chopped onion and cilantro
over pasta
over egg noodles with sautéed mushrooms for an easy pork stroganoff
with roasted or mashed potatoes
in sandwiches with your favorite BBQ sauce as a pulled pork sandwich
in tacos (both as is and refried in a non-stick pan to make it crispy)
To create a gravy from the cooking liquid
Remove 2 cups cooking liquid and add to a small pot. In a small bowl, dissolve 2-3 tbsp. cornstarch in ¼ cup water or broth. Add to the pot of cooking liquid, stirring constantly and simmer over medium heat for 1 minute until thickened, like gravy. Add shredded pork and serve as desired.
Use this recipe to make BBQ Pulled Pork on Pretzel Buns