Back to top
Volunteer Spotlight: Bob Personett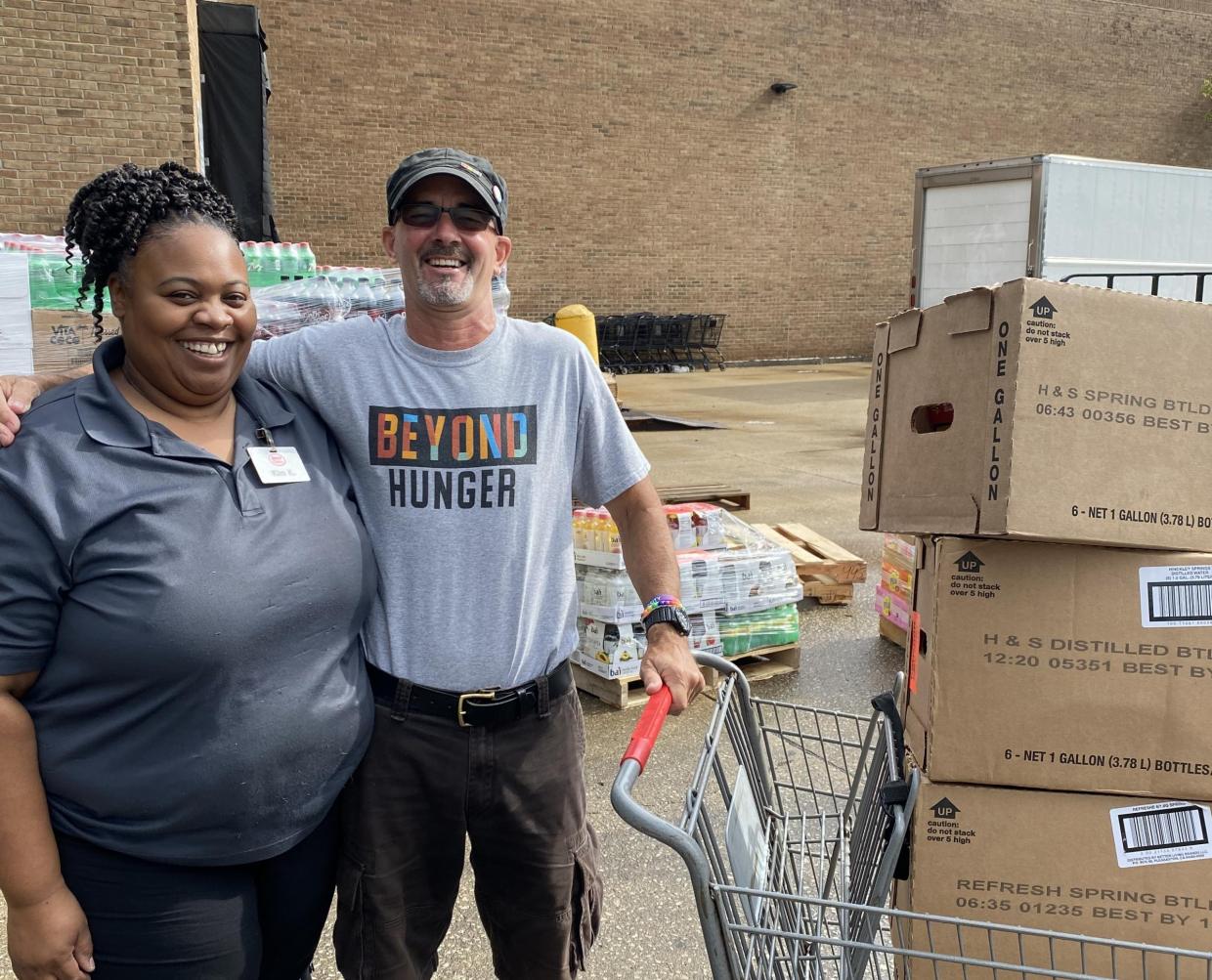 It's that time of the month again! We're bringing back our volunteer spotlight to recognize some of our current volunteers and the fantastic work they do in advance of our next orientation this Wednesday, July 19. My name is Sydney, and I am joining the Beyond Hunger team throughout the months of June and July as their communications summer intern. Over the next few days, I will be highlighting some of our amazing volunteers who are allowing me to share their Beyond Hunger stories. While there are many wonderful people who dedicate their time to volunteering, I had the opportunity to talk with these individuals about their experiences. Thank you to all who volunteer for everything you do! 
---
Bob Personett 
Every Tuesday, Bob takes a selfie. In each picture, he poses next to the open trunk of his car, displaying the food he collects before it's delivered to our pantry. His ritual documents a vital, yet often overlooked, step in our process to feed those in our community.  
As a rescue volunteer, Bob drives to one of our participating grocers and receives any food they can donate. Although he has tried several volunteer roles over the past five years, Bob said rescue shifts just stuck.  
"It's easy," he explained. "You just get in your car, get the receipt book ready, and go to the docks of wherever you've been assigned." 
Bob's extended experience volunteering has allowed him to develop a relationship with the dock managers of the locations he frequently visits, like Jewel-Osco, giving them a friendly, recognizable face to expect. It's hard not to smile when you hear him speak about his weekly rescue shifts – not only is he lovely to chat with, but his dedication is clear. While we don't expect our volunteers to do so, Bob always goes above and beyond, recommending items to the managers that he knows the pantry could use and coming back to collect more food if needed.  
"I try to encourage whatever they haven't done, if they can do it," he said. "If they can't do it, they can't, but if they can do it, and if they have a lot, I will do multiple trips." 
He clarified that while shelf staples – such as peanut butter, rice, beans, and canned vegetables – are incredibly important, he will ask if there are any extra baked goods and fresh vegetables available to donate. 
During our conversation, Bob seemed to radiate with passion when speaking about food insecurity. Years before volunteering with Beyond Hunger, Bob and his husband began making monthly donations to another pantry, inspired by a news story he saw online. A potato farmer from Colorado had just finished harvesting his crop and put an ad in a local newspaper offering for anyone to come and pick what the machines missed.  
"3,000 people showed up," he said. "That was the wake-up call of 'things are not normal in the U.S. when they should be.'" 
A few years later, Bob heard about us at a social function, and the rest is history. 
When I inquired about why he routinely takes a picture at the end of his rescue shifts, Bob answered that he wants to recognize the generous donations from the stores and hopes it makes people aware of some of the items the pantry could use. 
He added snapping the photos also serves to demonstrate that food is needed year-round. He mentioned that while the winter holidays are often the season when the pantry experiences the most donations, it always needs to be stocked.  
"It's not a one-off," he said. "I know the critical moments are times like now in the summer when kids are not in school, and they may not have access to lunch programs." 
With each selfie he shares on Facebook, he also includes a link to our website or to a fundraising page. 
"My whole goal is, I know a dollar will buy at least three meals," he explained. "If I can get somebody to donate five bucks, that's fifteen meals." 
Last year, he even devoted his birthday to feeding families throughout the community, donating around 3,000 meals with his supportive efforts. He said people should not be forced to choose between necessities that we may inadvertently take for granted.  
"You've got somebody who's making a choice between rent, their medication, or food on the table, and they shouldn't be making those choices," he said. "It should all be standard."  
When envisioning what volunteering at Beyond Hunger may look like, the first picture that comes to mind may be handing food to clients or sorting through items in the pantry. However, volunteers like Bob take on an equally significant role. Rescue shifts are part of what enables our other volunteer practices to take place. The food Bob delivers becomes part of what is organized in the pantry and later distributed by others. Each week, our pantry's weekly needs newsletter consistently asks for help with such shifts to stores like Jewel, Trader Joe's, Tony's Fresh Market, the Alpine Food Shop, and even Oak Park's Saturday farmer's market. Many of the volunteers I spoke with emphasized the sense of connection they felt with others within the pantry. Bob makes similar connections with the individuals he meets during his rescue shifts, but he also goes a step further. Ultimately, he creates physical connections as a rescue volunteer – he assists in facilitating the tie between our larger community to the pantry and vice versa, transporting food from a store to our pantry, which eventually makes it to a home.  
---
To learn more and get involved with our volunteering, visit www.gobeyondhunger.org/volunteer