Back to top
Volunteer Spotlight: Glenn Gerber and Linda Schurman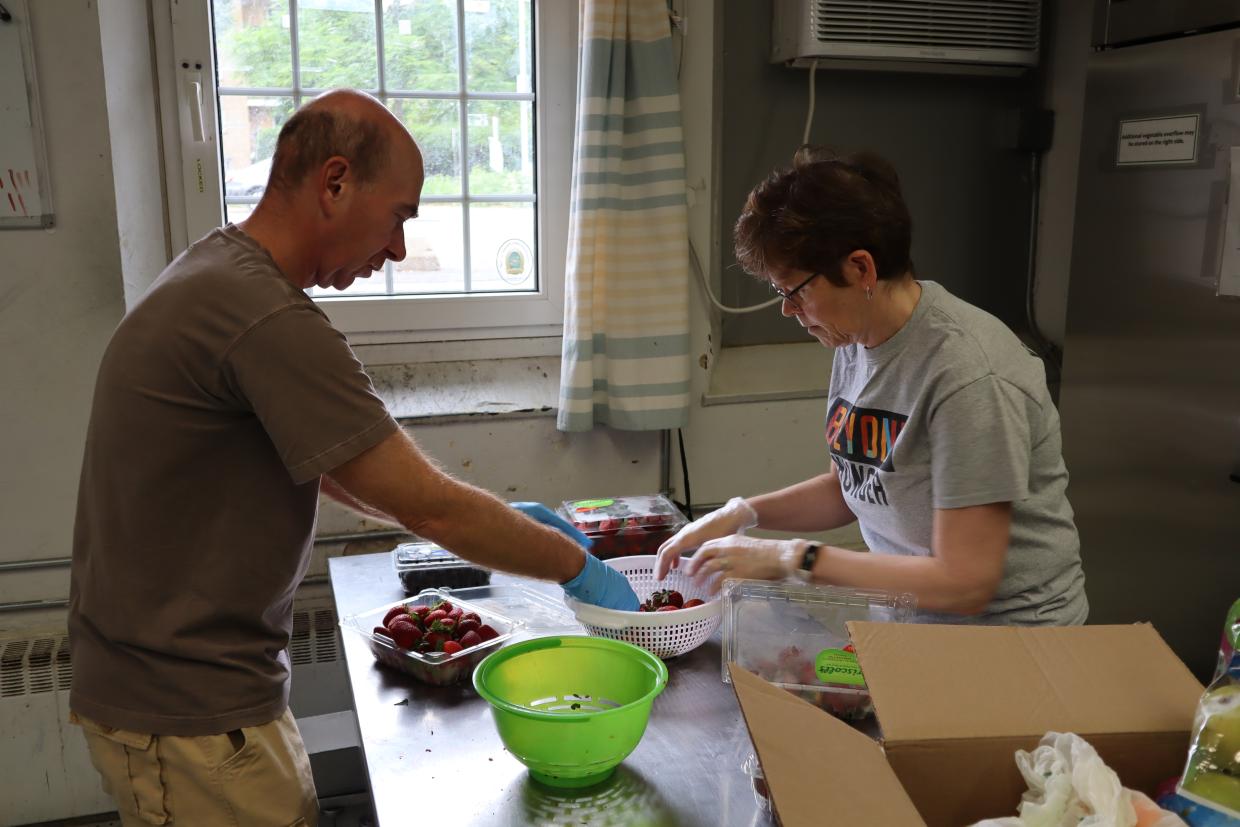 This week, as we have our first volunteer orientation of the summer, we're recognizing some of our volunteers and the fantastic work they do. My name is Sydney, and I am joining the Beyond Hunger team for the month of June as their Summer Communications Intern. Throughout the week, I'll be highlighting some of our amazing volunteers who are allowing me to share their Beyond Hunger stories. While there are many wonderful individuals who dedicate their time to volunteering, I had the opportunity to talk with these individuals about their experiences. Thank you to all who volunteer for everything you do!
---
Glenn Gerber and Linda Schurman
Glenn and Linda began volunteering in 2019 and 2020, respectively. Together, you may find them volunteering in the pantry on Wednesday mornings, sorting, washing, and refrigerating produce.
While Glenn and Linda's weekly shifts as Sort & Bag volunteers play a vital role in ensuring the pantry is prepared to serve clients, not all volunteer positions work directly with food. In addition to volunteering within the pantry, Glenn, for example, often signs up to register clients and direct cars in the parking lot on drive-thru distribution days.
When I had the opportunity to speak with Glenn, he said he signs up for parking lot attendant and registration volunteer shifts because he enjoys greeting and connecting with clients.
"I've gotten to know some of the clients who come in monthly," he explained. "I remember them, and they remember me."
Although not client-facing, Linda said she enjoys taking Sort & Bag shifts where she can interact with fellow volunteers in the pantry.
"People are very welcoming," she said. 
Her piece of advice to new volunteers is: "Don't be shy about your first shift". 
Linda added that when she's volunteering, she feels her time is well-spent.
"I never feel like I'm standing around," she said. "There's always something that needs to be done, and it's well organized."
Having spent time volunteering in various roles, Glenn said he thinks there is something for everyone when they come in to help.
"If you want to interact with clients, you can do that, but there are also plenty of opportunities to do things if you want to work behind the scenes," he said. "There are tons and tons of different ways of volunteering and using your time, all of which are important and valuable."
Although my time speaking with Glenn and Linda was brief, I felt their explanations of what they enjoy about their shifts focused on an important aspect of the volunteer experience. Regardless of the roles they took on when volunteering, both described experiencing a sense of community, whether it be when working alongside other volunteers, or when meeting with clients. Linda and Glenn's stories emphasized opportunity – the opportunity to engage in meaningful activity while creating connections, the opportunity for flexibility in volunteering, and ultimately, the opportunity to make a difference. 
---
To learn more and get involved with our volunteering, visit www.gobeyondhunger.org/volunteer