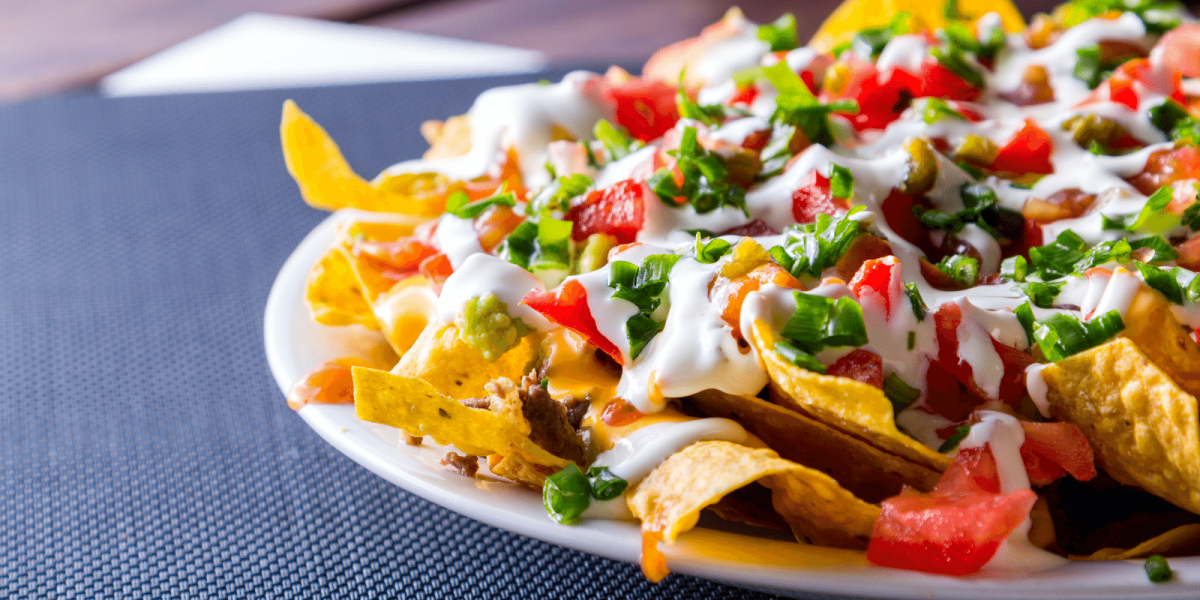 Nachos are a popular recipe for many occasions. This recipe features canned pork instead of beef or chicken that is traditionally used. Nacho toppings such as beans, salsa, lettuce, and tomatoes are piled on top to provide the flavorsome experience.
Preparation time
10 minutes
Ingredients
1 lb
canned pork (drained and broken apart)
1 can
pinto beans (or black beans, drained and rinsed)
1
package shredded cheese (reduced fat preferred)
Instructions
1.    Warm vegetable oil in large sauté pan over medium heat. Add drained pork and diced onion to the pan. Using a wooden spoon, sauté onions and break apart pork until the onions are translucent in color and pork is heated through. 
2.    Add taco seasoning and desired beans to the pan. Stir to combine. Heat thoroughly. 
3.    While the meat is cooking, spread an even layer of tortilla chips to an oven-safe platter or cookie sheet.
4.    Evenly pour the meat and bean mixture over the tortilla chips.
5.    Top with cheese, lettuce, tomatoes, salsa, and any other desired toppings. 
Additional toppings include sour cream, shredded lettuce, and sliced jalapenos.
*​​​​​ Interested in making your own taco seasoning? Check out our website:
https://www.gobeyondhunger.org/recipes/homemade-taco-seasoning

Notes
Per Serving: Calories 309, Carbohydrates, 33.6g, Protein 14.5g, Saturated Fat 3.7g, Sodium 736.6 mg, Fiber 5.4g, Sugars 4.8g 
Source
This recipe was adapted from www.pinchandswirl.com