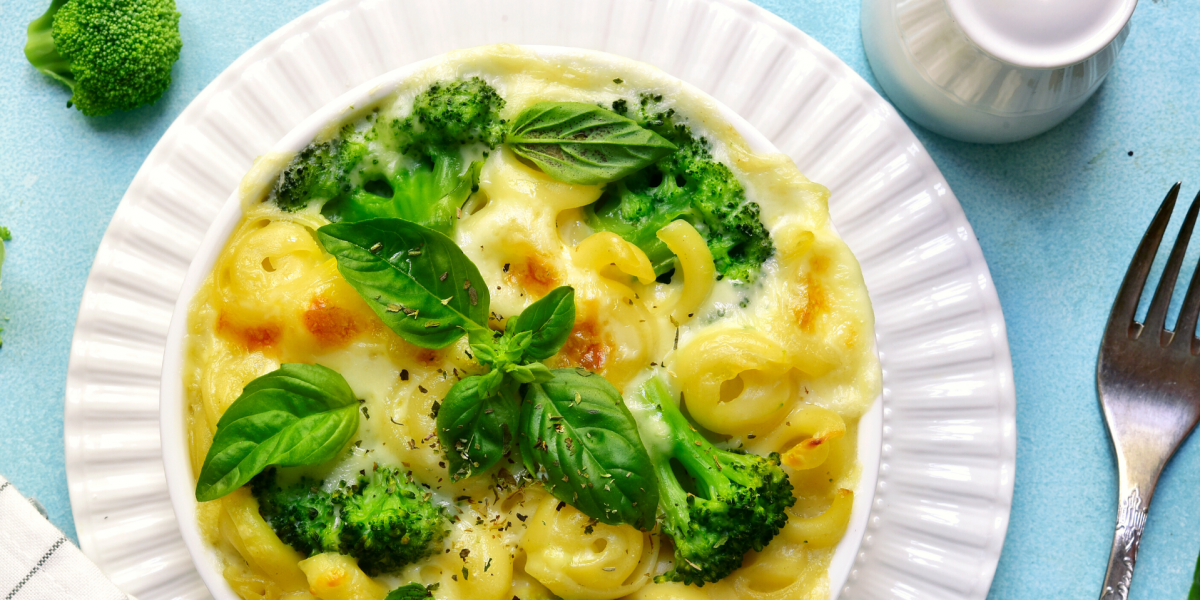 Mac and cheese is a timeless dish that is enjoyed by kids and adults alike. Adding broccoli boosts the nutritional
content of this recipe. Broccoli contains vitamin K, which helps to build strong bones and aids in blood clotting.
Broccoli is also rich in vitamin C, which helps with wound healing, boosts immune health, and acts as an
antioxidant to protect the body's cells from damage. Enjoy this twist on a classic dish!
Preparation time
30 minutes
Ingredients
1 C
chicken or vegetable broth
2 C
shredded low-fat cheddar cheese
2 Tbsp
grated Parmesan cheese
Instructions
1. Cook pasta and broccoli together in a large pot of salted water, according to pasta's package directions.
Drain and set aside.
2. Preheat oven to 375°F. Prepare a baking dish by spraying it with cooking spray.
3. While the oven heats, melt butter in a large, heavy skillet. Add onion and cook over low heat about 2 minutes. Next stir-in the flour and cook another minute, until the flour is golden in color and well-
combined. Slowly add milk and broth, whisking constantly. Raise the heat to medium-high until the mixture comes to a boil (keep whisking to avoid lumps). Cook about 5 minutes or until the sauce
becomes smooth and thick. Season with salt and pepper.
4. Once the sauce is thick, remove from heat. Add cheddar cheese and mix well until cheese is melted.
Adjust salt and pepper to taste, add cooked pasta and broccoli and mix well. Pour into prepared baking
dish. Top with grated parmesan and breadcrumbs. Spray a little more cooking spray on top.
5. Bake for 15-20 minutes, then broil for a just few minutes until the breadcrumbs golden are golden.
Notes
Per Serving: Calories 258, Protein 11 g, Saturated Fat 2.4 g, Sodium 254 mg, Fiber 2.3 g, Sugars 5 g.