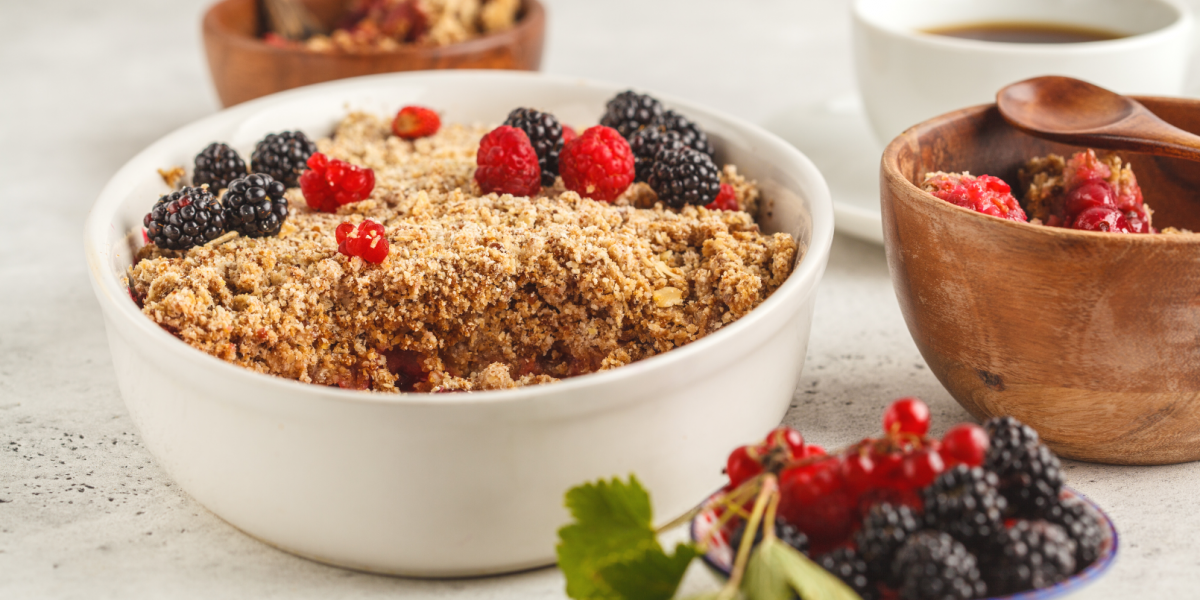 This Banana Blueberry Oatmeal Bake will satisfy your sweet-tooth and fill your home with the delicious smell of cinnamon. It is a great way to dress up your rolled oats. Rolled oats are incredibly nutritious; they are rich in antioxidants and fiber.
Preparation time
20 minutes
Ingredients
1 ½ C
unsweetened soy milk (can substitute almond milk or other alternative milk)
1 ¼ C
old-fashioned rolled oats
1 C
blueberries (fresh or frozen)
½ C
pistachios (chopped unsalted)
Instructions
1. Preheat oven to 350°. In a bowl, whisk the first 4 ingredients until blended. Stir in oats.
2. Arrange banana slices in a single layer in a greased 9-in. square baking pan, sprinkle with blueberries. Pour oatmeal
mixture over top, spreading evenly. Bake until set, 25-30 minutes. Remove from the oven. Preheat broiler.
3. For the topping, in a small bowl, mix brown sugar, flour and butter with a fork until crumbly; stir in pistachios.
Sprinkle over oatmeal. Broil 7-8 inches from heat until lightly browned, 2-3 minutes. Let stand for 10 minutes
before serving.

Per Serving: Calories 203, Carbohydrates 29.2 g, Protein 5.2 g, Saturated Fat 2.5 g, Sodium 56 mg, Fiber 3.6 g, Sugars 13 g