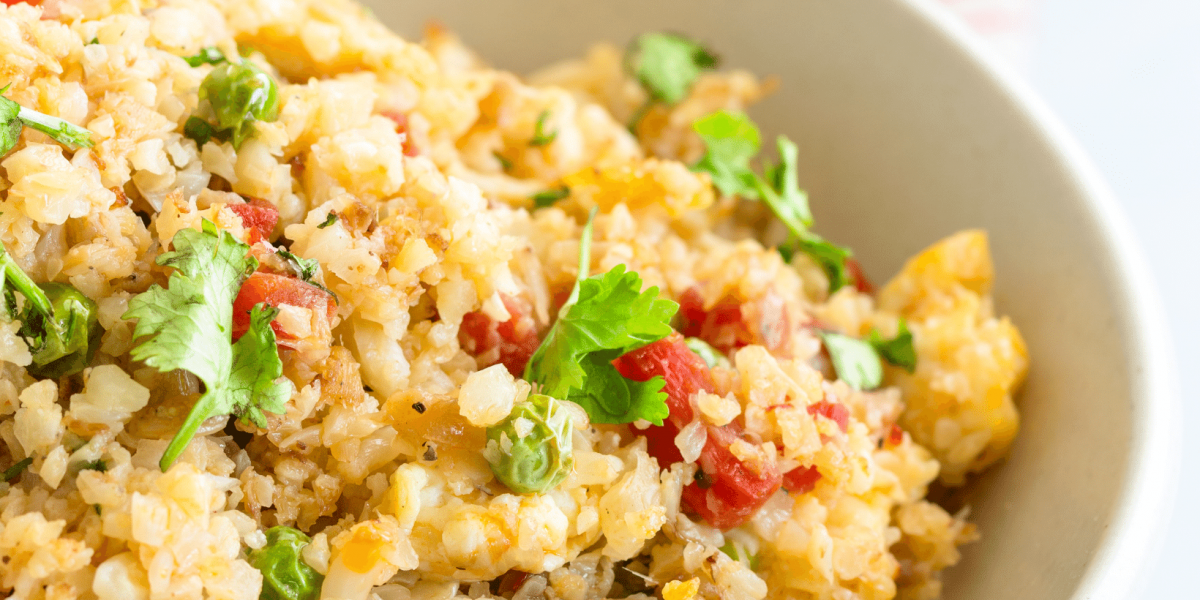 Riced cauliflower has become a very popular rice substitute lately! It is lower in carb and higher in nutrients, like fiber and B vitamins. The flavors of this dish come together so seamlessly, you won't even miss the traditional rice. If you're feeling adventurous, try mixing up the protein by adding some nuts, like cashews, or substituting pork or shrimp for the rice. Enjoy!
Preparation time
25 minutes
Ingredients
1 tsp
peanut oil (+ 2 Tablespoons divided, or other high heat oil)
3
scallions (sliced thin, greens and whites separated)
1 Tbsp
fresh ginger (grated)
1 Tbsp
Garlic, minced (about 4 cloves)
1 lb
boneless, skinless chicken thighs (trimmed & cut into 1" pieces)
1 C
snow peas (trimmed & halved)
1
cauliflower, grated ((makes 4 cups), grate with box grater)
3 Tbsp
low-sodium soy sauce
½ tsp
sesame oil (optional)
Instructions
1. Heat 1 teaspoon of peanut oil in a large heavy skillet over high heat. Add eggs and scramble for 30 seconds. Empty to a bowl and set aside. 

2. Add 1 tablespoon peanut oil into the pan with scallion whites, ginger, and garlic. Cook and stir for about 30 seconds until scallions are soft. Add chicken and cook, stirring for 1 minute. Add bell peppers and snow peas. Cook for 10 minutes, or until chicken is cooked through. Transfer to everything to a large plate. 
3. Add remaining 1 tablespoon oil into the pan, add grated cauliflower and stir for about 2 minutes until it begins to soften. 

4. Return chicken vegetable mixture and eggs to the pan, add soy sauce and sesame oil (if using) and stir well. Garnish with scallion greens. 
Notes
Calories 152.5, Carbohydrates 6.1 g, Protein 14.95 g, Saturated Fat 1.8 g, Sodium 295.4 mg, Fiber 2.1 g, Sugars 2.35 g
Source
Adapted from Belle of the Kitchen.