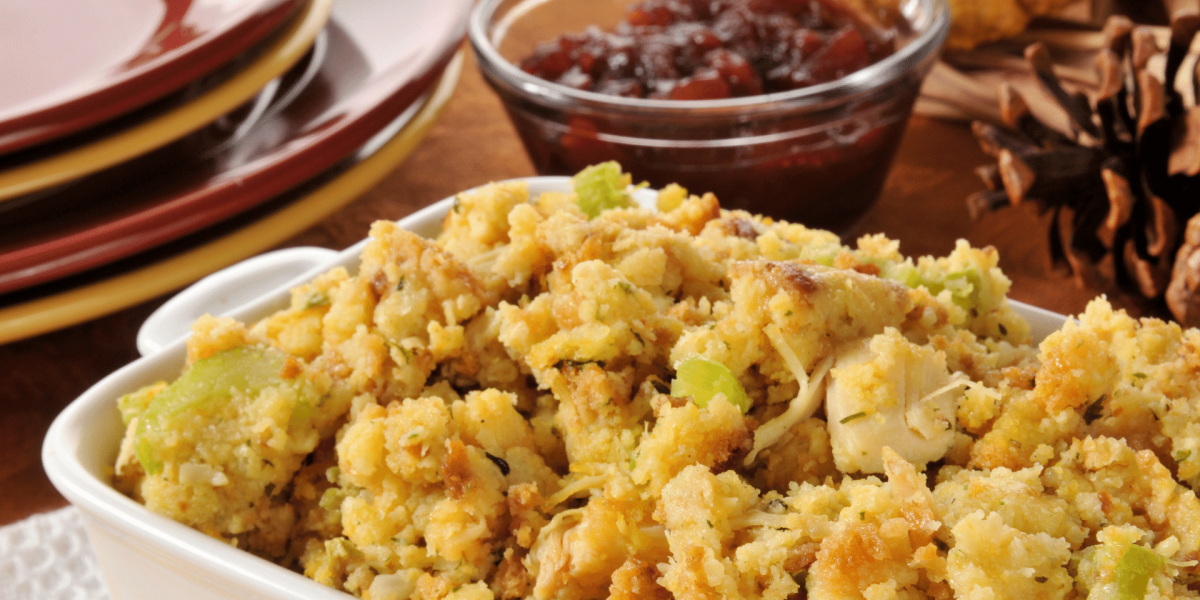 This simple cornbread dressing has all the familiar Thanksgiving flavors of sage, thyme, parsley, and onion, while keeping the calories lower than traditional dressings. Make your cornbread from scratch with whole wheat flour to sneak in some extra fiber and nutrients. No one will ever know!
Preparation time
15 minutes
Total time
1 hour, 15 minutes
Ingredients
1
large onion, finely chopped
2 Tbsp
chopped fresh sage (or 2 teaspoons chopped sage)
½ C
finely chopped flat-leaf parsley (or 2 tablespoons dried parsley flakes)
1
batch cornbread, crumbled ((from 2 small packages of cornbread mix))
1 C
low-sodium chicken broth
Instructions
1. Heat the olive oil over medium heat in a large nonstick skillet, and add the onion, celery and a ½ teaspoon salt.
2. Sauté until the vegetables soften and are tender, about 10-15 minutes, adjusting the heat, so the vegetables do not brown.
3. Add the garlic, and stir together for 30 seconds to one minute, until fragrant.
4. Transfer onions and celery to a large bowl, add the herbs, pepper, and crumbled cornbread. Combine well. Taste and adjust seasonings. Add 1 cup chicken broth and more, if needed.
5. Transfer to a buttered or oiled 2-quart baking dish. Dot with butter. Cover with aluminum foil, and heat in a 325-degree oven for 30 minutes.
Notes
Per Serving: Calories 250, Saturated Fat 5g, Sodium 440mg, Added Sugars 2g