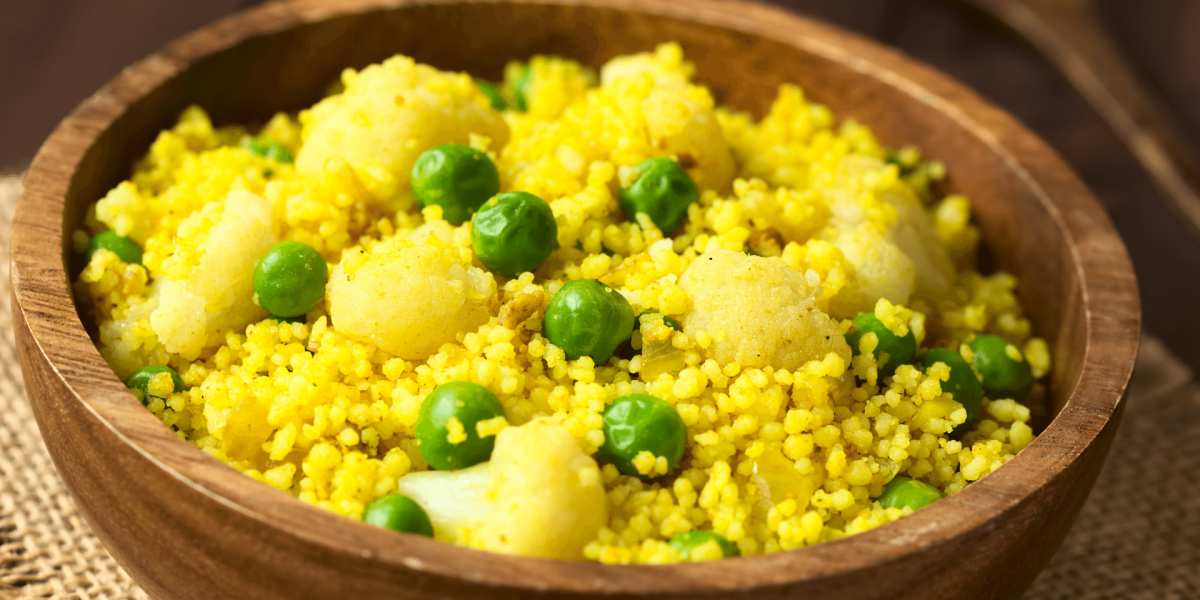 Enjoy this delicious dish as an entrée or side dish. Pair with meat, seafood, or a vegetarian favorite like chickpeas or tofu. This flavor-packed dish is sure to win everyone over!
Preparation time
5 minutes
Ingredients
4 Tbsp
unsalted butter (divided )
1 C
peas (frozen or canned*)
2 Tbsp
mint, chopped (optional)
Instructions
1.    Bring a medium pan of salted water to a boil. Add the couscous and cook until al dente, about 4 minutes. Drain the couscous, reserving 1 1/2 cups of the cooking liquid; wipe out the pan.
2.    Melt 2 tablespoons of the butter in the pan. Add the minced garlic and cook over moderate heat until softened. Add the peas and toss to coat. Add the couscous, the remaining 2 tablespoons of butter, and 1 cup of the couscous cooking liquid. Simmer, stirring occasionally, until the couscous and peas are tender and coated in a creamy sauce, 3 to 4 minutes. Season the couscous and peas with salt and pepper and stir in the mint. Stir in some of the remaining cooking liquid if the couscous seems dry. Transfer the couscous to a bowl and serve.
 
Notes
Chef's Note*: If using canned peas, rinse and drain the peas. Using canned peas will reduce the cooking time. 
Per Serving: Calories 375, Carbohydrates 55.5g, Protein 10.3 g, Saturated Fat 7.3g, Sodium 634.6 mg, Fiber 4.8 g, Sugars 1.7g
Source
This recipe was adapted from Israeli Couscous with Peas and Mint on foodandwine.com