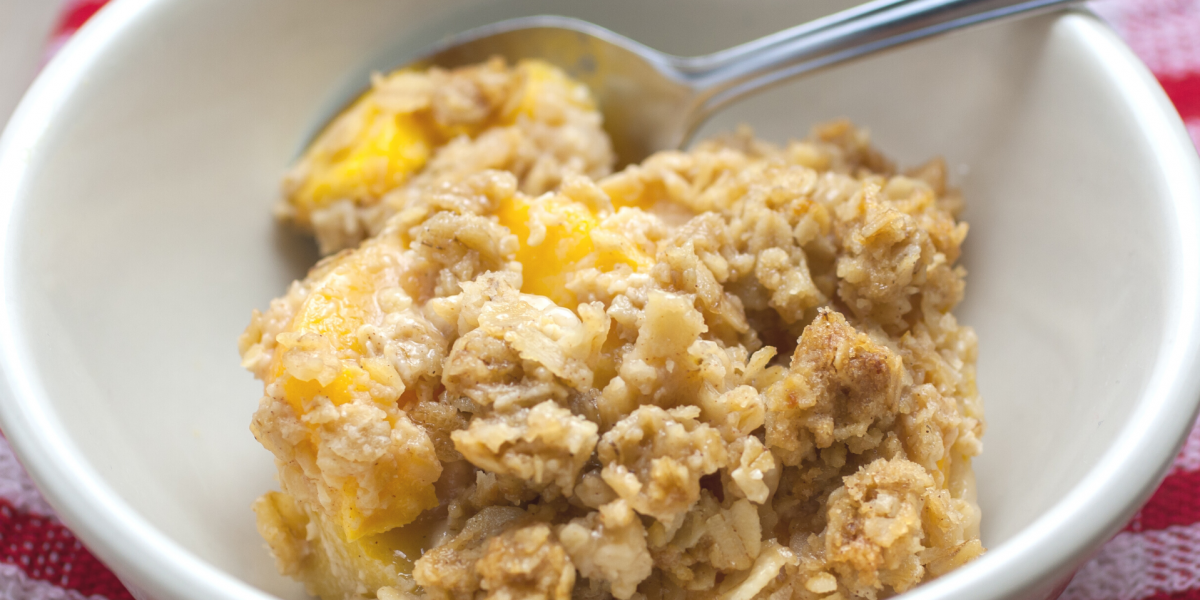 Peaches are rich in vitamins, minerals, and antioxidants. One peach contains nearly 17% of the recommended
daily value of vitamin C, which promotes wound healing, immune health, and works as an antioxidant. This
means it protects the body from damage to our cells. Canned peaches can be eaten year-round, which makes
them not only delicious but convenient!
Preparation time
15 minutes
Ingredients
2 can
sliced peaches (15 1/4 ounce cans)
5 Tbsp
cold butter. cubed
Instructions
1. Preheat oven to 350 degrees F.
2. Drain the peaches and reserve the juice in a small saucepan.
3. Stir the sugar and cornstarch into peach juice until smooth. Bring to a boil; cook and stir until thickened,
1-2 minutes. Remove from the heat; stir in peaches.
4. Pour into greased 9-inch square baking pan.
5. Combine oats, brown sugar, and flour into a bowl. Cut in the butter until crumbly. Sprinkle over the
peach mixture.
6. Bake until golden brown and bubbly, 25-30 minutes.
 
Notes
Per Serving: Calories 313, Protein 16 g, Saturated Fat 4.5 g, Sodium 5.5 mg, Fiber 2.2 g, Sugars 41 g