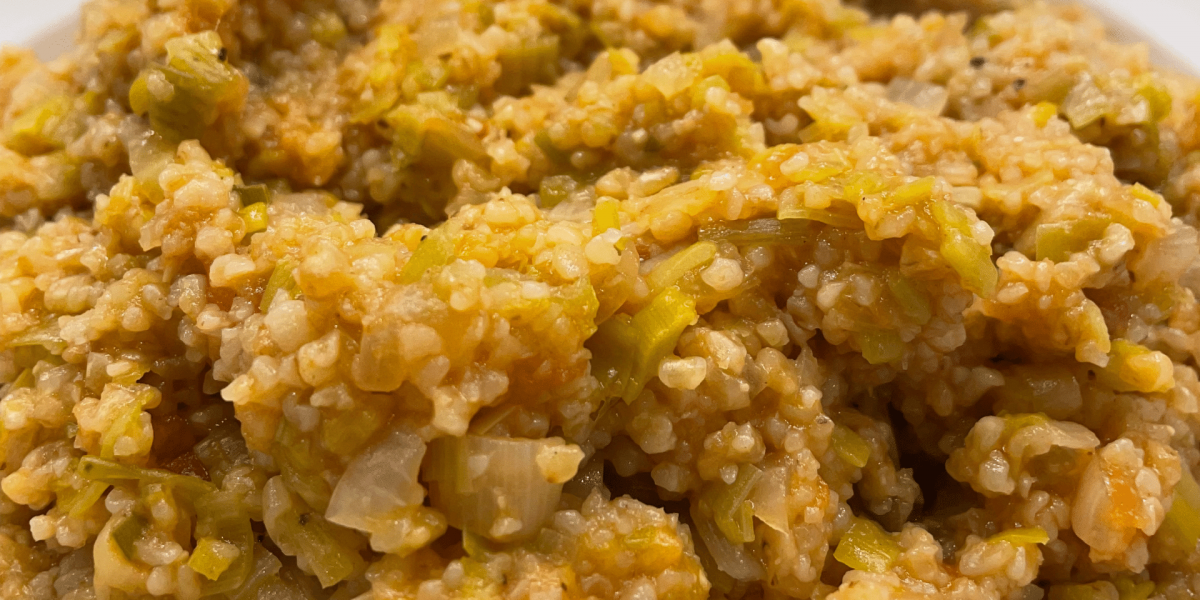 Trahana is cracked bulgur cooked in milk, dried in the sun, and stored in jars. It was a way agricultural communities preserved milk when it was abundant in the summer and an inexpensive way to nourish families when food was scarce. There are two types of trahana; sweet tarhana is made with fresh milk and sour tarhana is made with yogurt and flour. Both are staples in kitchens throughout the Balkan countries, Greece, Turkey and the Middle East. Sweet trahana can be used as a filling for meatballs, savory pies, or made into a creamy pilaf with onions and tomatoes. Both can be made into a simple soup. Sweet trahana is a whole grain rich in protein, calcium, and fiber.
Preparation time
10 minutes
Ingredients
2 lb
leeks (white and light green parts only, chopped in thin half moons)
1
medium onion (chopped small)
3
green onions (white and green parts chopped small)
1 C
tomato sauce (no salt added)
1 C
sweet trahana (found at Pete's market or Middle Eastern markets)
Instructions
1.    In a medium pot, heat oil over medium high heat. Add chopped leeks and onions and sauté until soft, about 10 minutes.
2.    Add tomato sauce and mix well. Add hot water, salt and pepper and bring to a boil. Add trahana to boiling water and cook until soft and creamy, about 15 minutes, stirring occasionally.
3.    Taste and adjust seasonings. 
 
Notes
Chef's Note: Serve as a vegetarian main course or as a side dish to roasted meat. 
 
Source
This recipe was submitted by Maria Delis, RD LDN.