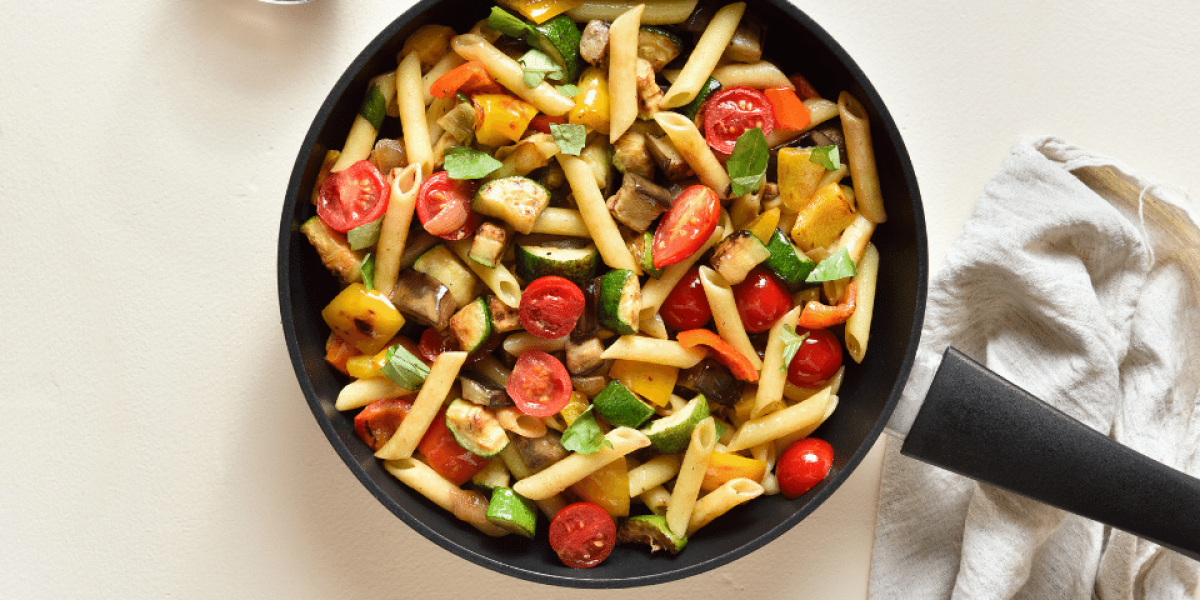 Full of vegetables, this traditional comfort food is sure to please your whole family. 
Preparation time
40 minutes
Ingredients
2 C
Whole wheat pasta (Any shape)
½
eggplant (Medium size, chopped)
1
zucchini or yellow squash (chopped)
1
leek or medium onion (chopped)
1 ½
Bell pepper, diced (Any color)
1 C
Italian dressing (Or similar)
1 Tbsp
vegetable or olive oil
½ tsp
Italian seasoning (Optional)
Instructions
1. Pre-heat oven to 375 F.
2. Rinse vegetables and chop coarsely (to prep leeks, slice lengthwise. Discard dark green parts. Chop white, yellow and light green parts and rinse in colander to remove sand in between layers).
3. Place vegetables in large bowl. Add 1 Tbsp. oil, ¼ tsp. salt and ¼ tsp. Italian seasoning. Mix well and set aside.
4. In a large pot of boiling water, add pasta and cook to desired tenderness. Drain and set aside.
5. To roast vegetables: arrange chopped vegetables in a roasting pan in a single layer.
6. Place in oven and roast for 10 minutes. Toss vegetables and return to oven for another 10 minutes or to desired tenderness. Vegetables should be slightly browned.
7. Mix pasta and vegetables together. Add salad dressing. Mix well.
8. Refrigerate for several hours or overnight. Serve cold. Use within 5 days .
Notes
NUTRITION FACTS Calories: 360 Calories from fat: 66 Fat: 7.4gm Sat. Fat: 0.8gm Protein: 11gm Carbohydrates: 63gm Fiber: 9.2gm Cholesterol: 7mg Sodium: 121mg