Back to top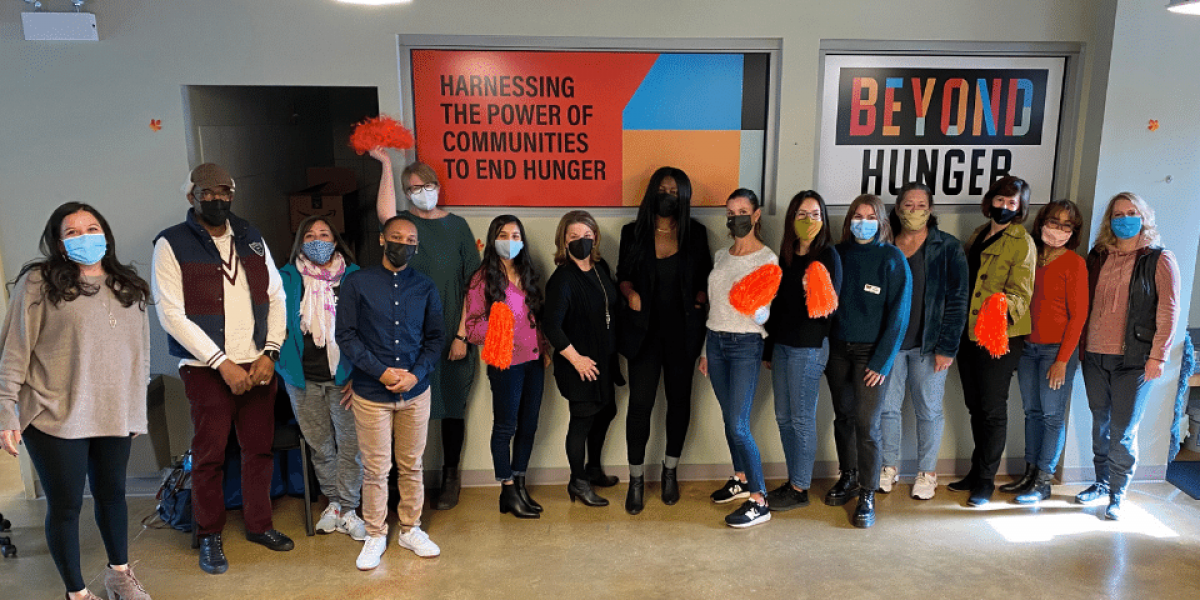 Beyond Hunger—Our World of Flavor
Suffice to say our team here talks about food, a lot. Nutrition security—making sure everyone has access to the healthiest foods, is part of our daily mission.  Between ordering fresh produce, picking up food rescues and curating boxes of food that can allow families to prepare full meals they'll love—sometimes we talk about the foods we eat at home.  This year's National Nutrition Month theme "Celebrate a World of Flavors" was the perfect opportunity for us to share some of the recipes we each grew up with.  
Ricardo Garcia, Sr. Pantry Programs Manager 
The only special memory I have is the excitement that my mother had when she would cook for us. She still has that excitement, she cooked for us when I visited this past time and she was incredibly energized. Dishes like this one, though simple, are very typical. You even find them on school lunchrooms across the island. My mother was very focused on making sure we ate well and that we enjoyed our food, so going for a second serving was a huge complement to her. This is one of my favorite dishes that my mom cooked for us and I felt special because my brother and sister did not like it as much.
Maria Delis, RD LDN, Nutrition Education Coordinator and Dietitian
In Greece, braised spinach with rice and lemon belongs to a class of braised vegetable dishes made with an abundant amount of olive oil. These dishes are always main courses and always vegan. The dish is full of antioxidants, iron, fiber, and vitamin C. The oil provides satiety, and the rice provides carbohydrates. Traditionally, this dish is served with plenty of lemon juice, black olives and a wedge of feta cheese.
SPANAKORIZO (GREEK SPANISH-RICE WITH LEMON)
Ashley Namrata Patel, MS NDTR Dietetic Intern, Dominican University 
The cultural meal I shared, eggy curry with rotli, was the beginning of my journey in finally embracing part of my Indian heritage. As a child, all I wanted to do was fit in with my peers. I wanted to eat what they did and look like them. It took me years of work to understand that what I was made to feel ashamed of were to be celebrated and embraced. I can remember the first time having my mom's egg curry and genuinely enjoying it. I no longer cared that my peers ate nothing comparable to it. This dish was the first in helping me appreciate more Indian cuisine for years to come. 
Jordan Larson, Dietetic Intern, Dominican University
To showcase my Italian roots, I chose to make the dish, Italian Antipasto. I was drawn to making this colorful and vibrant salad not only because it's delicious but is a healthy choice too! This versatile dish can be recreated in many ways! Try adding various meats, cheeses, olives, celery, pepperoncini, or different spices and seasonings to mix up the flavor. Have fun and enjoy
Sarah Abboreno Corbin, Communications Manager
Each year for St. Joseph's Day our family hosts a Feast Table.  As the patron saint of Italy, Joseph is credited with ending a famine—many Italians use the day as a way to show their gratitude and celebrate with family. I usually explain to people it's like an Italian Thanksgiving open house. We have bread and pasta marinara, pasta sarde and linguine with clam sauce that we serve all day.  And of course there are always lots of Italian desserts too such as cannoli cake, zeppoli, cucidadi cookies and more. My brother stands in the kitchen most of the day and makes fresh batches of linguine with clam sauce as people come. 
Sicilian Linguine with Clam Sauce