Back to top
Dine Out (or In) for Hunger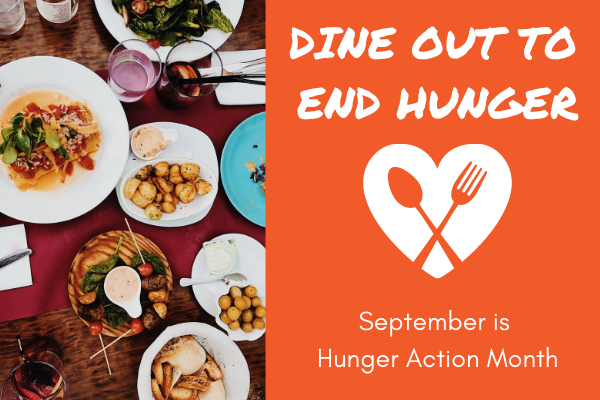 This September we are partnering with local restaurants to help raise awareness about hunger in addition to raising funds.  You'll notice some restaurants listed below will have a donation box and some Beyond Hunger collateral on display.  Consider rounding your coffee order up by making a donation (just $1 = 3 meals) or ordering something during the Dine Out events below. 
By ordering from any of the participating restaurants, you will also be able to mark off a bingo square (here) to have a chance of getting Beyond Hunger Swag!  Also, the participating restaurant with the most donations will win a fabulous prize.  Be sure to include where you ate at in box on the donation page.   
Dine Out Events:
Thursday Night Out 9/9 - Enjoy the last night of Downtown Oak Park's Thursday Night Out with their great local bites.  Don't forget to stop by our table and pick up your Hunger Action Month bingo card.  For those that get BINGO, you'll receive a fabulous prize.  
 
BarrieFest 9/11 - Get outside and grab a drink or bite (or two) at BarrieFest.  Say hello to Beyond Hunger, an event beneficiary, at the fest hosted by SEOPCO (South East Oak Park Community Organization), CUGB - OPRF Chapter (Clean Up Give Back), and Takeout 25.  Come enjoy the music, family-friendly activities, and of course food!  Purchase a food ticket booklet for $25 which includes 3 X $8 tickets.  $1 of each of these goes to Beyond Hunger. More info here. 
 
Spoke Sunday Social 9/19 (9 AM-12 PM)- Grab a nitro brew coffee from young businessman Alec Olson, serving from his Cafe on Wheels along with some other local vendors in River Forest.  Coffee proceeds and donations benefit Beyond Hunger.  Check back for more information.  
 
Oberweis 9/25 - Purchase a delicious Oberweis treat (124 North Oak Park Ave, OP location) and mention the Beyond Hunger fundraiser.  They donate 20% back for all funds raised by our supporters.   RSVP here
 
Lou Malnati's Giveback Day 9/29 - Dine in, carryout, or get pizza delivered from Lou Malnati's (Oak Park location) to benefit Beyond Hunger and close out Hunger Action month.  We receive 20% back on all funds raised by our supporters, but you must mention the Beyond Hunger fundraiser at the time of your order.  If you use the app or order online, you can enter the code: FUNDBH21.  More information here.
 
One Lake Brewing 9/2, 9/9, 9/16, 9/23, 9/30 - OLB is doing a 10% giveback event on all dine-in and carryout orders Thursdays during Hunger Action Month. Just be sure to mention you are supporting Beyond Hunger to your server (or over the phone).
Donation Box Locations: