Back to top
CAN DO Community Challenge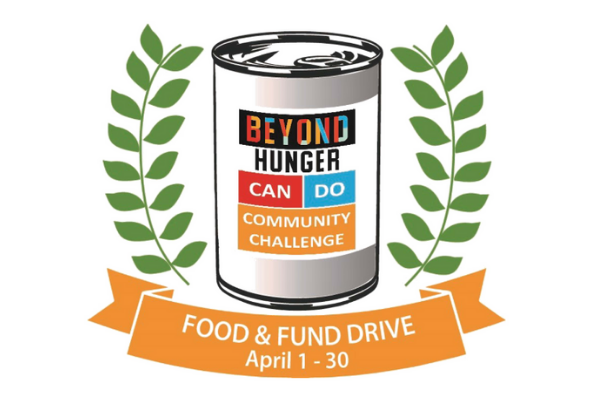 CAN DO Community Challenge is a local hunger relief campaign sponsored by Beyond Hunger.  It is designed to heighten awareness about local food insecurity and encourages schools, organizations, and individuals to become more involved with Beyond Hunger.  Traditionally, food pantry donations are at their lowest during the Spring. With more families facing food insecurity due to the pandemic, your support continues to help meet this growing need now. 
If we reach our goal of raising $100,000, we will receive a $25,000 match thanks to the Challenge Corp, a group of local philanthropists.
GET INVOLVED!:
Make a Donation
Hold a Virtual Food Drive

Collect the following non-perishable foods: rice, dried beans, canned fruit, cooking oils, jelly
Create a fundraising page by joining the Challenge here
Get the whole family involved by incorporating our weekly virtual themes during the Challenge (see flyer)

Week 1 - Building Awareness 
Week 2 - Fun & Games
Week 3 - Health & Nutrition
Week 4 - Share Your Impact 
School Competition:
Each year local schools compete to see who can collect the most food and funds by the end of April. Though we did not have an official competition in 2020, our schools rallied to provide over 100,000 meals through their own fundraising teams.  In 2021 we will be bringing back the competition as a virtual-hybrid food drive.
You can support a team, school, or individual fundraiser by sharing their page, joining their team, or making a donation here.
CAN DO Community Challenge Resources
Can Do Community Challenge Logo can be provided upon request
#EveryDonationCounts