Volunteers are critical to every aspect of our operation, providing over 2,000 hours of collective time every month.  Our volunteers have been rated #1 for the last 40 years (by us) for their determination, compassion, availability, and overall skill. Thank you for your interest in joining our mission to end local hunger!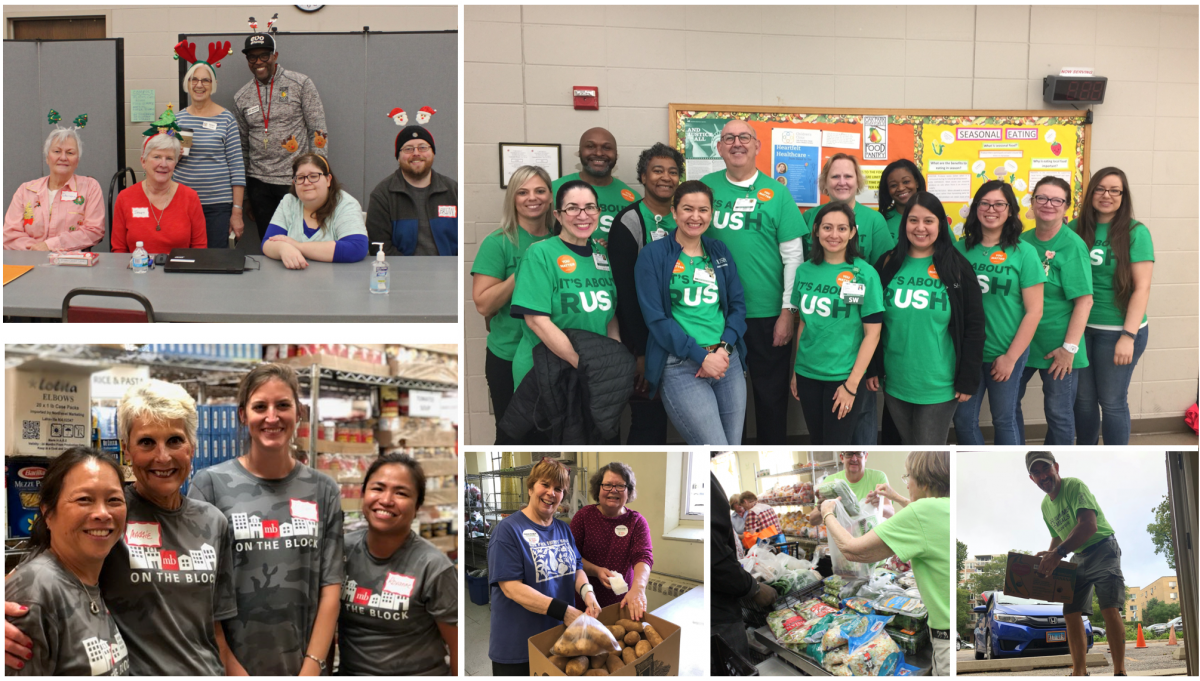 A variety of volunteer shifts are available, during weekday, evening, and weekend hours. We offer shifts that run the gamut, including data entry, repacking, serving Pantry guests, and unloading delivery trucks.  We hope to provide a volunteer opportunity for everyone, at every ability level.
Our volunteers are currently required to provide proof of vaccination, digital or hard copy.  For more information about our vaccine policy click here.
If you have any questions about volunteering or the volunteer sign-up process, please email us at volunteer@gobeyondhunger.org.

---
Ready to Volunteer?
Before getting your (figurative) hands dirty, we ask that all prospective volunteers
Complete the New Volunteer Form
Complete the Volunteer Orientation
Submit Volunteer Documentation
Once you complete the volunteer form, you will receive an email with information on upcoming volunteer orientation sessions. After you attend your volunteer orientation, you will be marked as 'active' and will be able to access your volunteer portal to sign up (you'll learn how at orientation). 
More Information
Volunteer Match
Many employers will recognize your volunteer efforts by making a donation to the nonprofits you support. Check below or contact your employer today for eligibility information.
Matching Gift
and
Volunteer Grant
information provided by

Volunteer FAQ
How can I volunteer at Beyond Hunger?
All volunteers need to complete a Volunteer Form and attend an Orientation Session.
See upcoming volunteer orientation sessions.
How do I sign up to volunteer?
All scheduling is done via an online process and/or email.
Once a Volunteer Form is submitted and Orientation is completed, volunteers are considered active and can sign up for shifts through the volunteer portal.  See the video below for more information on how to sign up to volunteer once you're active.
Do I have to schedule in advance or can I just show up to volunteer?
All volunteer shifts are scheduled in advance. Although Beyond Hunger appreciates all who want to volunteer, we are not set up to accommodate volunteers who just show up to volunteer.
What type of volunteer opportunities are there at Beyond Hunger?
Beyond Hunger offers a variety of volunteer opportunities:
assisting clients to shop for food
data entry
unloading food deliveries
stocking shelves
re-packing produce
Transporting donated food from local donors
Is there an age requirement to volunteer?
There are different volunteer opportunities for all ages. As a general rule, the age requirements are as follows:
Client Facing Shifts: should be in middle school or above
Non-Client Facing Shifts: varies by shift, but if younger than middle school, check with our volunteer team. 
No. Please leave all valuables at home or locked in your vehicle. There are places to hang jackets, etc.
What should I wear?
Volunteers should wear weather-appropriate clothing and closed-toed shoes.
Where is Beyond Hunger located?
Food Pantry shifts are located at 848 Lake St, Oak Park, IL 60301. Home Delivery shifts are located at and begin from 5317 W. Chicago Ave, Chicago IL 60651.
Our pantry and administrative offices are located in the lower level of First United Church; on the NE corner of Lake and Kenilworth. Enter via the parking lot on Kenilworth. Our Home Delivery offices are located within the New Moms transformation center in Chicago. 
Is parking available?
Yes. Limited parking is available in the First United Church parking lot. The parking lot tends to fill up quickly, especially during distributions. If you are able, we encourage you to park on the street.  Please leave spaces for our vulnerable clients.  Thank you!
Who can I contact if I have additional questions?
Questions regarding volunteering can be directed to our volunteer team at volunteer@gobeyondhunger.org.
I want to volunteer with a large group, is that possible?
Yes, please contact our volunteer team. 
Can I fulfill community service hours at the Food Pantry?
Yes, every volunteer is able to track hours and schedule shifts through the volunteer portal.  During your volunteer orientation you will learn how to do this.  If you need a letter verifying your volunteer hours on Food Pantry letterhead, please contact volunteer@gobeyondhunger.org.